Tags
Related Posts
Share This
Ski Santa Fe, SFUAD!
By Clara Hittel/Photos by Sandra Schoenenstein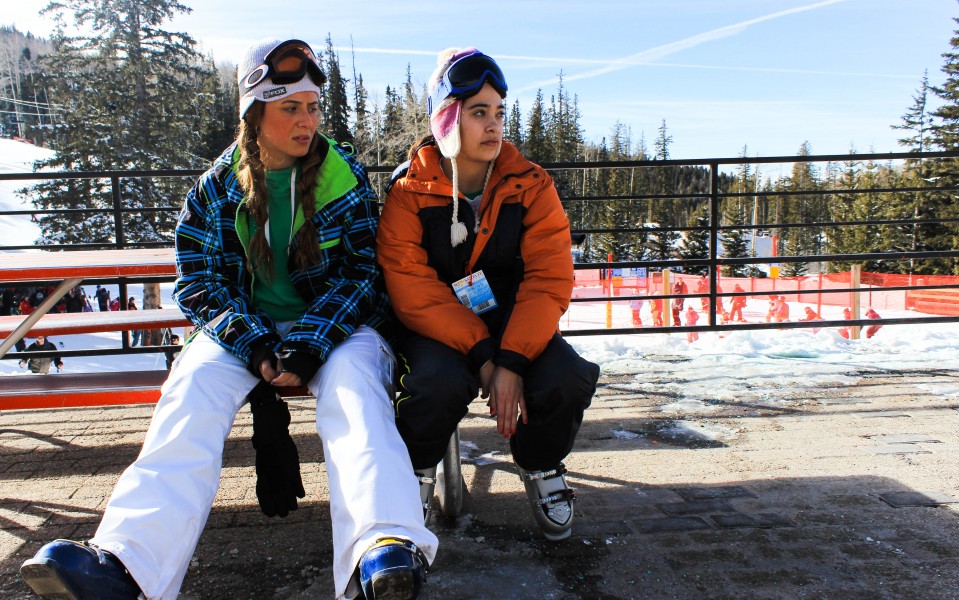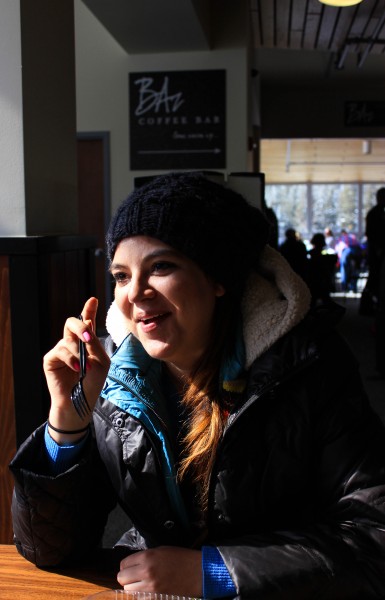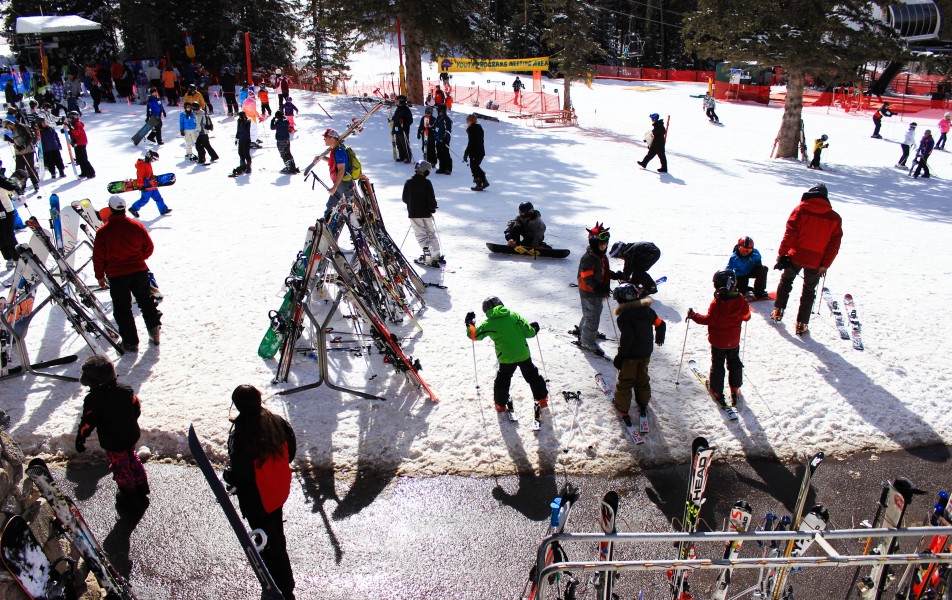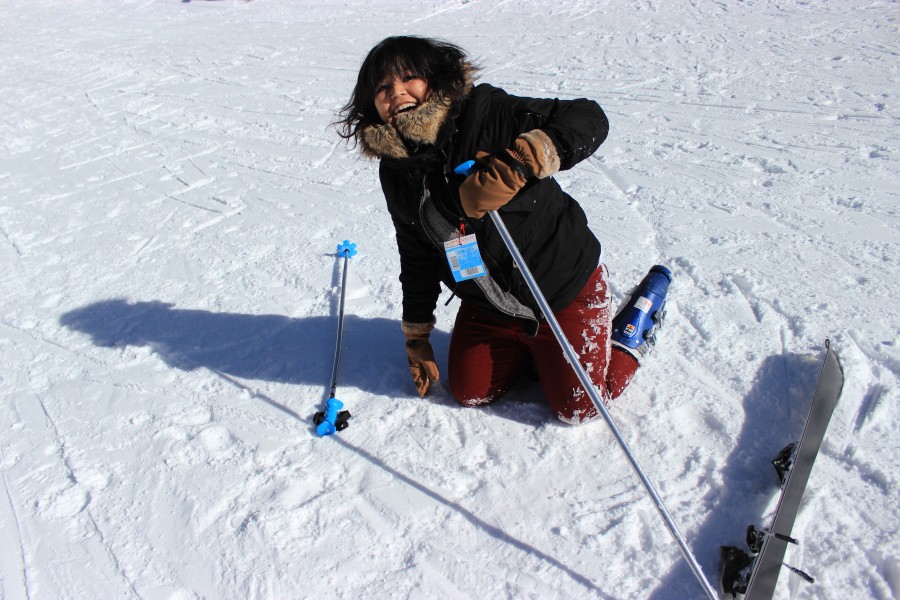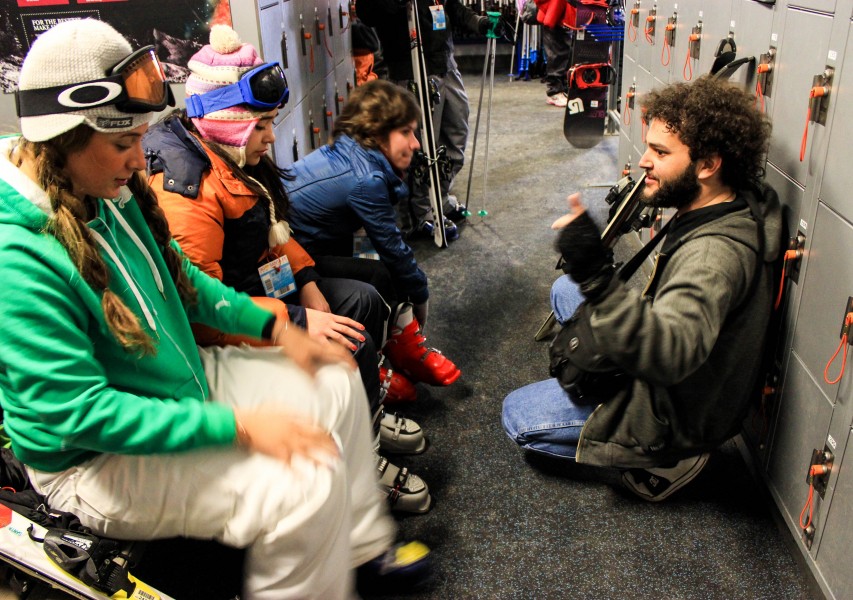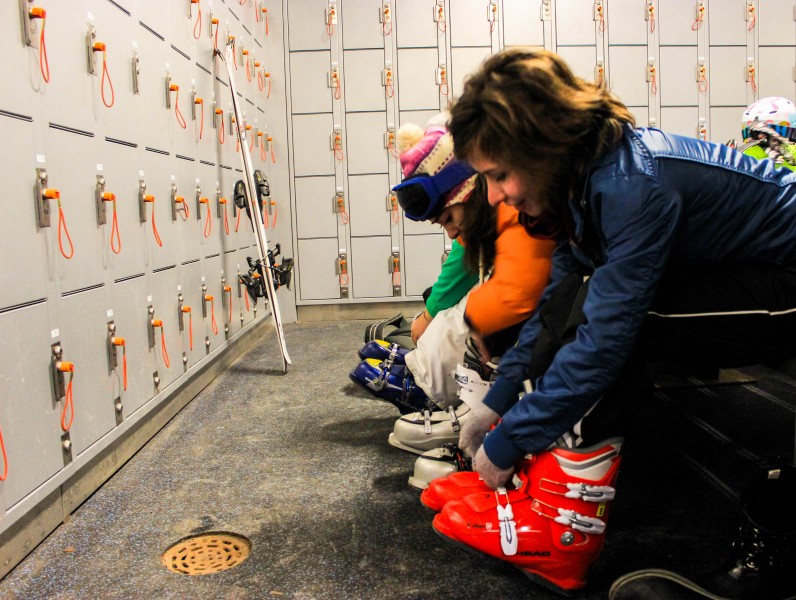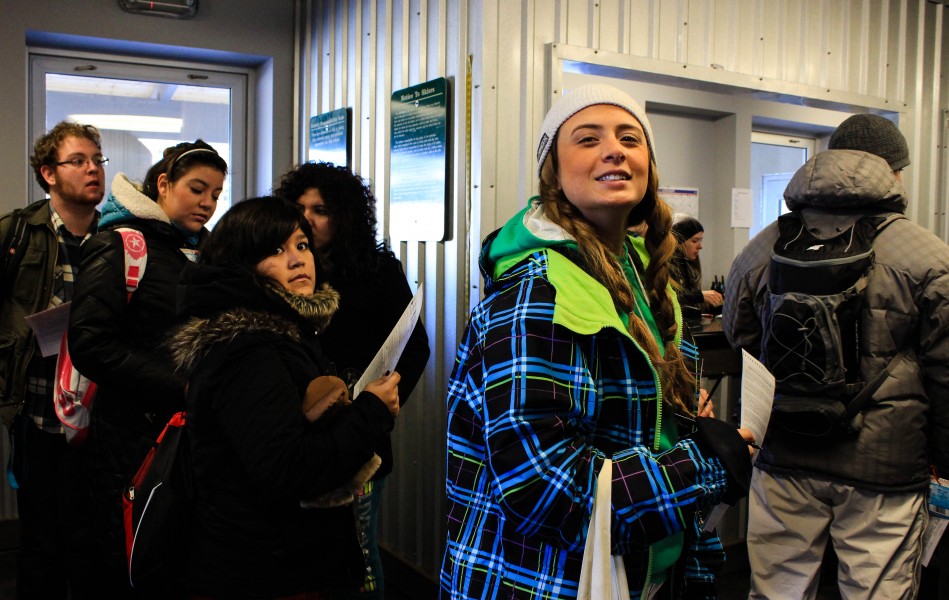 At 7:30 on a Saturday morning, I parked my car and trudged over to the Driscoll Fitness Center. If this is how early students have to leave to go to Ski Santa Fe, it's no wonder they aren't willing to wake up in time to go to Taos or Angel Fire.
A few kids sat around the picnic table out front, adjusting to the chill outside in preparation for the slopes rather than huddling inside with hands wrapped around warm mugs of coffee in fear of the cold. I joined them at the table. The conversation I entered into was about what snow-appropriate garments we were lacking. Some people needed gloves, others hats. The immediate camaraderie of the trip goers was cheering so early in the morning. People began offering clothing and advice. I needed waterproof pants, as I have sadly outgrown my own super-official snowboarding pants. Sandra Duran graciously lent me her spare pair.
The Feb. 2 journey up to the mountaintop felt like a summer-camp outing to a lake or other body of water where warm-weather activities might take place. The sun had risen with a vengeance and the radio offered what I would consider beach jams, such as Knee Deep (Feat. Jimmy Buffet) by the Zac Brown Band and Home by Edward Sharpe and the Magnetic Zeros. Then again, we were all in parkas and woolen hats, and as we gained elevation the snow finally made its appearance. Pine branches drooped around us, burdened with winter, festively welcoming the line of cars that slowly ascended the mountain.
My thoughts turned to ski trips of the past as the alpine scene crawled past my window. Growing up on the East Coast, my parents took me to the Poconos every winter. My father skied all over the world in his youth. Sadly, one of his skis broke when I was about 13-years-old and he became depressed that his out-of-date boots were incompatible with modern skis. He has never skied since, which is a shame since it was the one thing we shared besides Harry Potter.
After a not-so-bad form-filling-out session upon arrival, and a mercifully fast rental-process, it was time for some sweet mountain freedom. True to his word, Zach Greer—head of the Outdoor Recreation Program— let us roam free and went off hiking (with snowshoes!). No "adult supervision" was going to spoil our fun.
I quickly ran to the closest ski lift alone and, on my first time down the slopes, I was pulled over by a ski safety patrolman for going too fast in a "slow zone." He wrote "AT" on my lift pass, which a friendly ski lift operator named Michael later informed me means "Already Told." If I were to get in trouble again, I'd have to watch a video on slope safety. Oops.
As the morning progressed, I remembered how pleasurable riding on a ski lift could be. I observed instructors below me trying valiantly to teach crying children how to not fall over and came to the conclusion that wages and free use of the mountain would never be worth such agony. A girl skiing first in line behind her instructor only reinforced this feeling by repeatedly singing the introduction to the Hallelujah Chorus from Handel's Messiah in a loud falsetto all the way down the mountain.
On the bunny slope ski lift, which I rode once in order to search for fellow students, I ended up volunteering to ride with a 5-year-old girl named Zoe from Tucson whose dad moved to Santa Fe to find work because there wasn't any in Arizona. Zoe's father is a passionate skier who doesn't let shoulder surgery and the resultant bump on his back stop him from going down double black diamonds! She restated the fact that he has a bump on his back just to make sure that I heard her, clearly considering this a vitally important bit of information to share with a stranger. Well, I can tell you that this journalist felt pretty proud to have gleaned so much information with a simple "Hi, what's your name?"
Down at the lodge, JJ Khateeb—infamous film student from Syria— had set up camp at one of the picnic tables, guarding the skiers' and snowboarders' possessions and taking photographs. Khateeb was unwavering in his hatred of snow-related activities and refused to leave the lodge deck, preferring to spend his time table-vulturing so that us SFUAD students would have a table entirely to ourselves at lunchtime. He never succeeded, as it was a crowded day, and soon learned the advantages of having a lift pass when he was unable to join the rest of us for our exciting discovery: Totemoff's.
I first noticed Totemoff's while riding a lift to the top of the mountain. I heard loud music and soon passed right overtop of the source—a large crowd of people sat in a small beer garden wedged between two slopes, listening to a live band that turned out to be a Grateful Dead cover band. Score! I had to get down there. I mapped the slopes out in my head as I rode the rest of the way up, and raced straight back to Totemoff's. It had turned into a glorious day and was so warm that people were shedding their many layers and enjoying cold brews courtesy of the Santa Fe Brewing Company. I indulged in a beverage along with Sandra Schoenenstein, Suzelle Camou, Arnold Mateos, Mari Sustaita and Rebeca Rebeil, and chatted with some St. John's students who I know that had hiked up the mountain just to go to Totemoff's.
I skied up to the last minute and took the later van home. Everyone in our van quickly fell asleep, with the exception of Zach—who was driving—Austin Charles Ross and myself.
"My first time boarding was pretty fun," Ross told me. "Except I almost broke my knee." I asked him if he preferred skiing or snowboarding.
"Boarding. I actually think boarding."
For Peter Crowder, Feb. 2 was his second time ever skiing.
"When we got off that lift up to the top of that simply bunny slope, [Michael Kaplor and I] fell flat on our faces. But, after that, I was great. I tackled the bunny slope fast, and soon wanted to move to bigger things."
Crowder didn't even let dislocating his shoulder—twice—bring him down!
"It was great fun, even after I fell and heard my shoulder pop out of its socket. I popped it back in and finished the slope…On my next trip up, I managed to make it most of the way down with Michael, then I fell again, popping out the freshly dislocated shoulder again. That one hurt quite a bit…however, it made me realize how kind the people of the slope can be to a fallen comrade. I immediate had a skier help me out of my skis and ask if I needed a medic. I declined his kind offer, but it made me very cheery despite the dislocated arm."
His only complaint? "I wish I could have done it a few days in a row!"
So don't let the injuries frighten you, potential ski and board bunnies! I don't think anyone else got hurt that day, and even those who did are just rarin' to go back! There is a trip on Saturday, February 16 and another at the beginning of March. Walk on over to the Driscoll Fitness Center and see Zach Greer to sign up or find out more.