Tags
Related Posts
Share This
Glyph Bliss
The fall semester here at SFUAD is coming to a close, but that means submissions for Glyph are right around the corner. Glyph, SFUAD's literary magazine, has been running for more than 25 years and its current form melds amazing visuals from the Graphic Design Department with stellar written work from all over campus.
Matt Donovan, co-chair of the Creative Writing Department, provided more information on what to expect from Glyph via an email interview.
Jackalope Magazine: Why should students submit to Glyph?
Matt Donovan: So many reasons! Above all else, Glyph is just an incredible literary journal: the quality of the work is top-notch and, because of our collaboration with students in the Graphic Design Department, it's simply an incredibly beautiful publication. It's a chance to showcase our tremendously talented writers, and to have their work read by the entire campus community. I know I really look forward every year to encountering the work and voices of students that I might not have encountered in my own workshop classes, and it's important that students know that Glyph is open to submissions from any current SFUAD student. And, lastly, all work accepted by Glyph is considered for our literary prizes. We give awards for fiction, poetry, creative nonfiction and Best New Voice, which is a prize given by the editors to a student whose work has not previously appeared in Glyph. All prize winners get to read at the spring reading and journal release party, and all winners get to walk with a cash prize.
JM: What can students expect when they submit to Glyph? How long does it take to hear back?
MD: Students should expect thoughtful consideration of their work for its own merits. It's not a popularity contest, and the student editors give careful thought to all submissions. I've also been really impressed by the way that they leave their own subjective taste at the door during the editorial meeting—work can be in any genre, and there's no imposed aesthetic by the team. They're just looking for great writing.
The editorial meeting will take place in the first week of the spring semester, and typically all students who have submitted hear back from the editors within the first few weeks of the term.
JM: Is there anything else you would like to add?
MD: Can't wait to see this year's batch! Submit, submit!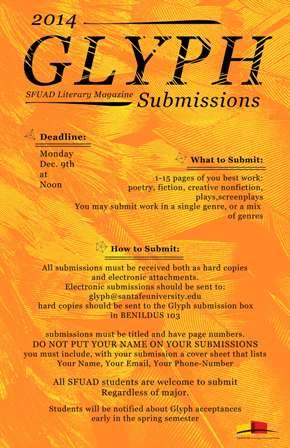 NOW ACCEPTING SUBMISSIONS FOR GLYPH 2014
DEADLINE: Monday, December 9 at noon
WHAT TO SUBMIT: 1-20 pages of your best work: poetry, fiction, creative non-fiction, plays, screenplays. You may submit work in a single genre, or a mix of genres.
HOW TO SUBMIT: All submissions must be received both as hard copies and electronic attachments. Electronic submissions should be sent to: glyph@santafeuniversity.edu Hard copies should be sent to the GLYPH submission box in Susanne's office: BEN103.
Submissions must be titled and have page numbers. DO NOT PUT YOUR NAME ON YOUR SUBMISSIONS. You must include, with your submission a cover sheet that lists your name, your email, and your phone number.
ALL SFUAD students are welcome to submit regardless of major.
Students will be notified about GLYPH acceptances early in the spring semester.