Tags
Related Posts
Share This
SITE Scholars Ascend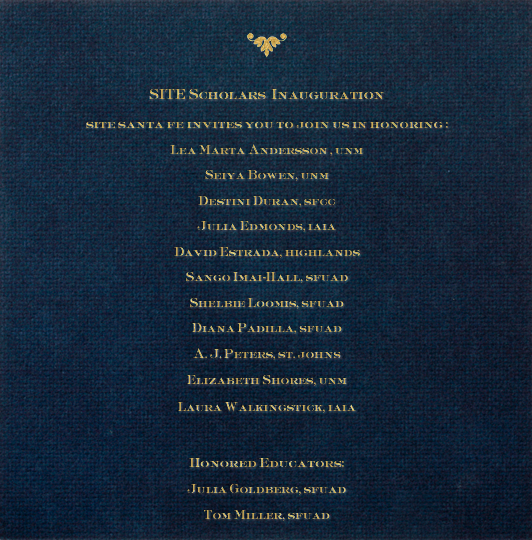 SITE Santa Fe honored a new crop of young artists during its 2013 SITE Scholars Awards Ceremony on Nov. 21. Honorees included students from Santa Fe University of Art and Design, as well as the Institute of American Indian Arts, St. John's College, the University of New Mexico and New Mexico Highlands University. A.J. Peters, Elizabeth Shores, Seiya Brown, Lea Marta Andersson, David Estrada, Diana Padilla, Julia Edmonds, Shelbie Loomis, Sango Imai-Hall, Laura Walkingstick and Destini Duran were inducted as 2013 SITE Scholars.
SITE Scholars cited the award as an opportunity to collaborate and network, but also noted how special it is to be recognized by an important organization like SITE Santa Fe. The award comes with a SITE Santa Fe membership as well as membership in the North American Reciprocal Museum Program and the Modern/Contemporary Reciprocal Membership Program, granting admission to museums all over the country.
Via email, Joanne Lefrak, SITE Santa Fe's director of education and outreach, discussed the program's genesis.
"I devised the SITE Scholars program as a way to honor high achieving students in our community, to connect these students to each other, and for SITE to establish meaningful relationships with faculty and students at colleges and universities in Northern New Mexico," said Lefrak.
Also honored were two educators from Santa Fe University of Art and Design. Faculty members Julia Goldberg and Tom Miller were recognized for their outstanding achievements in education and mentorship.
SFUAD was well-represented at the event and Lefrak says she began her collaboration with the school soon after starting her position. In 2010, Lefrak co-taught "Thinking About Art Now" with Linda Swanson, chair of the Art Department, which split class time between SITE Santa Fe and SFUAD. Now, Lefrak and Swanson meet and review possible collaborative efforts prior to each semester.
"The underlying principle is to deeply engage this demographic (students) with meaningful experiences in contemporary art and museum culture," said Lefrak.