Tags
Related Posts
Share This
The Decemberists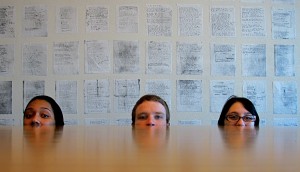 Jasmin Adams, Curtis Mueller and Sky Schneider (left to right) emerge from the student's desk to enter the world as writers.
For many a Santa Fe University of Art and Design Creative Writing and Literature major, the end of the semester blends into a montage of caffeine fueled all-nighters, pages to read and pages to write about pages read, pages to compose and edit and edit again and, ultimately, an exhausted heap of student burn-out. But for three CWL students, the close of the Fall 2013 semester also encompasses a—albeit slightly delirious—celebratory leap. CWL seniors Sky Schneider, Curtis Mueller and Jasmin Adams spent a few moments of their last week of undergraduate schooling literally jumping out of joy—or sheer relief—to be graduating.
SFUAD does not hold a ceremony for December graduates, but Schneider, Mueller and Adams seem unperturbed by this fact. Halfway through finals week in Benildus 102, a classroom where the three spent long hours preparing, work-shopping and revising their senior projects last semester, the graduates (here the line between graduate and graduating seniors is blurry: Adams and Schneider had completed their course work, but Schneider had one final presentation to attend and Mueller was one final paper away from being officially done) expressed an overall feeling of relief to have an more time to push their writing to new limits.
"It'll be nice not to be writing for anybody else for a while," explains Mueller, "just to be able to write. I'd like to screw around more—download an animation program and turn my writing into other things."
Adams concurs, adding that, "being here to study creative writing sort of sucked out all of my experiences to write about. I'm ready to replenish that resource of life experience as material for my writing."
The students' desire to write has not been extinguished by the CWL program.
"Studying writing was convenient for me," explains Schneider, who completed an unpublished novel over the last summer holiday and plans on starting a new one within a week of finishing school. "Writing is what I like to do. I also need a degree to get a day job so I can support myself as a writer. I didn't need a degree to become a writer, but going to school gives you the skills that you would hopefully learn eventually just from being a reader and writer on your own. Teachers help you to focus, and give you the skill-sets and knowledge in a condensed time frame."
All three feel they will leave SFUAD with new knowledge of their craft and their personal approach to it that they didn't have before.
"I learned how plot works," says Schneider, who writes fantasy and urban fantasy.
For Adams, a poet, the little nugget of knowledge that she will not forget is simply to simplify.
Mueller, a writer of absurdist non-fiction, admits that, "It's a lot of things…technicalities that seem really simple but are actually really hard. Like knowing that your reader can't read your mind, and being able to present ideas in a logical flow, to be able to build them up to a point for your reader."
SFUAD's CWL program has also provided these three seniors with more than an undergraduate degree that will serve them in getting a day job and a few gems of knowledge about the craft of writing.
"I needed SFUAD," explains Adams, who plans on working in Santa Fe for a year (she already has a day-job at Victoria's Secret) before applying to graduate school for psychology or women's studies. "It was a sort of journey to the self, a sort of spiritual journey through writing and being in college and being in Santa Fe. You learn a lot about yourself here," she says.
As the three lined up to pose for photos in front of Benildus 102's wall of wheat-pasted drafts of T.S. Eliot's 'The Wasteland,' they demonstrated the sense of self to which Adams.
"I'm not intimidated by this wall of Eliot," says Mueller. "See, he's dead. He can't do anymore writing. I'm still alive and I have all the time in my life to keep writing new things. I don't need to live up to any dead poet who's pasted up on a wall." Adams and Schneider laughed their agreement as they line up next to Mueller to jump for a Jackalope camera.