Tags
Related Posts
Share This
Truth, Friendship and Papayas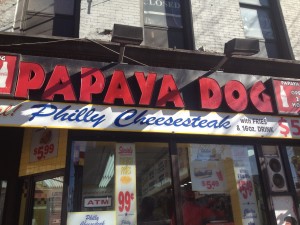 The number one rule in reviewing: Never review for what something isn't. That can apply to pretty much anything. Food, movies, television, people.
I might be a dick when I return to Santa Fe. Those who know me might say "Well Nick, you already are kind of a dick." I'm not talking about general dickery. I'm talking about how I'm going to be annoyed that everything closes at 11. About how everyone is walking too slow, or how I won't be able to find any food I desire. Basically, I'm going to be annoying because Santa Fe isn't New York. But, Santa Fe isn't trying to be New York.
"True Detective" just wrapped up its eight episode run and there are plenty of people on the internet who weren't impressed. Emily Nussbaum at The New Yorker has written several articles about the show, and while I disagree with her on many issues, her columns are still an excellent analysis of the anthology series. I mean, it's The New Yorker, what did you expect?
People were upset that with all the Lovecraftian mystical goings-on of the show, it was ultimately a character study about masculinity and Good vs. Evil. The lack of a real shocker or spiritual manifestation left some cold. For me, those themes were right in my wheel house. You just have to appreciate the show for telling an age-old story with such conviction and panache. And appreciate the nihilistic ramblings of Matthew McConaughey, which will surely be oft-repeated in college smoke circles for years to come.
On a more personal level, there's a girl in my building who has spent a lot of time online dating. Look, I don't want to bash online dating. Plenty of people have found their soulmates online, if those eHarmony commercials are to be believed. But these online profiles, these short summations of who we think we are, are so disingenuous—even when they aren't trying to be.
My brother Sef has an online dating profile too. He advertises himself as a sweet, lovable guy, even though he's a sub-human sociopathic neanderthal. Growing up with him might skew my opinion. Sef's four years older than me, and the girl in my building is about my age. Both of them are relationship people. Again, nothing wrong with that. There's so many options out there and so many people lying to themselves and seeking that perfect person and everyone's flaws being magnified and no one matching up to their parents' relationship, or worse, matching up to their parents' relationship. In short, it's stressful.
On a more personal level, in that it's actually personal, I've never been able to take anything at face value. I'm a complainer, even when things are relatively perfect I'll find something to nag about. Now I'm thinking about a specific girl. Wondering why our relationship never progressed that  way I wanted. Probably because of the negativity. Though probably, because I viewed the possibility of a sexual relationship as the pinnacle of our interaction.
I've joked about being in the friend zone, acknowledging that it's a misogynistic term, created by men who were unable to be satisfied with friendship. I joked, even though that was exactly what I was doing. Instead of epic romance, what I experienced were small moments of two friends shooting the shit and enjoying each others company. It's only when I step away from myself, and my selfish  tendencies, that I can say how grateful I really am.
We all have these moments of introspection. Where we all have to stop and appreciate something, faults and all. And for today, at least, I can do that. Papaya Dog: 3/5 stars.