Tags
Related Posts
Share This
Booming OVF Ideas
Doing the math to physically build a 10-by-18-foot boombox, composed of almost 80 individual pieces that will display various images via projection, is not the simplest task. For the five guys working on this giant boombox, which will debut during SFUAD's May 2 Outdoor Vision Fest, late nights in Alexis Hall are no strange occasion.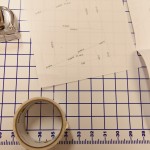 With music playing throughout the building, and the construction of the boombox taking up the majority of the front room, the team's camaraderie is tangible as they assist one another in construction and nod along in agreement with each other's thoughts on this larger-than-life creation.
"The boombox actually serves as a catalyst in order to display each of our personalities…it's able to be the middleman as we express ourselves in our own styles," Caleb Ortega says, as the rest of the group acknowledges the success of their collaboration.
As animation and graphic design students, the team's biggest struggle has stemmed from the engineering and architecture standpoint. Though not even the intimidation of the structure and size has this upbeat group of guys in a funk.
"I think it's just great that we take that step, take it to the next level. And kind of build our own mediums, our own ways to show off our work. And just break away from 'we just make posters' or 'we make logos'," Arnold Mateas says, with the other four echoing their agreement.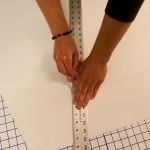 Three of the five-man team took part in the creation of the giant head which captivated audiences during last year's event. With this experience under their belts, the group has plans for the boombox to be even bigger and better.
"I think what's really cool about this year compared to last year is we're gonna have a lot of different styles," Abe Schor says. With each person taking on a different technique and showcasing his own style and strength through the projections, the final result will be one that is diverse and all-encompassing.
This unique and exciting creation has given the entire group a way to challenge themselves, explore further creative possibilities and feature their individual artistic strengths, all while aiming to provide the OVF audience with another all-inclusive, stand-out experience.