Tags
Related Posts
Share This
Unbowed, Unbent, Unbroken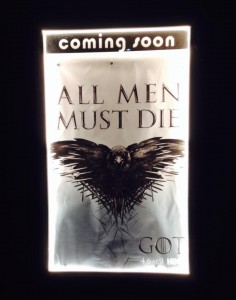 By midnight the line already had wrapped around the building. My group was the second in line for the Game of Thrones Season 4 early premiere, beaten only by the eight or so people crazier than us who arrived at 10 a.m., waiting over 24 hours in line. We arrived at 8:30 p.m. that night and we thought we were crazy for getting there even that early. However, for those wanting to claim one of the sixty-some remaining coveted seats, arriving after about 4 or 5 a.m. was already too late.
Game of Thrones has quickly become an insanely popular TV show, with the season 3 finale bringing in 5.4 million viewers. The show is based off the fantasy series written by George R.R. Martin and depicts the struggle of power in the land of Westeros as rival families battle for the crown.
For the past few months, the Jean Cocteau Theater in Santa Fe, owned by George R.R. Martin, who also lives in Santa Fe, has been showing the first three seasons of Game of Thrones a few episodes at a time. Recently, it was announced that Martin had been given permission by HBO to have an early screening of the season 4 premiere. George R.R. Martin and actor Pedro Pascal, who plays the highly anticipated new character Oberyn Martell, would be attending the event. Immediately, my friends and I decided that we had to go, no matter how early we had to arrive.
So on Friday, March 28, our group of seven packed up and headed over to the Jean Cocteau Theater, lugging bags of snacks and sweaters and hoping we'd make it in time. As we pulled around the corner, there was a collective sigh of relief as the short line appeared. Even so, half the group jumped out of the car to claim our spot as if a hundred people would mob the sidewalk any second. Five minutes later and we were settled on the sidewalk, already breaking into our trail mix and laughing our heads off at how crazy we were being for arriving 17 hours before the doors opened.
When asked later about the experience, 22-year-old junior Schuyler Gilmore and 19-year-old sophomore Amelia Wilson answered "yes" when asked if it was worth waiting 17 hours to see the new episode.  The general consensus seemed to be that the greatest parts included seeing the new episode, seeing the actor Pedro Pascal, and getting to sit on The Iron Throne, a centerpiece of the show comprised of nearly 200 melted down swords.  When asked if they had attended another of these Game of Thrones events, Gilmore answered, "Yes. When Maisie Williams came. It was fantastic because I got a selfie with her." Wilson answered, "yes" as well to the Maisie Williams event, saying "it was better because we didn't have to wait overnight."
I attended the Maisie Williams event in January as well and thought it was a great experience for a Game of Thrones fan such as myself to meet one of the cast members. Sixteen-year-old Maisie plays Arya Stark on the show, the feisty, youngest daughter of Ned Stark, who would much rather practice sword-fighting than think about finding a suitable husband someday. Despite her young age, she's one of the strongest female characters on the show and it was wonderful to get to meet the actress who brings her to life.
At the Game of Thrones Season 4 premiere event, we were unable to actually get to meet Pedro Pascal, but seeing him in person and then seeing his performance as the vengeful Prince Oberyn Martell was really cool. While his character is not someone to be messed with, the actor himself seemed very funny and down to earth, or as Amelia Wilson had to say, "derpy and adorable."
When asked if they could meet anyone else in the cast and why, Gilmore said, "Peter Dinklage because he's [Tyrion Lannister] my favorite character and he seems like a great person." Wilson also answered with a member of the proud and ambitious Lannister family, "Nikolaj Coster-Waldau [Jaime Lannister] because I really love Jaime and I'm really interested in what his idea of the character is in his mind. But he'd be closely followed by Jack Gleeson [King Joffrey]."
While some might call us crazy for waiting 17 hours to see the new episode of Game of Thrones, which aired Sunday, April 6 on HBO, for us it was completely worth it. There's just something about waiting in line with people who love something just as much as you love that feels so amazing, and even if it means stumbling around after no sleep and running off Starbucks coffee, in the end it's a wonderful experience. In the words of House Martell, our love for the show remains, "unbowed, unbent, unbroken," and you can bet that when another event like this happens my Game of Thrones obsessed group will be there.