Tags
Related Posts
Share This
CineVision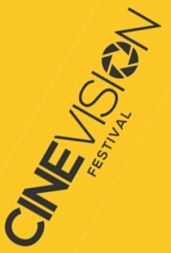 "There's no better teacher than to do it," says Film 4 Change Executive Director Rich Henrich, creator of the first CineVision Festival at The Screen, May 1-4. Henrich says the idea for CineVision sprang from the constant curiosity of students regarding how to create and run a film festival.
After approval from Film School Chair Chris Eyre and Assistant Chair Paula Amanda, Henrich coordinated with the Outdoor Vision Fest as well as the coordinators for Alumni Weekend to establish a festival that "will be beneficial to all." The next question, Henrich says, became "what films are going to represent the campus community and what films will represent the Santa Fe community?" The judging and programing of the pool of submissions was then left to students, which Henrich says was "a great opportunity for our students to see what other college students are producing and what stories they're telling."
With help from Henrich (director of the Albuquerque Film Festival and creator of the AMFM Festival in California), the student-run CineVision 2014 will feature animated shorts from Mexico and New Zealand, documentaries and narrative films from the film festival circuit, and an opening night screening of Joe, starring Nicholas Cage, followed by a Q/A with co-star Ronnie Gene Blevins (Dark Night Rise, Justified, Sons of Anarchy).
College of Santa Fe/SFUAD alumni and Film Directors Matt Page (creator of the web series "Enter the DoJo"), Tristan Love and Seth Fuller will, in addition, screen their latest films alongside student films from SFUAD, the University of California Los Angeles, Massachusetts Institute of Technology, San Diego State, Santa Fe Community College and the Institute of American Indian Arts.
In addition to film screenings, CineVision will host a number of panels, such as "Experiments in Space and Light," conducted by the New Mexico Lawyers for the Arts and Santa Fe alumni panel, which will be an opportunity for students to get advice from those who have begun their work in the industry.
Ana Aguilar, recent Film School graduate, adopted the task of animation coordinator for the festival after making some connections with film friends from her home of Mexico.
"I thought it was a good opportunity to show what is happening in other countries, with students [and] recent grads," says Aguilar. "If I can be that connection between here and there, I think it's great for both sides."
The screening of Aguilar's documentary short, "Spirals in the Sky," for the Independent Film Festival last year (included in this year's CineVision program) was also a reason why Aguilar said "it would be fun to be involved in the process of getting [a festival] together." Contacting some friends from an animation company in Mexico, Aguilar was able to bring a handful of animation shorts, a documentary, and a music video called "El Gran Bang" that Aguilar says "is mind blowing in a really good way." Henrich hopes that the animations from Mexico, along with the animations from New Zealand, "add a little bit of an international flavor."
In addition to raising money and interning young filmmakers, Henrich explains that the festival is foremost an opportunity to expose students to the world of smaller budget, artistic movie-making. "We'll have some people who aren't necessarily making blockbusters," Henrich says, "but they're making very good independent films…and they'll be here to share those stories and those lessons learned."
Ultimately, Henrich wants to create a competitive funding pot for which students can compete, generated  from the festival proceeds.
Partnering with The Film School, Christopher Foundation for the Arts, The Screen and SFUAD's Alumni Weekend coordinators, the CineVision events are free for SFUAD students and $10 per film program for the public.