Tags
Related Posts
Share This
Celebrate Glyph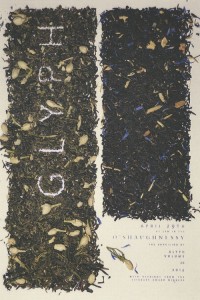 This Tuesday, April 29, SFUAD's annual publication, Glyph, will be unveiled. After 400 pages of submissions, the literary journal has been narrowed down to 41 pieces. Submissions of writing were sent in from multiple departments, not just creative writing students, and those accepted into the journal include graphic design and film majors. The book features a mix of wonderful poetry, fiction, and creative non-fiction. Department Chair and Glyph advisor Matt Donovan says: "There's just a terrific body of work represented this year, which was selected by a really diligent group of student editors in Creative Writing."
The editors of Glyph, led by myself and Katie Johnson as Editors in Chief, have taken the care and attention to edit these pieces for the better part of the semester. Each editor was assigned specific pieces to look into, and asked to keep open a communication with the author of the piece. This way, each editor understands the importance of revision, and can create a professional atmosphere that is similar to any publication we'd send our own work to post-graduation, while allowing an approachability toward other students.
After the first round of editing, the faculty chose three pieces from each genre category to receive prizes for literary achievement. The editors were given the opportunity to choose the recipient of "Best New Voice," which is given to an author whose work is appearing in Glyph for the first time.
The editors wait with bated breath to see the copy in its full printed glory: Nina Larson, with assistance from Caleb Ortega, designed the book's interior and exterior. "We've been collaborating with the Graphic Design Department on Glyph for five straight years now, and it's also been incredible exciting for me to be present during the students' editorial and production work," Donovan says. "This year, though, has been especially gratifying. Nina Larson, a senior in Graphic Design, was amazing to work with. She had such an incredible vision for the issue, and Glyph has never looked more beautiful!"
Nina Larson was led by faculty advisor David Grey, who has sat in on every meeting while the editors (myself included) drool over the many design options Nina lays before us, the final decision being made as a group. As Glyph was sent off to the printers a few weeks ago, we all breathed a sigh of relief for what has been a heavy workload but an intensely rewarding experience.
This April 29, join the editors and designers in unveiling this passionate work. Live readings will be given from Glyph's literary award winners. The journal truly shows the scope of talent SFUAD brings to any table.
Music and food will be provided, as well as a copy of Glyph, design goodies included for every attendee. We cannot wait to show you what we've been working on.