Tags
Related Posts
Share This
Craft Sells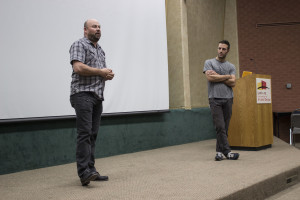 Local marketing gurus Zane Fischer and Adam Shaening-Pokrasso schooled writing students Nov. 5 in the Forum on the commodity of story telling.
"It's hard to find careers where writing doesn't come into play," Fischer said.
Fischer wrote, and was an editor for the Santa Fe Reporter. He now applies his penchant for narrative structure to re-branding local businesses from his Santa Fe-based firm Anagram, which has created logos and websites for the new media festival Currents, the contemporary art gallery Site Santa Fe and the Santa Fe Concert Association — rebranded by Anagram as Performance Santa Fe.
Now more than ever before, according to Fischer, a creative writing degree will allow one to assimilate almost immediately into a professional marketing environment.
"Your contribution will be valued," Fischer said.
Shaening-Pokrasso, born in Santa Fe and founder of the California-based marketing firm 12FPS, attributes this valuation to a change in how the advertising audience connects to products and the ideas they represent.
"People are tuning out in-your-face marketing techniques," he said, adding, "People want stories."
Story building is the foundation for all 12FPS-marketing campaigns, and writers, according to Shaening-Pokrasso, are the ones with the conceptual chops necessary to turn an abstract notion into a hand-held commodity with mass appeal.
Industry demand for writers' craft is a new idea for art students, especially those who question, or may even be unaware of the relevance of writing craft in a tech-driven economy.
In high school, film major Julie Wittrock said she considered pursuing a BA in creative writing, but decided against it because of "how hard it is to apply creative writing to general employment and hire-ability."
But after hearing the guru duo speak, she said she was surprised by the openness of the marketing industry to "creative people and storytellers."
However, industry openness did not alleviate Wittrock's anxiety about getting a job after graduation. She wants to be a screenwriter, not a marketing executive, and is partial to science fiction — a traditionally male-dominated genre.
"Being a writer in any capacity is a huge risk," Wittrock said, "[and] making a living is a huge frightening issue for me."
Wittrock's fear is not unfounded.
According to the Labor Department's Occupational Outlook Handbook, writing is projected to grow at a rate of a little less than three percent in the decade between 2012 and 2022. In other words, only 3,800 additional writing jobs are expected to become available over the course of 10 years.
However, according to Career Services Director Joanie Spain, this number may be based on the Labor Department's narrow definition of writing, and their limited perception on its applicability to other industries, rather than the actual number of jobs available to people with a creative writing degree.
"That's why we brought in Zane and Adam," Spain said, "to show writing students the wide range of possibilities."
Marketing is a burgeoning industry, according to the Labor Department, that's projected to grow 12 percent during the same decade as writing, which is one percentage point higher than the average for all industries combined — a fact Spain attributes to marketing being the third largest industry after health care at No. 2, and transportation at No. 1.
"No matter what you do," Fischer said, "you have to be able to communicate what you do, and who you are."
Success in industry, according to Fischer and Shaening-Pokrasso, depends on good communication, at the core of which is the ability to formulate cohesive and comprehensive narratives.
"At the end of the day," Fischer said, "employers want a good thinker."