Tags
Related Posts
Share This
Body Traffic
From the "sexy," "sophisticated" and "edgy" city of Los Angeles, the highly reviewed contemporary dance company Body Traffic comes to Santa Fe for a two-week residency to teach master classes in local studios and perform for the Santa Fe audience at 7:30 p.m., Nov. 7- 8, at the Lensic Performing Arts Center.
Among the members of the company, dancer Miguel Perez returns to the university after teaching a master class to SFUAD's Garson Company in February.
This time, eight additional dancers join Perez as well as Body Traffic co-directors Tina Finkelman Berkett and Santa Fe native Lillian Rose Barbeito. From age 5, Barbeito trained at Early Street Studios and later at the Santa Fe Dance Foundation—known now as Aspen Santa Fe Ballet. It was at the Foundation that Barbeito fell in love with modern dance. 
"I think it reflects the physical expression of what it means to be human," Barbeito says, describing her interpretation of the dance form. "In contemporary work you can do fantasy, abstract and conceptual things, but unlike in classical ballet where you're telling a literal story…often contemporary dance is about reality. Each piece is so different in capturing one aspect." 
For example, Barbeito shares that the most theatrical of the three company pieces encompasses rage, jealousy and incorporates the mistreatment of women. The main attraction for Friday and Saturday, however, is the world premiere of Victor Quiijada's dance, based on his life in LA as first a b-boy street performer and then a professional contemporary dancer, who went on to establish his own company in Montreal called Rubberband Dance Group. 
"The space is never empty," Barbeito says, reflecting on the month-long training the company underwent with Quiijada. His style, she explains, is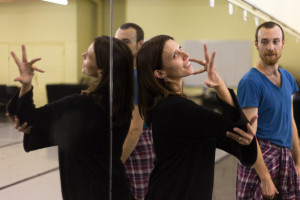 fluid-like, "the air is always filled with a substance, like nutella, other times with water, but the air is never empty."
According to the LA audience, Body Traffic's diverse company encompasses the city's dynamic cultures and expresses its "sexy," "sophisticated," and "edgy" characteristics. And because co-founder Berkett lives in Beverly Hills and Barbeito lives in Venice Beach, Barbetio says it's like "sophistication meets edgy. You'll see that in the work. Some of the movement can be done in heels, some in flip flops. It has that complementary contrast."
Speaking of contrast and diversity, Perez too shares his joy thus far in a career that has him dancing in concert settings like Body Traffic and commercial settings like Las Vegas' Shania Twain shows. Originally from Arizona, Perez says he feels lucky to be doing a variety of dance and loves especially the perks of traveling to places like Santa Fe.  
"I love Santa Fe, it's awesome," Perez says. "The people are so nice, the scenery is beautiful and the food is out of this world. We've been eating non stop, I had to work extra hard at the gym because of all the food we're been eating."
Of course, there are the not so pleasant elements of traveling, like a 6,955 foot elevation change that has some of the dancers heaving and sweating in the SFUAD campus studio as if they're running a marathon. 
"We're been feeling it out here. We find ourselves being more exhausted in these runs, but it's good that we're here a couple days early."
And it's not just the performances that Body Traffic is undertaking while in Santa Fe. SFUAD's Garson Dance Company has had the opportunity to take master classes from Body Traffic members Andrew Wojtal and co-director Barbeito, as well as learn some choreography for SFUAD's spring concert. The company also will visit other students in Santa Fe and Albuquerque studios, including New Mexico School for the Arts.
"Our trip is filled with a lot of great activities here," Perez says. "We get to perform but we're also giving back to the community. 
For the Santa Fe audience, Perez adds that he hopes the art community appreciates their diverse company.
"We have so much to offer and I feel like there's something for everyone in the show. Three distinct pieces and if someone walks away with liking at least one, that's great. We're hoping that they have a good time and hope they realize there's a great contemporary company coming out of LA." 
And upon returning to her hometown, native Barbeito says that she didn't realize how much she missed Santa Fe. "More than ever, since I've been away, I understand why it's called the Land of Enchantment. There's this inherent connection to mother earth here and it's like you're more present in Santa Fe. There's a difference between doing and being and Santa Fe is so much about being," Barbeita says. "The people have a sense of spirituality and open-mindedness. And one thing I never noticed growing up is the gay population being so prominent and the dancers are loving that. I feel like the white heterosexuals are almost the minority here…it's a fantastic conglomeration of people."
"I'm proud of where I'm from and I'm proud of what I've done since I've been gone," Barbeito adds, "and it's great to bring those two things together. It's an ensemble of really talented people and it's great to bring them here. It's an absolute joy for me to be coming back home to be able to share the company with the Santa Feans and we hope it's an inspiring evening."