Tags
Related Posts
Share This
Ephemera 5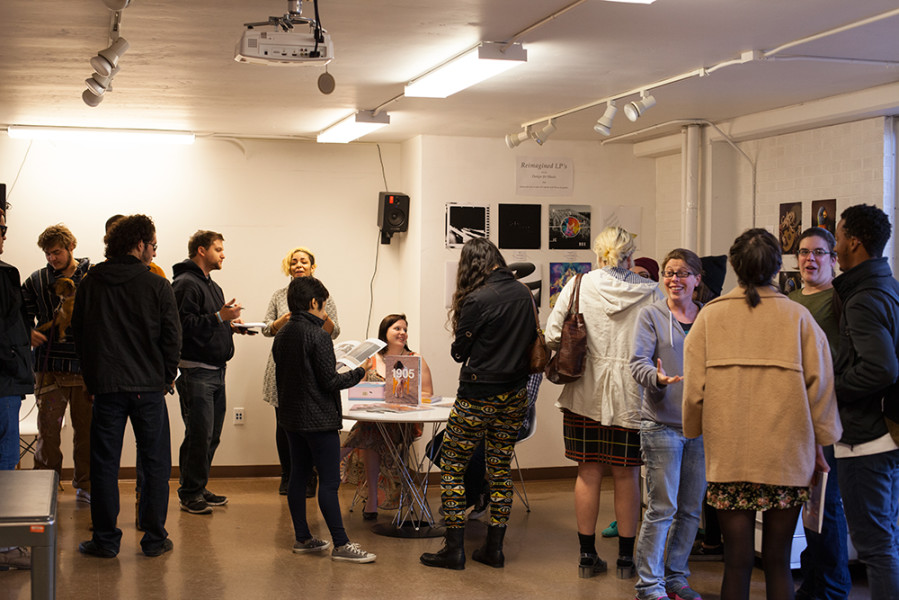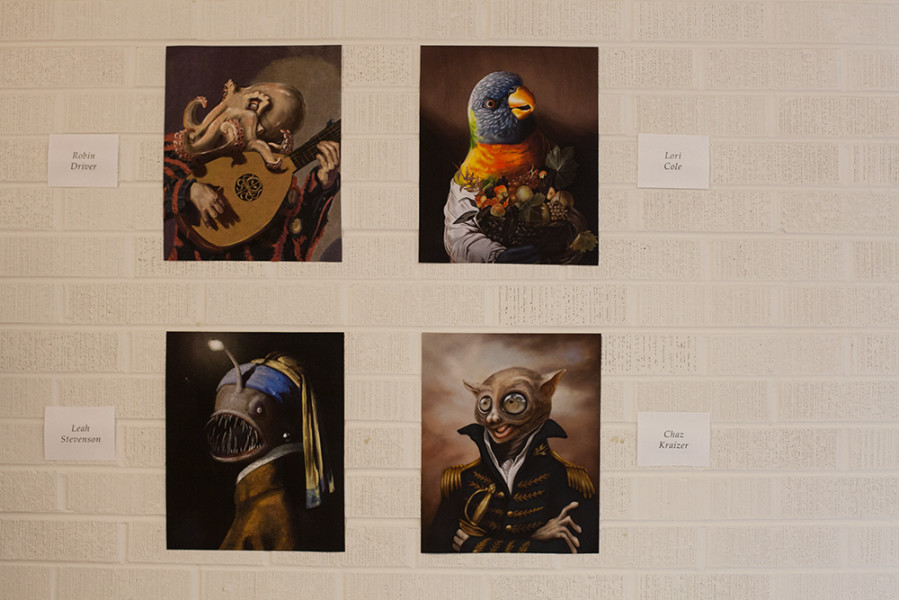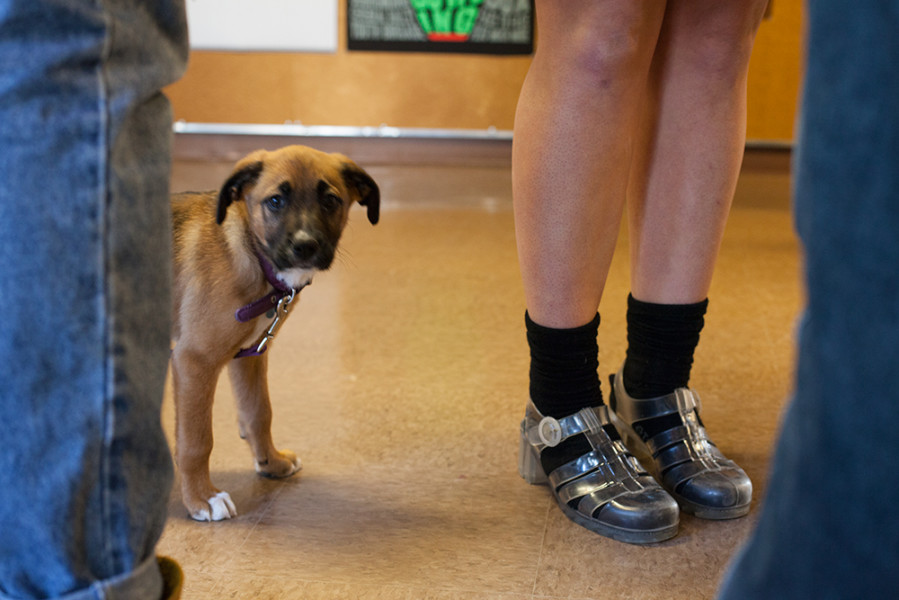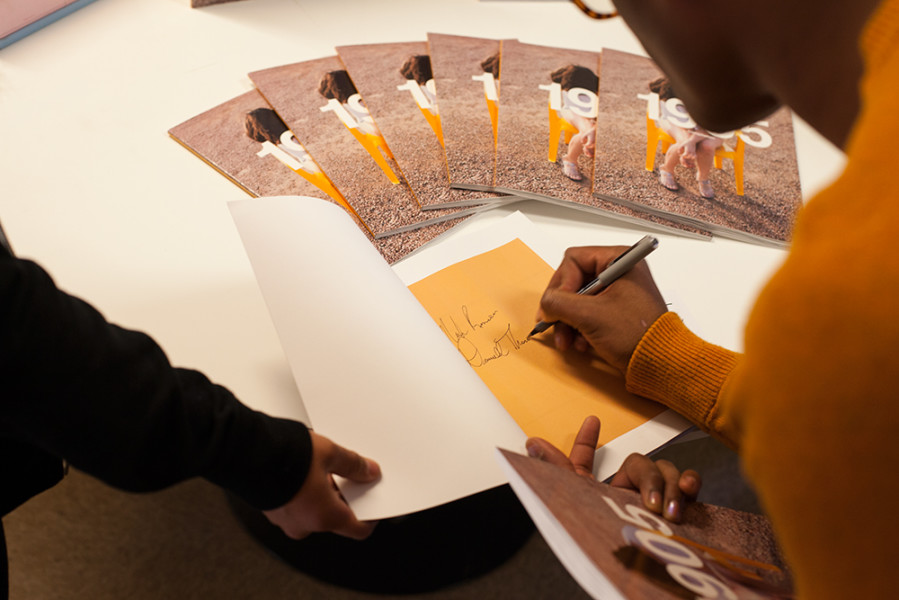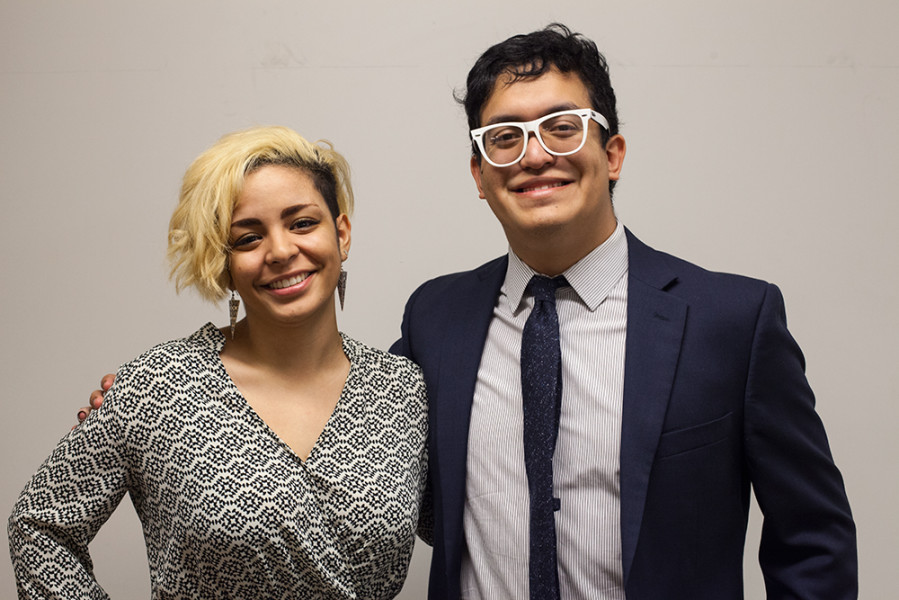 Smoke wafts through the open doorway of Alexis Hall as students casually enter and exit the building on April 24. A puppy playfully jumps at Darnell Thomas' feet. Shawn Khounphithack walks through a stream of bubbles at the entrance and makes a beeline for the far wall. "Dude, check out this comic," he says to a friend. He points at Shelby Criswell's work, a piece called "Coffee Mill Which Grinds Salt." The comic follows the adventures of a cabin boy on a pirate ship. Troubles ensue when the pirates get a hold of his magic mill. The six-page piece of sequential art is just one of the works that adorns the walls for the Graphic Design program's show, Ephemera 5.
The fifth incarnation of the Graphic Design show is open to students from all of the Visual Arts departments. Even former students drop by to enjoy the work. The word "ephemera" refers to items meant to be used only once or a short period of time. The definition rings true for some of the artwork at the show, but most of the pieces could enjoy a long life on someone's wall. Much of the work on display has been printed for the first time at the show.
A laptop feeds video to a projector overhead, shining images on the wall. Criswell's animation of a cartoon knife chops off the tips of cartoon fingers. 3D eyeballs drop into the shape of the number five, courtesy of animator Rufino Medrano. A few feet away, the pointillist work of Nicole Sonobe hangs beside Laura San Román's inventive typography. Circular letters spell out the word "ligature," a printing term that can refer either to a stroke that connects one letter to another or a character that combines two or more letters. San Román created the work for the Instagram group, Ligature Collective.
Ephemera co-founder Caleb Ortega dresses to impress, wearing a navy blue suit, a grey tie flecked with white specks and his signature white, Ray Ban glasses. "This is a chance to get your work shown and printed in a large format," Ortega says. "People also get to take their art when the show is over, so you get a free poster out of it, too."
The spring 2015 show marks Ortega's second academic year curating Ephemera. He co-founded the show with a friend in the fall of 2013. "Our first show was kind of jenky," Ortega says. "It was small and sloppy, but we've progressively been getting better." Ortega and co-curator Ronnie Garcia set up a process for students to submit their work, and asked students to send everything they had to ensure a greater chance of inclusion. "The curatorial process is the fun part," Ortega says. "You find high-quality work that fits together. We tried to keep ourselves open-minded."
Ortega and Garcia both have pieces in the show. Garcia points out her poster for the movie, Treasure Planet, and another work depicting a figure riding on the head of a dragon. Ortega created posters for Otis Redding and "Airborne Toxic Event," a fictional music festival involving his favorite bands.
Copies of SFUAD's fashion magazine 1905 are fanned out on a table beside Ortega. Ronnie Garcia and Kaylie Huse sit at the table, selling copies. The first physical copy of the magazine collects material from previous issues of the online version. Mariah Romero co-founded 1905 with Business Arts and Design major Darnell Thomas. Romero is excited to debut their first physical issue at Alexis Hall. "This is where we hang out. It's where we work. This is like our home."
Behind the display of magazines, alternative covers for famous music albums tile the wall. "This was for our Design for Music class," Ortega says. "Everyone chose three albums and designed the front, back and the label for the vinyl record inside." The class originally intended to hold a show displaying just the album covers, but was unable to do so. Ortega thought Ephemera 5 would be the perfect occasion to give the work its fair due. The album covers on the wall include Led Zeppelin's Led Zeppelin IV, Childish Gambino's Camp, and Benny Goodman's Carnegie Jazz Concert, Volume 2. "Jazz album artwork is beautiful, but it's kind of dated," Ortega says. "Rather than redesigning album covers that I already like, I decided to go with albums that had dated artwork."
Beside the album covers, the work of Digital Arts II students draws double takes from passersby. The digital paintings replace the heads of famous portraits with those of unusual animals. Though each of the four pieces was created by a different artist, they all bear a similar style. Lori Cole parodies Michelangelo Merisi da Caravaggio's Boy with a Basket of Fruit, using the blue-feathered head of a bird. Robin Driver replaces the head on Frans Hals' Jester with a Lute with that of a squid. A wide-eyed lemur wears a blue military uniform in Chaz Kraizer's contribution and Leah Stevenson utilizes the frightening visage of an anglerfish for her rendition of Johannes Vermeer's Girl with a Pearl Earring.
Two works by Graphic Design major Julian Williams flank either side of the doorway. A masonite reproduction of Williams' Ephemera 5 poster sits on an easel. The tightly compressed wood material pits a dark background against slightly darker designs. Various shapes come together to resemble something between a jukebox and a circuit board. "Thinking of patterns is hard," Williams says. "I wanted it on wood, but it would have been more expensive."
On the opposite side of the doorway, another piece by Williams depicts the various cities in which he has lived. The son of a military father, Williams was born in Germany and grew up moving from one place to another. The light-hearted piece blends the geography of Germany, El Paso, Santa Fe and Williams' next destination, Los Angeles. "L.A. has the charm of a city like Santa Fe, just in a different way," Williams says. After the spring semester, Williams plans to transfer to CalArts. "It's not meant to reflect an attitude of 'fuck this place.' This school is important to me. I've just come to realize that I'm never going to stay in one place for long."
Williams says he still plans to submit to Ephemera next year even though he will not be returning to the school. "This show is so important to me. I've been waiting for it all semester. It helps people with their process and we get to see some work we normally wouldn't get to see from one another. It's just a handful of students who come together to make it happen and it's great to see the amount of care that goes into it."
As the sunlight fades, gallery goers trickle out of Alexis Hall. Exiting the building, Williams spouts German phrases to his friends. Caleb Ortega's girlfriend presents him with a pizza. The student-run event caps the end of the semester on a celebratory note. Ronnie Garcia smiles at the evening's success.