Tags
Related Posts
Share This
1905 Updates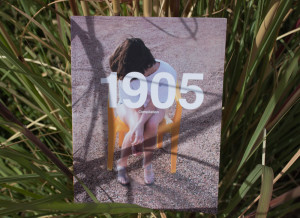 1905, the student-run fashion magazine, has big changes in store this year. Run by partners Darnell Thomas and Mariah Romero, the magazine was first created last January and has featured student writing, modeling and photography. With a new issue on the way, Thomas and Romero are taking the magazine in a slightly new direction: It will now be released four times a year, once for each season, rather than once a month.
"This past September started off the premiere of the magazine going quarterly. It will come out four times a year now," says Thomas. "We thought of this major change simply because we want our contributing artists to enjoy their creative process while having the time to focus and work on content."
In addition to their hopes that contributing writers and artists will have sufficient time to produce quality work, both Thomas and Romero are eager to put more of themselves into the magazine with more spread-out deadlines now at their disposal.
"Doing it every month was insane," Romero says. "We feel like the quality has improved since the switch because everyone has more time to think and slow it down a bit. It has been much more pleasant working with this schedule."
Despite the change in deadlines, 1905 magazine remains the same at its core. Thomas and Romero both stress their eagerness to work with talented contributors. While the magazine is grounded in fashion, the creators of the publication are always open to suggestions from their contributors, and hope to instill a message of living in the moment, which they hope will resonate with their readers.
"As far as our theory with the fashion side," Romero says, "we do these photo shoots with pieces we find at thrift stores and our own closets and friend's closets, so we really want to stress the idea that you don't need a ton of money to look fabulous. Another underlying message is that we want our readers to really treat themselves! By taking the time to try new recipes, take care of their bodies, and focus on their happiness."
The roles that Romero and Thomas play have remained constant. They consider themselves a team, and look to one another's strengths in order to form a unified face for the publication. While both contribute in all areas of the magazine's creation, Thomas does a good portion of the communication with the contributors to 1905 as well as many of the Photoshoots. Romero, on the other hand, focuses on designing the magazine itself.
"I think our favorite moment during each issue is putting the magazine together," Thomas says. "This is the chance for us to really put our hands on the type of look and experience we want to create for our readers."
Looking to the future, Thomas and Romero are thinking of exploring new forms in which the magazine may appear. While they are focused on their current, digital format, they are also considering putting the magazine online, where readers would have the opportunity to purchase their favorite copies. In addition, Romero and Thomas were both surprised at how well their printed issue was received at last year's, 'Ephemera 5,' and are intrigued by the idea of doing more issues in print.
"I feel like our goal right now is to stay digital while we are in the works to figuring out how to put actual copies into our readers hands," Thomas says. "We would have never thought that our compilation issue, that was printed for Ephemera, would catch so much attention that it did. Since our values consist of the magazine holding a significance digitally, the reactions we received about having printed issues just made us really want to do it. Stay tuned guys!"