Tags
Related Posts
Share This
RAs of the Cornfield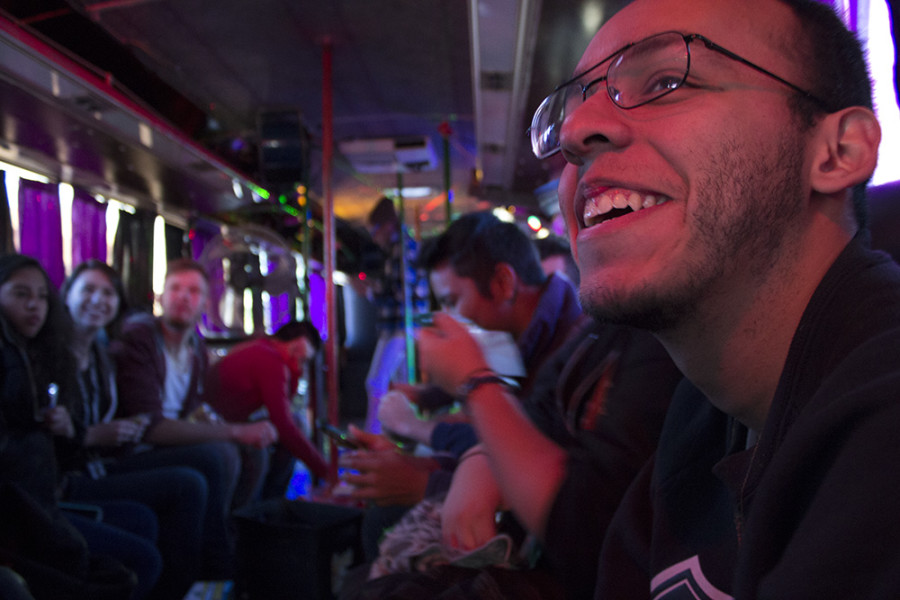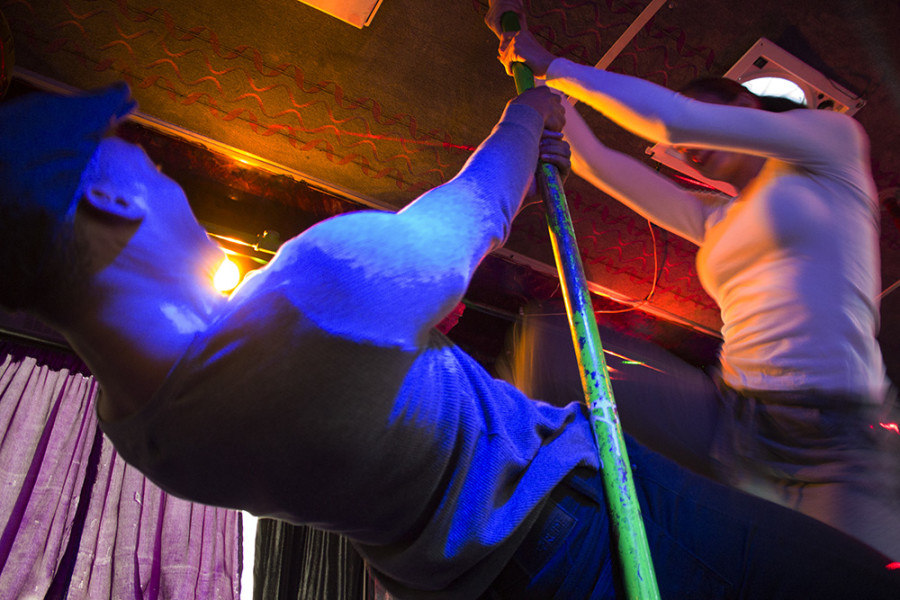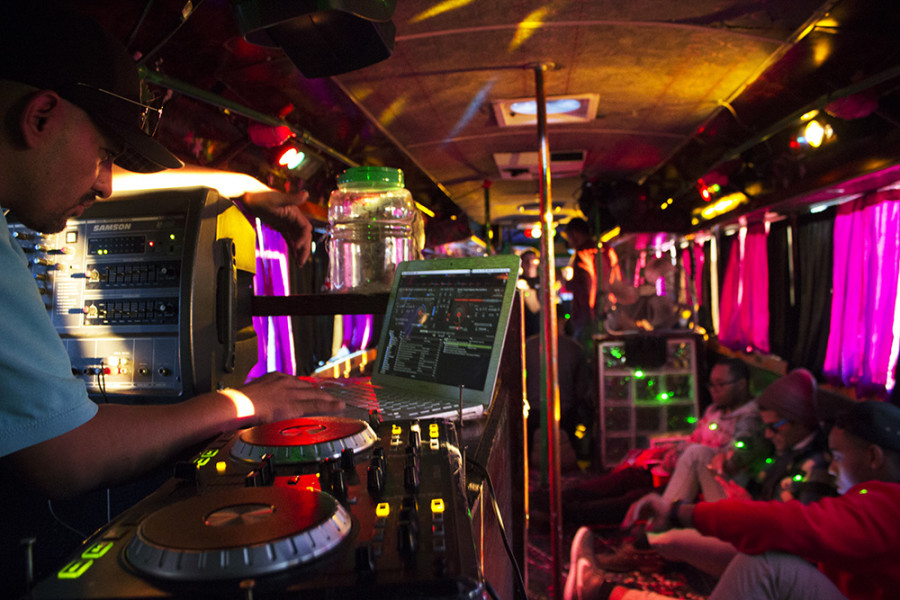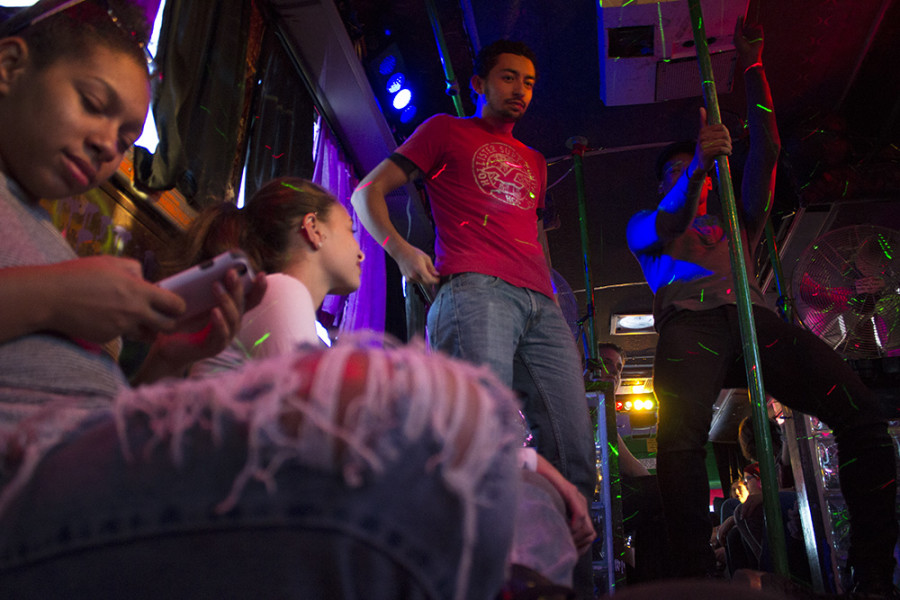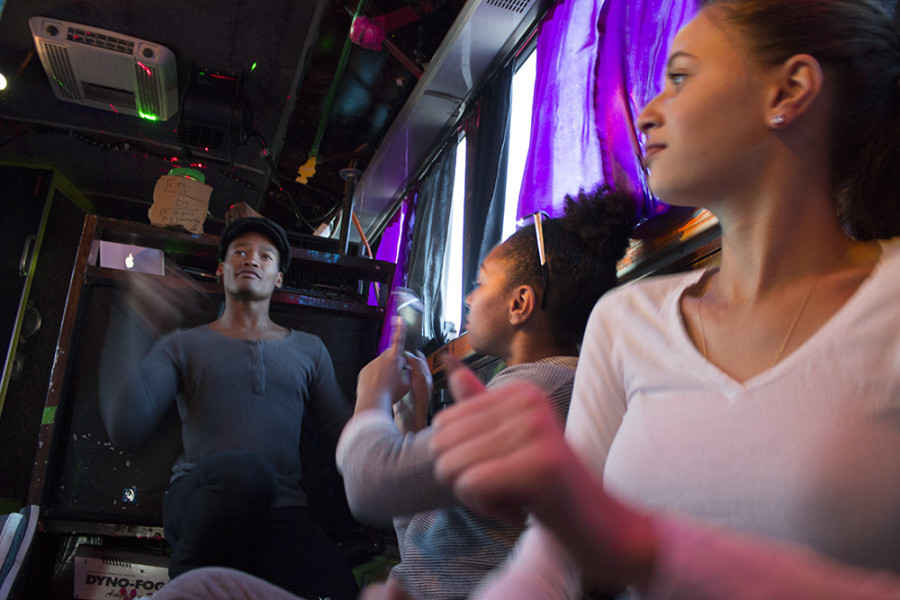 Emily Curley hops from one foot to the other in the entrance to King Hall. "I don't wanna do this, I don't wanna do this," she chants as she does her little dance. Curley is not a fan of being scared, which makes her attendance Oct. 24 in the Resident Assistant (RA) retreat to McCall's Pumpkin Patch a personal challenge. The event is a bonding exercise. Curley says her second semester as an RA is "different overall. It's stricter within the RA leadership. I don't know the RAs as well." The returning RAs did not have to take part in as much training as the new RAs, so some feel a lack of cohesion within the group. "At the same time," she says, "there's not one person I can't go up to and say, 'I need help.'"
There have been many new additions to the RA team this year, including this reporter. I sometimes find it hard to blend in with a group of people 10 years younger than me. As the oldest, and one of the shyest RAs, I am happy to hide behind my reporter's notebook. My fellow RA and Creative Writing major Maria Salazar brings along a copy of Clarice Lispector's The Passion According to G.H. She hopes to get some homework done on the trip. Neither she, nor Curley, plan on going into the Haunted Cornfield at McCall's. "I just want to hear people scream like little girls," Salazar says, "and then judge them."
McCall's Pumpkin Patch is part of the McCall Land & Cattle Company farm, owned by Kevin and Kirsten McCall. McCall's Haunted Farm website tells the tale of farmer McCall, who butchered his family and any tourists who happened by his farm. Officials were never able to find Mr. McCall, but "some claim to see him tending the fields at night, carrying on his gruesome work." Every October, the farm attracts families and thrill-seekers alike, who flock to the site for portraits of children amid the gluttony of gourds and shrieks and horrors within the Haunted Cornfield and Barn. As part of our RA retreat, we'll be treading the paths of the Haunted Cornfield, which, somewhere in the planning process, we all decided was a maze.
A party bus waits outside King Hall to take us on our excursion. It looks like it was decorated by Dr. Teeth and the Electric Mayhem. Rainbow paint splatters the walls and floor. Three dance poles line the center walkway, and a DJ spins in the back atop a gale force speaker. Green lasers dissect the interior of the mobile disco and yellow and blue lights strobe at both ends. The RAs file in and take their seats in the front half of the vehicle. Student Life Operations Manager Terrance Sanders hands out Halloween-sized sacks of candy.
Darnell Thomas, gray flat hat atop his head, makes his way to the back to dance to Missy Elliott's "Work It." This is Thomas' third year serving as an RA. "New people come in and apply to be RAs," he says. "As far as change, it's different leaders and different groups of people." He leaps onto one of the dance poles. It immediately gives way under the weight of his thin frame, and he falls to the floor. The bus erupts with laughter as we disembark for Moriarty, NM.
Curtains line the windows, so the action inside is hidden from passersby. Salazar takes a break from her book to dance on one of the still-standing poles. Brendan Boyle and DeAndre Montoya join Darnell Thomas on the dance floor. At the front of the bus, we gyrate in our seats, shooting bolts of electric dance moves from one to the other, taking turns showing off our moves (of which this reporter has very few). Jasmine Man slides upside down around a dance pole while Marshall Leming and Shawn Khounphithack free-style rap to the music. So far, Khounphithack's first year as an RA is going very well. "I haven't had any issues," he says. "There's a bunch of nice people in my hall, so I was pretty lucky with that." I ask him if he has made any new friends. He furrows his brow, then finally says, "Yes," and pats me on the arm.
As the sun sets behind the mountains, turning the sky a cool blue-green, the lasers in the bus grow more defined and decorate cheeks and noses. The energy wanes and conversations pick up, but it's in that club conversation way where everyone has to shout. Meg Colburn recalls a hip-hop dance contest she won when she was 10 years old. "I wasn't good," she says. "That's why I won. Because it was funny." Boyle and Leming, who attended junior high together, tell the group about the time they did a dance routine to NSYNC's "Bye Bye Bye." It passes the time as the bus crawls through an hour-long stretch of cars waiting to get into the Pumpkin Patch.
The wait to get into the main attractions is long enough without having to wait in line for a ticket. Luckily, Sanders purchased the group's tickets online and the RAs get to proceed inside. After that, it's only a three-hour wait to get into the Cornfield. A group of RAs heads over to a dance hall in the center of the festivities. At the edge of the building, an odd, pumpkin-headed, alien-human hybrid creature lurches forward any time passersby get an inch too close to him.
A smaller group of RAs heads in the other direction, in search of food. We pass an open coffin, equipped with soda fountains bearing Halloween-appropriate names (the strawberry cream soda is "Satan's Delight;" black cherry soda is "Dracula's Blood"). Rufino Medrano and Bryan Seigel grab a bite with Nicholas "No Shoes" Thomas, who wears a full-length cloak to ward off the cold. Coverings that look conspicuously like shoes cover his feet. He is quick to deny this. "They're imaginary shoes," he says. "We don't talk about the shoes."
"No Shoes" huddles together with his comrades, eating pulled pork sandwiches. In his second semester as an RA, he says that he recognizes certain parts of the group are stronger. "We don't have a weak team, I've just noticed that some of the social aspects between us are stronger."
Seigel bites into his sandwich. "This could use a little more barbecue sauce," he says, "but overall I'm pretty happy with it." It is Seigel's third year as an RA. He began as a sophomore before Kennedy Hall was even open. "The group has gotten a lot bigger," he says. "We never had two RAs in the same hall before." When asked if he has had any challenges this year, he says, "All the craziest things that have happened to me happened in previous years. This year has been pretty mellow. They're taking it easy on me."
Medrano purchases a Haunted Farm souvenir cup and marvels at the reasonable price ($4.50!). This is his second semester as an RA. "My residents all seem to like me," he says. "They make drawings of me and leave them on my door." He says that it can sometimes be hard to create initiative on campus, but he does his best to engage with his residents. "Some people participate, and some people don't, but that's just how it is. I tell them that I will show them as much respect as they show me."
Inside the dance hall, half the group hits the floor while the other half hangs out at the picnic tables. Sanders joins the RAs, dancing to well-worn hits like "Low" and "Sexy and I Know It." When "Cotton-Eyed Joe" plays over the speakers, and the crowd forms lines for square dancing, Shantanu Sagara takes his leave, claiming, "This dance is impossible." Sagara is an RA for the first time this year. He says it can be difficult balancing his RA duties with the rest of his responsibilities. Though officially the RA of King C200, students from other halls often ask him to open their doors for them. He doesn't mind, as he tends to make new friends this way.
Across the picnic table, Salazar sits reading her book next to Chelsea Garcia. Garcia shares RA duties with Salazar in King A100 hall. "Having another RA in your hall has its positives and negatives," Garcia says. "Sometimes it can make you lazy, thinking someone else will take care of things." On the other hand, they are able to split responsibilities, which lightens the load for both of them. This is Garcia's second and final year as an RA. She says she started her efforts to become an RA in her freshman year, but it took some time due to her shy, reserved nature.
"I can relate," I tell her. "I thought that might keep me from becoming an RA myself."
"I'm still reserved when the situation is fitting," she says, "but I can be outgoing when I need to be." The electric, opening echoes of "Macarena" blast from the speakers and Garcia leaps up. She implores Salazar to join her on the dance floor. Salazar refuses, but Garcia pulls her off of the bench. "Nooo!" Salazar yells, her hands still clasped to her book as Garcia drags her onto the dance floor.
At 10:30 p.m., we finally get to stand in line, where we wait for another half an hour to enter the Cornfield. Darnell Thomas' head literally steams, the cold autumn air coming into contact with his scalp, overheated from hours of intense dancing. Nicholas Thomas cackles his creepy goblin laugh as Darnell puts a cap on the emissions with his flat hat. "I'm very excited to be here," he says. "I've been here before. It's bringing back a lot of flashbacks."
"That sounds like PTSD," I tell him.
The moon, nearly full, illuminates a cloud of smoke above the line. Something is burning, but we don't know what. The smoke hangs in the air, creeping like in John Carpenter's The Fog. "You know why the smoke's not moving?" Siegel asks. "It's because we're all going to die tonight." A tall man runs screaming out of the Cornfield, a masked, chainsaw-wielding figure nipping at his heels. The man falls and slides into a slick of mud. We huddle together for warmth.
At the entrance to the Cornfield, a man with poorly applied scar makeup and an axe in hand, tells us the rules at lightning speed. "No electronics," he says, pointing at a cell phone. At the end of a long string of warnings, he blurts, "You have three seconds to move before I start chopping people." We barely have time to react before he thrusts the axe into the wooden entrance.
This clearly isn't a maze, as we had all come to believe. If it were, it would be too confusing, and probably much more frightening. "It's not so much a maze as it is a spooky pathway," Siegel says. Running through the path between rows of corn, monsters lurk around every corner. They leap out to startle us, but as per the rules, never actually touch us. This doesn't stop them from creeping up from behind, staring menacingly at the back of our heads until we turn around in fright. I lag at the back of the group, ending up there naturally, but preferring to stay there and let the others get the first scare. Unfortunately, this leaves me open to sneak attacks. A man with shoots for fingers pretends to sneeze on me, spraying water on the back of my neck.
It isn't long before the homicidal farmer motif gives way to the standard haunted house tropes, and it gives way to all of them: bloody, headless dolls hang from fences; automated snakes popping out of walls; and a clown whose laughter sounds more like a scream. At one point we're running through a school bus full of corpses, and the next we're passing by wounded soldiers. Around another bend, a cop car flashes its lights. Two minutes later we tromp through a cemetery. By the time we reach the aliens thrusting out of dummies' chests, I'm convinced that no thought was put into maintaining a sense of the website's story about the farm. They just threw everything they could think of into the cornfield. As I lag toward the back of the group again, a hillbilly in overalls lopes behind me. "Pull down them britches, boy," he says. "Let's play leapfrog."
OK, I think. I've had enough. Luckily, we're at the end of the trail. The growls of the aforementioned chainsaw-wielding maniac can be heard up ahead. He chases the first of the RAs out of the cornfield, but as we keep coming, he says to Montoya, "Damn, how many of you guys are there?" By the time I reach the exit with La'Charles Trask and Simeonova, chainsaw man has given up. "Have a good night guys," he says, resuming his position in an enclosed patch of cornstalks.
On the bus ride home, everyone is sick of loud music. "Can we ask the DJ to put on some Beethoven or Chopin?" Leming asks. We don't get our wish, but they do lower the volume. The lights stay on, however. We slump in our seats, gradually leaning on one another, some falling asleep and others just resting their eyes. Occasionally, the DJ plays a song we can't help but sing along to. I open my eyes for Jay-Z's "Can I Get A…" and receive a knowing smile from Sanders. We might be the only ones in the group who remember the song.
It's past midnight and we're caught in delirium. Trask and Man somehow still have the energy to dance on the poles. Darnell Thomas and Sanders join them for a song or two. Nicholas Thomas checks his midterm grades on his phone. He balks at Medrano, who sips from his Haunted Farm cup. "You still have that?" Thomas cries.
"I bought this! It's a souvenir!" Medrano responds.
Khounphithack pulls the plastic packaging off of a 24-pack of Aquafina water and pulls it over his head like a t-shirt. Leming lies his head down on Sara Oqueno's lap. When the bus finally parks at SFUAD, she's doubled over him. "Yay, y'all," yells Darnell Thomas. "RA Retreat! Aaaaah!"
It's 12:30 a.m., but we still take the time to pose for a group photo. After seven hours together, three hours of which were spent in a disco on wheels, another three hours in a dance hall, half an hour standing in line, and half an hour winding our way through a haunted corn maze that was in no way a maze, we are exhausted. But we have made it through together, and we all know each other a little better. For my own part, I feel more comfortable as part of the group, the age barrier and shyness lost somewhere among the rows of corn.