Tags
Related Posts
Share This
Glyph 2016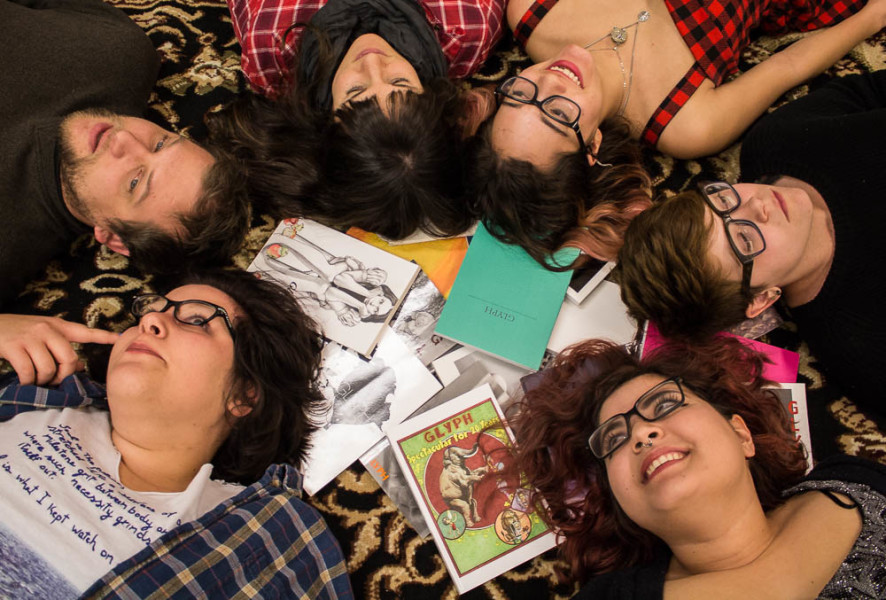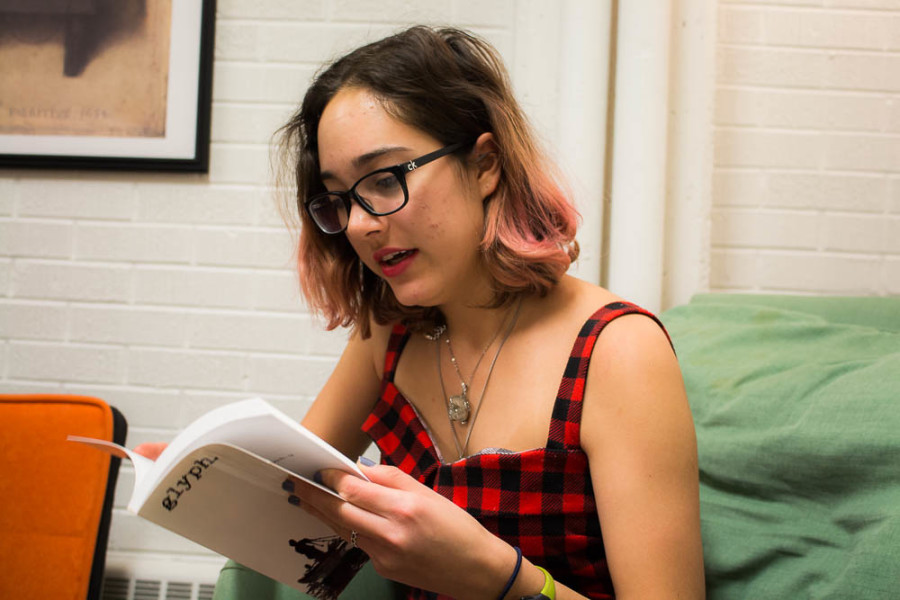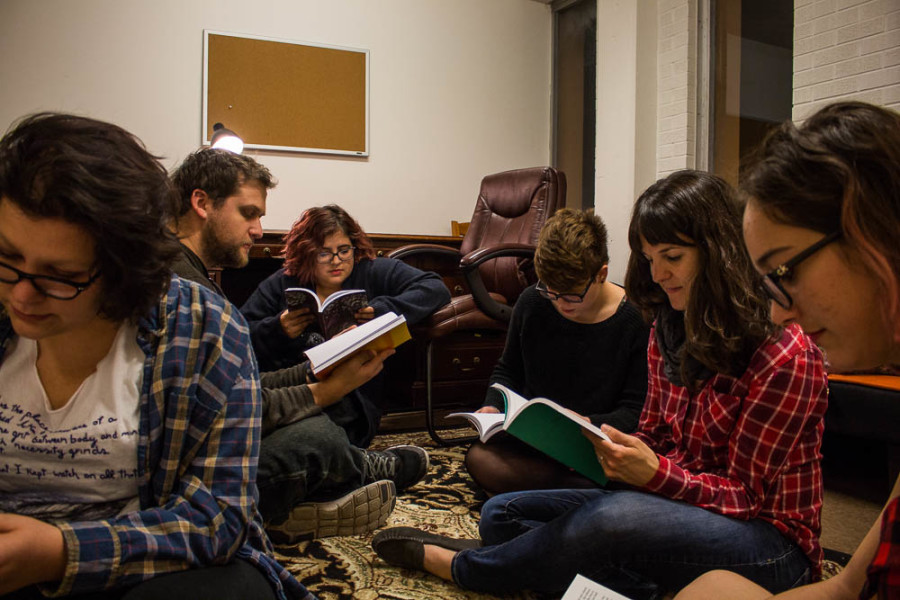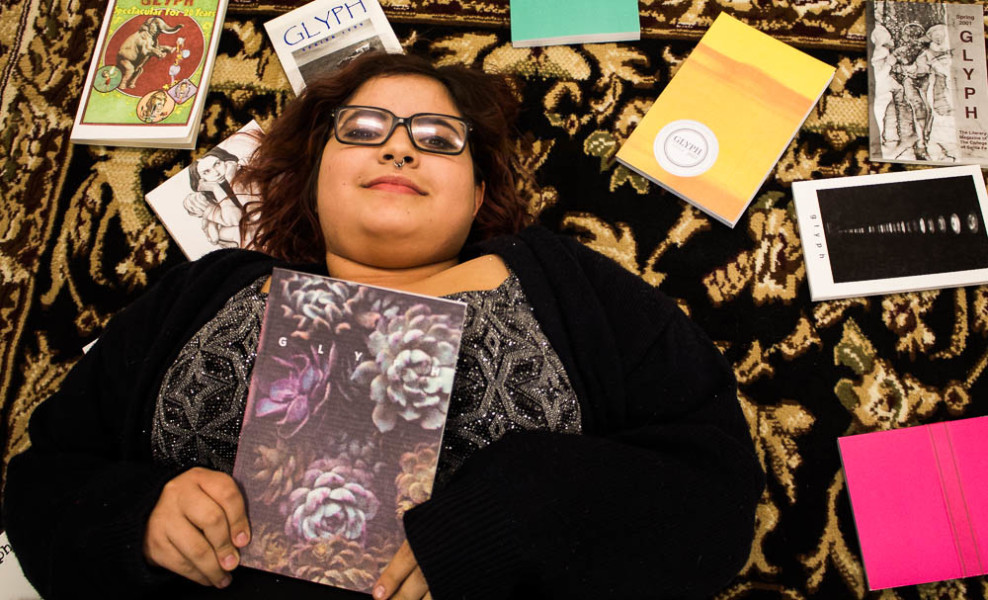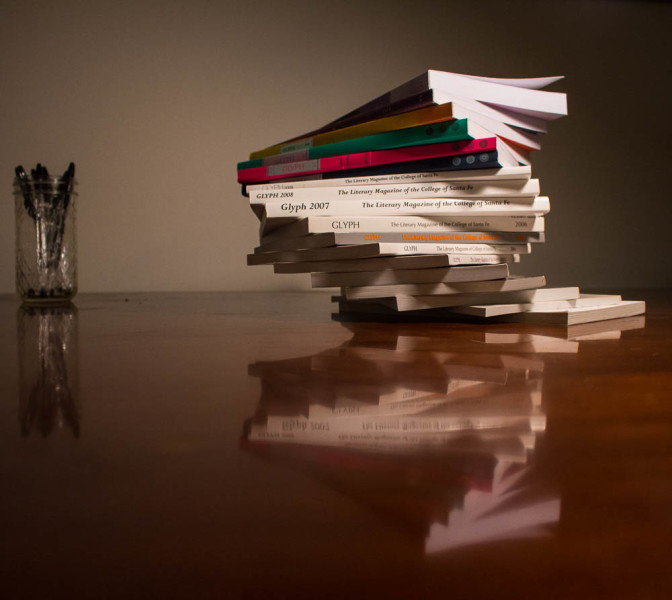 Melinda Freudenberger started reading Glyph online when she was still in high school. "It showed me language in a way that I had never bothered to experience it before," she says. The work had a major influence on her writing. This is Freudenberger's second year working as an editor for the publication. Her experience on the journal last year inspired her to apply for the role of editor-in-chief for 2016, which she was awarded. "I appreciate challenges and the tension that creates in my personal life and work," she says."It's exciting to oversee something that's so important to me and holds a special place in my heart."
Each year, a group of Creative Writing students is chosen to oversee the production of SFUAD's annual literary magazine. The process for selecting Glyph's editors underwent a dramatic change last year, when students were asked for the first time to submit applications, making their case for why they would be a good asset to the team. This reporter joins four other editors in rounding out the 2016 Glyph editorial staff. Student editors take home a stack of submissions the size of a ream of paper to read over the winter break. Upon their return in the spring, the students vote on pieces in a marathon, four-hour session. After making their selections, the editors work with authors to revise their pieces for inclusion in the final publication. Judges from outside the school then award prizes for authors in fiction, non-fiction and poetry categories.
Sophomore Brianna Neumann won two awards last year, in both fiction and non-fiction. "I was looking at my e-mail before class and I was like, 'Oh, my God. I won all this shit!" Neumann wouldn't have even submitted her work had Creative Writing Department Chairman Matt Donovan not suggested it. "I ran into Matt a day before submissions were due and he asked me if I was going to submit. So I did. I slapped my work in the submission box, but I wasn't even expecting to get in."
Every member of the editing staff has been published in previous issues of the journal. While not a requirement to be an editor, their past involvement with Glyph reflects their willingness to get involved. Marisa Doherty saw her piece, "Six Meditations on Water," published in the 2014 edition of Glyph. Her own experience working with a Glyph editor resulted in seven revisions before her piece was complete. Doherty says, "It was interesting to see what she took from my piece and what she felt made it deeper."
That same year, Hoke won first prize for her short fiction story, "How to Share a Bed with an Extra Terrestrial." When she received the e-mail notifying her of the award, she ran out of her dorm room, screaming. "I was a freshman. I thought I'd be lucky if I just got into the book. The award completely derailed me. I never would've won if I hadn't learned as much as I did in my first semester at this school." Amaya Hoke joins the editing team for the first time this year. "My favorite thing to do is cut stuff," she says. "I like to see how much we can trim off of a piece to reveal its true form. It's like Michelangelo, revealing his statues."
The editorial team works under the supervision of faculty to produce a highly-stylized, professional publication. New Creative Writing faculty member Anne Valente will oversee the Glyph class for 2016. She recalls being impressed with the journal when she first interviewed for her position at SFUAD, and looks forward to working with the team. "My role is supervising and seeing that things run smoothly," she says. "I plan to step in when needed, but sit back for the most part and let the student editors take the helm."
Valente has not worked with most of the student editors before. "I'm sure it's kind of scary to take on a large goal with someone you haven't worked with before," Valente says. "I haven't had a semester under my belt with all the editors to build trust."
Nevertheless, the staff looks forward to working with Valente on the publication. "I loved Anne the moment I met her," says Hoke, who worked on a revision with Valente last year. "I have a lot of faith in her ability to teach fiction and do workshops, so I'm excited to have a class with her."
Valente has already suggested several of her students submit their work to Glyph. "I'd love to see a range of pieces with a diversity of voices, styles and content."
Freudenberger expects a slimmer volume than last year's, which was the largest issue yet. "Last year's issue showed me how much Glyph can expand as a whole concept," she says. "It would be exciting this year to take more risks. That's what I'm interested in: risk."
Submissions to Glyph are due by noon, Dec. 14, 2015 in Susanne Miller's office (Benildus room 103). The pieces must be submitted electronically as well to glyph@santafeuniversity.edu. Students of all majors are welcome to submit up to 20 pages of work in any or all of the following genres: poetry, fiction, creative non-fiction, plays and screenwriting. Each submission must be titled and include page numbers, but the author's name should only appear on a cover sheet along with their e-mail and phone number. Students will be notified of acceptance early in the spring semester.