Tags
Related Posts
Share This
The Diversity Initiative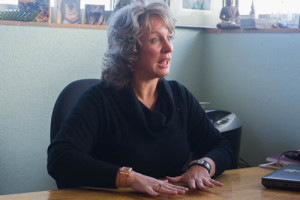 With a campus as culturally rich as SFUAD's, some are inclined to think that diversity is not of great concern. It's a notion with which Dr. Corine Frankland, chair of the Liberal Arts Department, respectfully disagrees. That is why she is spearheading the diversity initiative: an on-campus movement seeking to further diversity and unite students and faculty on related issues. The first step for the initiative will be to create a mission statement.
"With a diversity statement, it helps us in what our mission is, our programming, what type of climate we want to create here for our students, and I think, also, there is a piece of recognizing the importance of diversity," Franklin says. "The big piece [is that] we live in a culture where people are so identified with their differences and their specific identity, and while that is certainly valid…it also can create sort of small special interest groups that get so unipolar on their issue that they can't see how they are part of a larger group working together."
Contributing faculty member of the Liberal Arts department Ryan Henson shares Frankland's sentiment: "I think there have been so many different sub-populations created now that are so focused on one aspect of diversity, one aspect of culture, that it robs diversity of perspective and culture has been missed."
Henson is the faculty advisor for the Black Student Union. He looks forward to the prospect of working within the diversity initiative to raise awareness about what culture and diversity actually mean and approaching these concerns from a holistic and humanist standpoint. One of the first events being undertaken by the initiative is this year's campus celebration of Martin Luther King Day. The event will include musical performances, a reading of King's 'I Have a Dream' speech, and a panel by the Black Student Union that will address the ways in which the issues Martin Luther King worked for are reflective of the Black Lives Matter movement. Henson feels that this sort of presentation is important in the current political climate and in a time when entire groups are ostracized for the actions of a few.
Henson went on to describe his feelings about a lack of understanding among people of all groups and the way it hinders culture: "I've experienced this a lot working with the Black Student Union. I have students who have come from Houston, which is heavily populated with black individuals and they come here and they're a very small subset of the overall New Mexico population. They're like, 'I don't know how to deal with this, I don't know how to talk to anyone, I don't know how to fit in.' You have to challenge them to think of other areas that culture exists. You have to say, 'let's not look at race, let's not look at ethnicity, let's look at your artistic culture.'"
Another group that will be working within the diversity initiative is Colors, SFUAD's LGBTQIA+ group. Sierra Parson, the access services librarian in Fogelson Library and the faculty advisor for Colors, believes that the purpose of a diversity initiative is twofold: first, for involved individuals to expand knowledge and understanding of each other in order to collaborate more effectively; and second, to expand knowledge and understanding of privilege and how the power of privilege operates in particularly destructive ways. Parson believes that this type of active awareness is vital in educational environments; that students are more productive when they feel don't feel dismissed and uncomfortable.
"I guess my main point is that I would like to see a shift institutionally towards anti oppression awareness, and advocacy for students' diverse needs and ideas, " Parson says. "As educators and administrators, I think we're in unique positions of authority to make a positive difference with and towards our students, and if we're irresponsible with that authority, then we're doing a great disservice."
Parson also hopes that Colors will aid the diversity initiative's overarching goal of uniting students of all walks of life. It is an issue that is important to both her as an individual and Colors as a group. She feels that by working with other groups through the umbrella of the diversity initiative, this type of connection will be possible.
"We would like to be more active and visible on campus in general, and to think more about the intersectional identities that we have," Parson said. "Just because we're a part of Colors doesn't mean we couldn't also be part of the Black Student Union or Indigenous Cultures Club or The Feminist Collective. We want to work with all of those groups and think about the ways our numbers fit into those identities, if they choose to claim them for themselves."
Frankland's research assistant, Creative Writing major Jen Hanson, believes that the initiative will help students and faculty come together in order to have discussions, rather than arguments. She feels that its presence on campus will assist with communication, which is what she sees as the greatest hindrance to diversity.
"I think communication is the key to everything in life, including diversity," says Hanson. "Getting everybody within their sects to come together and then getting people on campus who feel left out or unrepresented to also come into this."
Frankland hopes most of all that the diversity initiative will be progressive by being conscious of the world in which it exists. She feels that because of the time in which students live, they are exposed to constant reports of violence. This, she believes, hinders progress and diversity because it makes people feel that they are in a constant state of being attacked.
"That's a part of healing is you're in pain and you just feel it," Frankland says. "The next step is, OK, what do you need? And that piece of how do we identify what we need, and how do we work with other groups to get our needs met?"
The diversity initiative plans to have regular meetings beginning next semester, and seek to eventually form a diversity committee. Any students who are interested are invited to participate and share their voices.