Tags
Related Posts
Share This
Pete's Place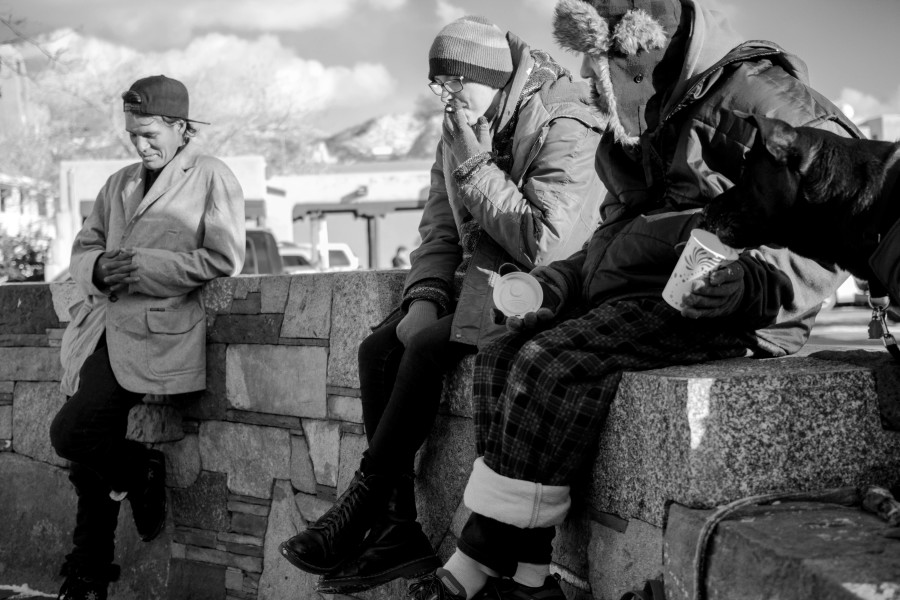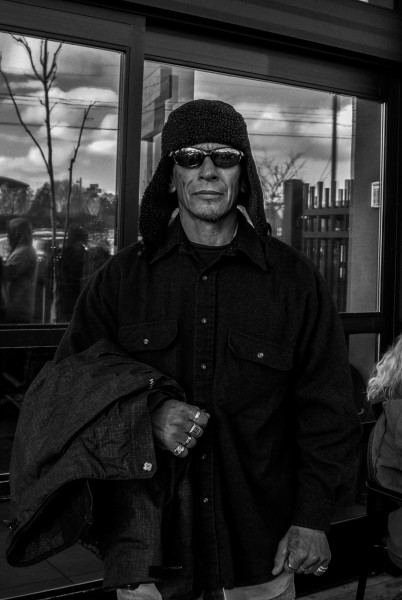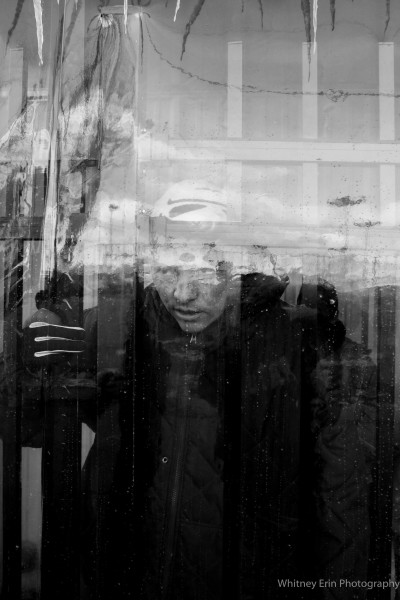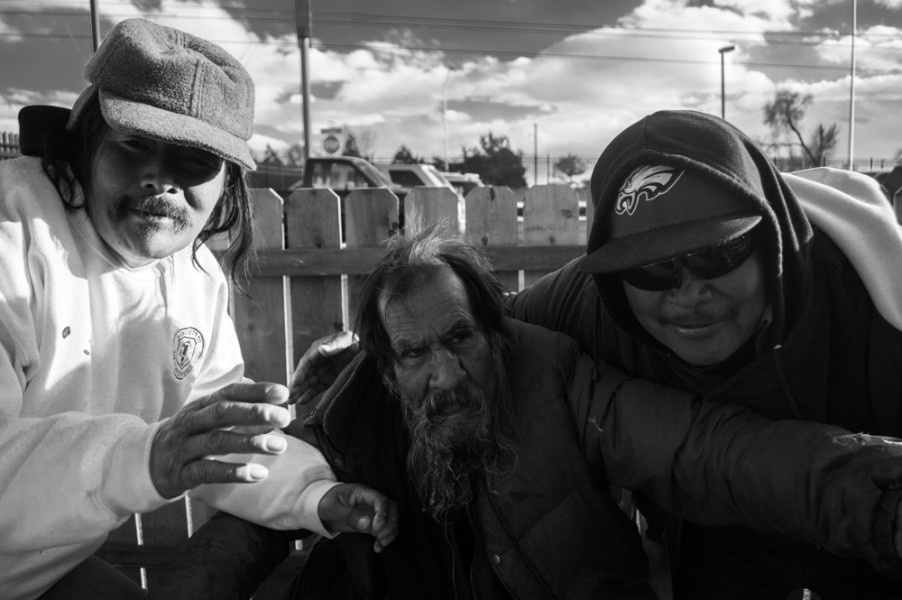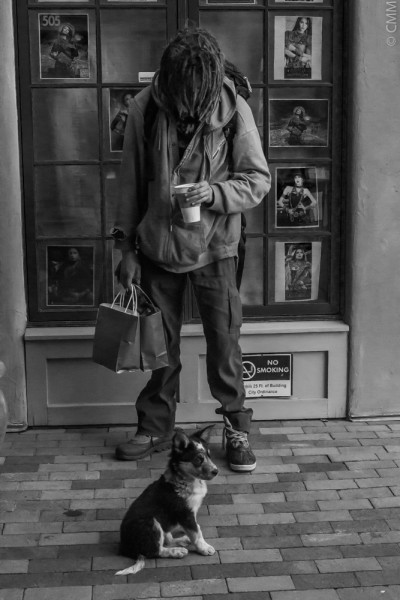 "I just got one question to ask you: You got a boyfriend?"
Jordan was born in 1994. He left no last name on the release sheet he was given to sign, but insisted on exchanging phone numbers with Jackalope photographer Whitney Wernick. He stands next to Robert Villalobos, who has an arrowhead hanging around his neck and wears a purple Laker's jacket. Matthew S., a tall man wearing a red beanie who claims to be photogenic, stands on the far right, flashing a sideways peace sign. The three of them smile as Wernick snaps their picture on the patio outside of Pete's Place.
Don Usner's Photo Essay class was asked to take pictures of Santa Fe's homeless community in conjunction with the Theatre Department's production, "Polaroid Stories" which is also about the homeless. Originally, Usner admits to wanting his class to take photos of homeless teenagers for the project, but was unable to because underage individuals can't legally sign release forms. In spite of this minor setback, the Photo Essay class has been splitting up into groups in order to take pictures for the production's lobby. Jackalope Magazine visited with one group on Feb. 17.
Surrounded by a large, open gate fencing the large building, Pete's Place is a homeless shelter, founded in Santa Fe, according to its website, after nearly 50 homeless people died between 2005 and 2007.
Upon entering the parking lot, people sit smoking cigarettes in lawn chairs, or cluster together at a wooden table jamming to music coming from a small, portable speaker on a large patio. Along the back wall there is a bike rack and a kennel where people can care for their dogs. A person sleeps on top of a thin blanket inside the crook of a small, enclosed brick wall adjacent to the table.
Bobby Marney, who was born in 1993, sits at the table, hunched over a small sketchpad. With close and careful precision, he drags one of his inking pens across the light, sketchy lines on his paper, bringing the image of a rainbow-colored sea monster into view.
"Right now it's just a hobby, but sometimes I sell them," Marney says, as he hands Wernick one of his finished pictures so she can have a closer look at it.
"He draws that shit out of his own head, it's crazy," Matthew S. says. He is sitting across the table from Bobby and tells us about how photogenic he is.
The shelter's backroom is a hallway of bunk beds leading into a wide space where the walls are covered in artwork residents have made. Many of the pictures appear to be made by artistically inclined children because most of them are done in crayon, but there are also collages and small posters etched with messages like "Women are Sacred." One poster simply has the word "Respect" written on it in big, bold red letters, while another is much longer and tells the viewer how women should be treated regardless of their situation.
In the lobby, a man holding a flip-phone says, "Man, you got some big boobs. What size bra do you wear?" It's impossible to tell if he's talking to the lady sitting directly across from him or if he's talking to someone on his phone.
Back on the patio, a native man with a click in the back of his throat who calls himself the Airborne Ranger is telling Usner about how he served in the military for 12 years.
"I'm 55 years old, born in America and I went on special ops—I parachuted out of planes," he says, his eyes staring past Usner as he speaks. "I speak on behalf of them. We served and fought for our country and we were taken for granted. We need help. We do so much for our country but we end up in places like this. Why is that so? Why is there no help?"
In the corner of the patio, near the lobby doors, a man with shaggy blonde hair sits in a chair. He is staring blankly into space, his lips moving rapidly as he talks to himself.
"I wish I had a camera," Usner confesses, as he watches the man talk to himself. As a teacher, Usner's primary goal is to give his students real world experience as they build their photo essays. "It's good experience for the class because they get to treat the Theatre Department as a client and work with the homeless."
Ultimately, Usner hopes this photo essay project will raise awareness about the homeless in Santa Fe.
A group of residents stand just beyond the gate, clustered together as they smoke. A tall man wearing a light blue Hawaiian shirt and Bermuda shorts walks into the kennel, coming out with a black and white pit-bull that is tugging at its leash, anxious for a walk. As a minimal barrier shelter, Pete's Place allows anyone to come and stay, even people who have been using drugs and alcohol.
"We let them in after 9pm," Sue Carr, assistant to the director at Pete's Place, says. "But, they aren't allowed to get drunk or do illegal drugs on our premises. If anyone is with caught with alcohol is asked to leave."
The residents are free to come and go as they please, and there are no admission requirements of any kind. The reason for this is simple: Pete's Place is a shelter designed to keep as many homeless people as possible alive during the winter months. Come May, all the residents are evicted, but the shelter is trying to raise money so women and children can stay year-round.
Leaning against the wooden fence that surrounds the patio, Villalobos tells Usner about why he likes Santa Fe better than Oklahoma.
"It's much smaller; everyone knows each other," he says. "I didn't have good support growing up, you gotta have good support. That's what makes a person a person. I never knew what love was until I found the Lord."
As he talks about his religious experiences, and as Usner and Wernick snap a few pictures of him, Airborne Ranger stands up from the table, saying, "So you take more pictures of civilians than of people who served? Is that right? How many pictures did you take of me? Three or four? How many pictures did you take of him? Huh? Seven?"
He punches the fence four times and it rattles.
"Chill out man, there are women around," says a woman wearing a bright pink bra beneath her thin white tank top.
"I don't give a fuck," Airborne Ranger says, and storms into the lobby.
Usner waves goodbye to Villalobos—who is angrily muttering about how he's already put two in the ground—saying, "Good luck man. I hope you get cool with him soon."