Tags
Related Posts
Share This
Pearlman's Plays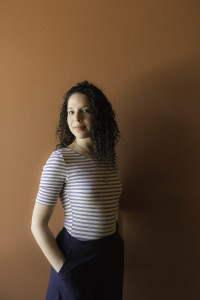 The Room Plays, a hybrid between a workshop and a production for Performing Arts students who are not cast in main stage shows, have brought a new face to the Greer Garson Theatre: Lindsey Hope Pearlman, a well-versed director from New York City. Pearlman completed her graduate level training at the London International School of Performing Arts with a focus on a physical theater technique developed by Jacques Lecoq, a renowned French actor.
"That was where I was first compelled to transition from acting to directing," Pearlman says, with an air of purpose. Her extensive work in both fields lends her to truly understand the communication gap that sometimes exists between directors and actors.
Pearlman returned to New York after finishing her London education, where she took on professional assistantships with established directors. For the last five years, she has been back and forth between New York and Santa Fe, tending to her local theater company, Up and Down, which specializes in political satire.
Pearlman was introduced to Chair of the Performing Arts Department Laura Fine Hawkes through music director for the Musical Theater Department, Robin Holloway. After this, she became involved at Santa Fe University of Art and Design.
"Lindsey Hope Pearlman is a guest artist new to the Performing Arts Department this fall. We are so excited to have her bring an incredible energy and fresh approach to the Room Play Series," Hawkes responded, when asked about Pearlman as a temporary addition to the department's instructors.
This semester, Pearlman will be directing Get a Room! The Room Play Series I: Adam & Evie by Chuck Mee. The cast members are currently in the midst of their weeklong rehearsal process, though Pearlman already has great expectations for the show, and greater for audience reception. She highly recommends this play even for those who may not typically enjoy live theatre productions.
"They'll be moved, and slightly confused in an inspired way, and they'll laugh, and feel uplifted by the power of love." She laughs. "Also, dance numbers, which are always necessary."
The power of love does seems to be the main component to Adam & Evie in the eyes of Pearlman, who believes that the audience will find a thrill to the portrayal of love, in all its multi-faceted triumphs and tragedies.
Adam & Evie opens 2 p.m. and 4 p.m. Sunday, Sept. 11 in the Greer Garson Lobby with free admission.