Tags
Related Posts
Share This
Candyland
Keynan Johnson, a 2015 graduate from SFUAD's performing arts program, could be found on the evening of Oct. 29 diligently transforming the ground level of Fogelson Library into an immersive but simple runway. Though the name of the fashion show, Candyland, seems contradictory to the general themes of Halloween, Johnson worked to create an unsettling wonderland where the macabre met futuristic bubblegum glamour.  
Candyland's setup had a smartly minimal feeling to it, with only small cloud-like props spread on the ground, where bloody bits lay tangled in the fluff. The blue-toned lighting and chairs lining each side of the runway brought a tense intimacy for the audience as they waited, something that only increased when the music from live DJ J\OTT signified the beginning of the show. With that, the models descended one by one down Fogelson's staircase, each carrying a severed limb that they would later drop with confidence into the clouds.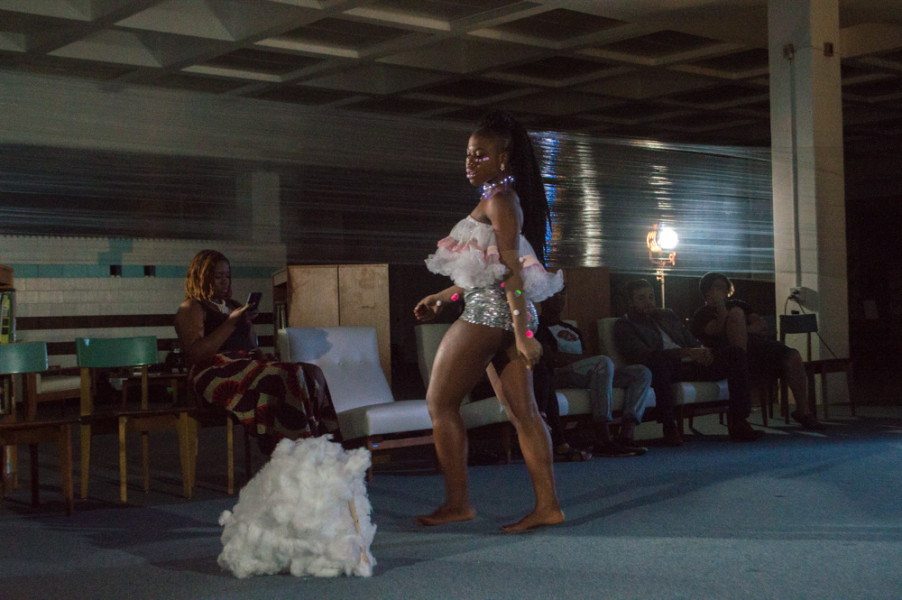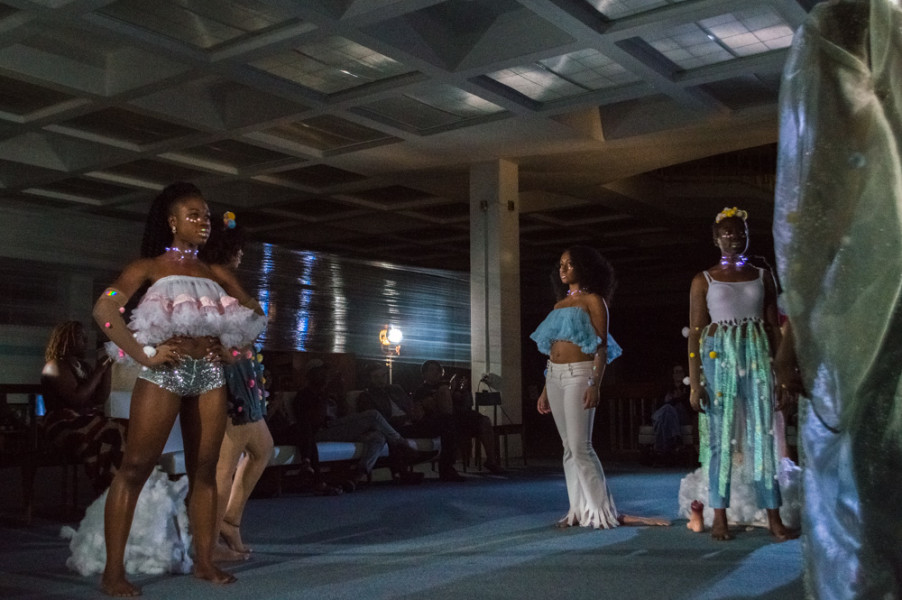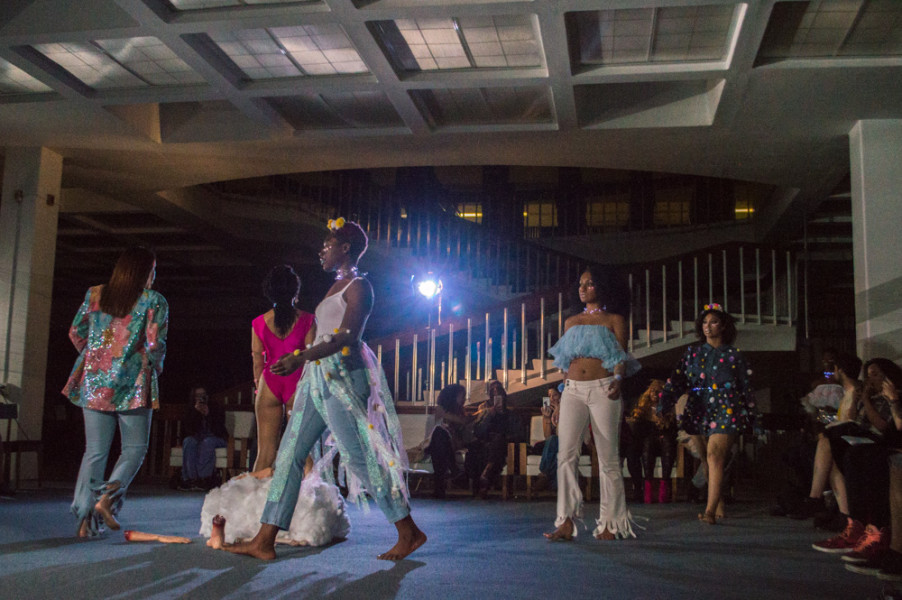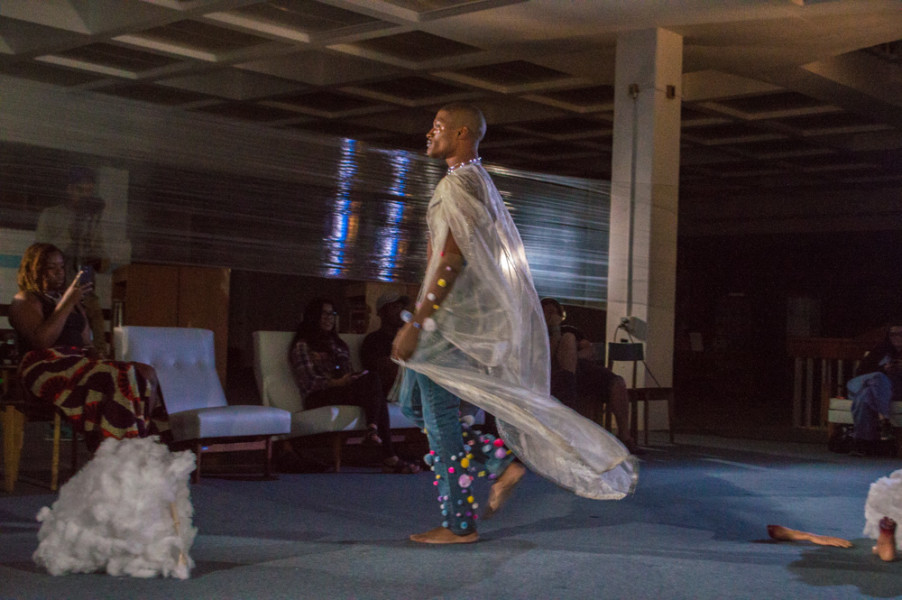 "Usually I ask myself about the characters my models are portraying. Who and what are they? Where did they just come from? What are they doing?  I want the audience to feel like they're in an alternate reality. I want my models to feel the exact same way," Johnson says on the topic of his world-building. "This should be an experience, not just a show! For Candyland, I played with the idea of these gorgeous nymphs that see humans as nothing but their candy. It's a Halloween-themed show, so I tried to keep it cute, campy, and creepy."
The general look of Johnson's designs for Candyland can be described as futuristic, with an air of vintage emanating from glittering fabrics and tight denim dotted with pompoms. The models' makeup was theatrical and alien, effective with their emotionless expressions and commanding walks. That theatricality carried in perfect balance to the clothing, which pushed the boundaries of texture and color without overstepping or overshadowing the models.
"This collection is fun! Also, my favorite color pallet so far. Pastels can be so out of place and pretty that they have an otherworldly effect, which was perfect for Candyland," Johnson says. "I think my favorite pieces were the shredded-hem jeans and reworked tank with long iridescent fringe."
Though fashion design is a complicated process that takes a certain mindset to execute well, the appreciation for Johnson's passion and the accessibility of fashion was evident by the mixed bag of majors enthusiastically attending the show. Samantha Ripoll, a senior studio arts major, expressed her interest in Johnson's work, noting the evident skill behind Candyland.
"I'm always in awe of how Keynan captures elegance," Ripoll says. "Each piece of clothing compliments the models but also maintains the theme."
Johnson's view on fashion spans past the runway, as he works to maintain his personal relationship with both fashion and philanthropy. On the flyer for Candyland, it is noted that non-perishables should be brought to the event for donating.
"In the past, I've collected non-perishable food donations for the Food Depot of Santa Fe, and monetary donations for Esperanza Shelter. I've been sitting with that idea since the very first show," Johnson says. "How can I provide a fashion experience that is fresh, enjoyable, and makes a difference to our world all at the same time? Honestly, the answer is tricky. Fashion and philanthropy definitely go hand-in-hand, but in the greater fashion industry profits and sales are keystone. Right now, I'm shifting my focus to more local charity work, while establishing an actual brand."
Johnson proves to be a valuable and dangerous new player to the fashion world, with plans to continue on to produce New York Fashion Week and pursue the title of creative director for brands like Chanel or Delpozo. The theatricality of his art shows a perfect blend of transformation and style, something that certainly made an appearance in the unsettling beauty of Candyland.