Tags
Related Posts
Share This
The Photography Salon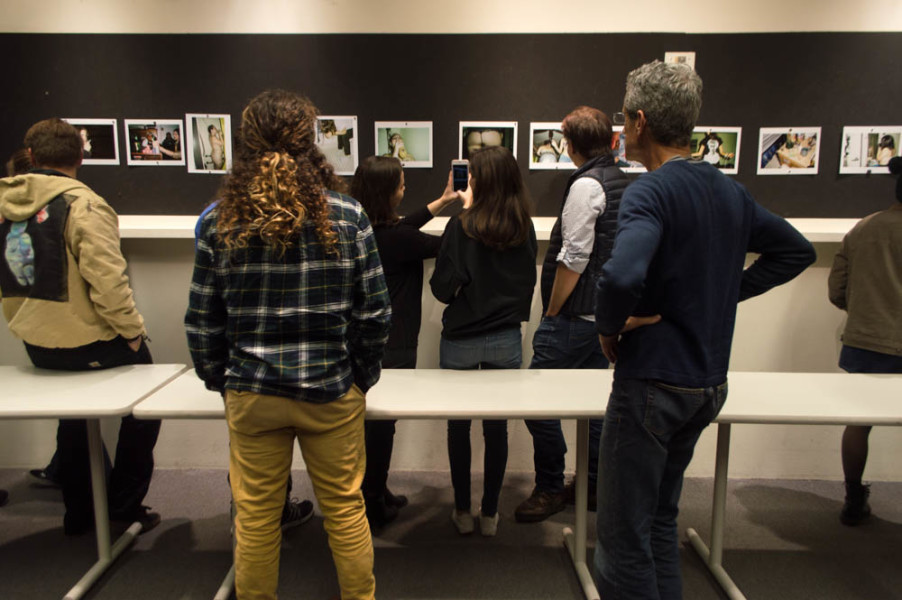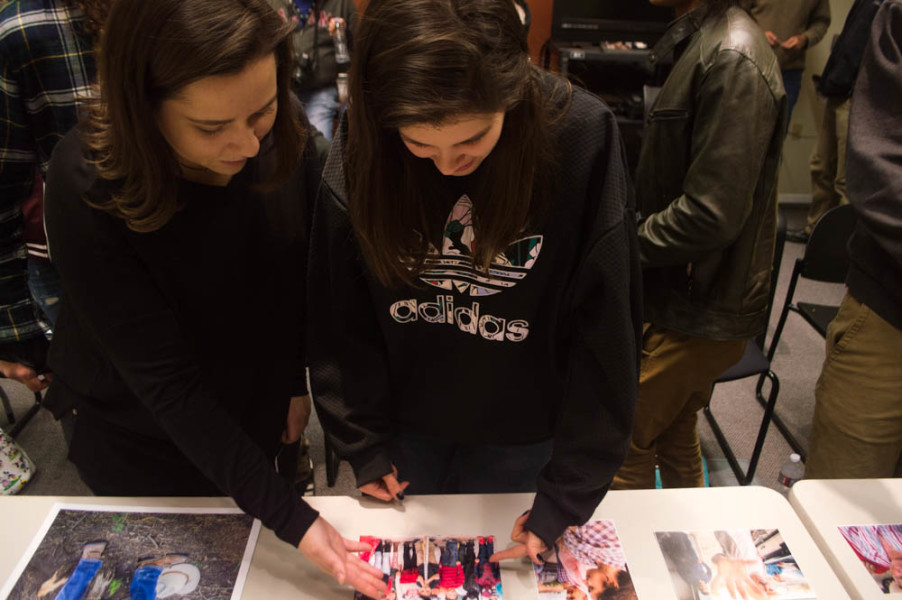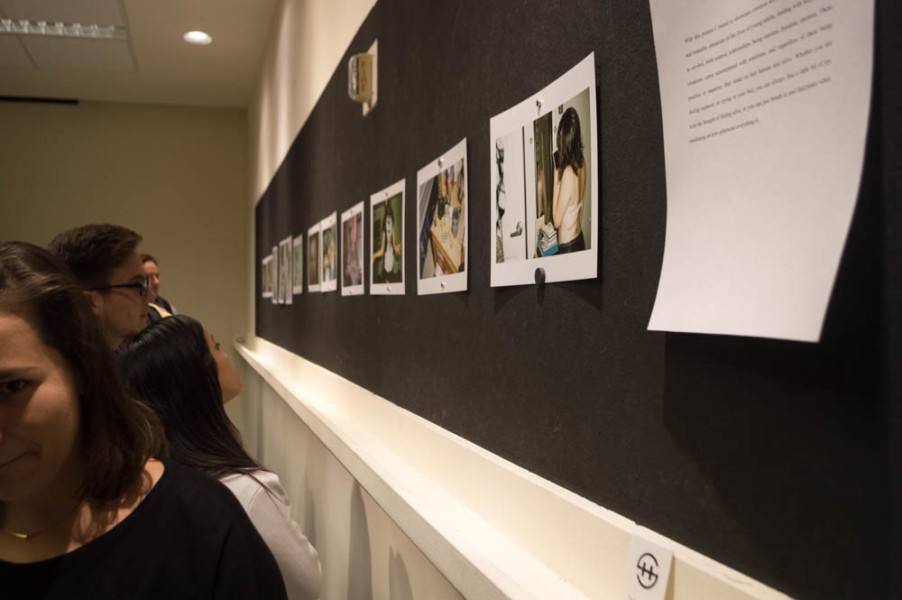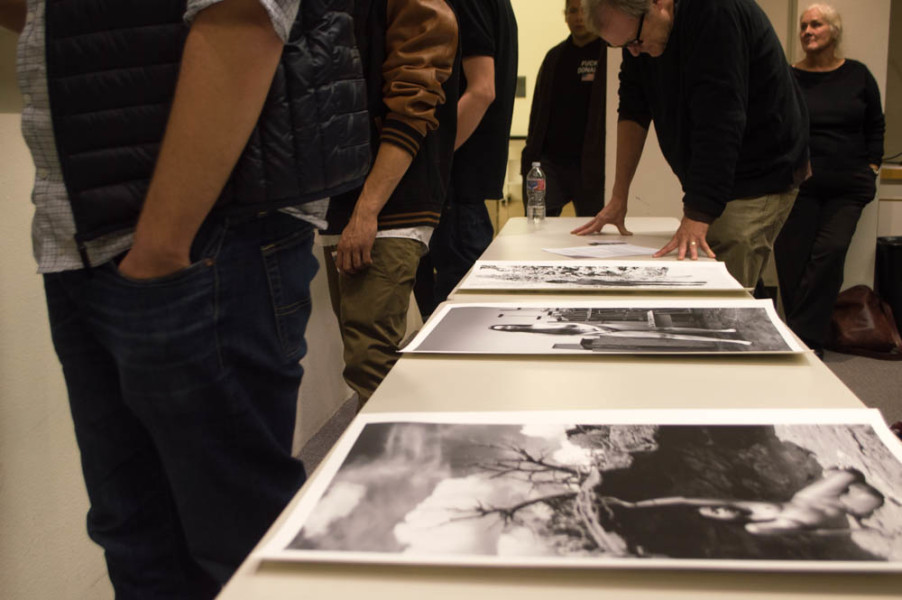 A photograph of a college student drinking in a bathtub, her hair dark and stringy from water, hangs on the magnetic chalkboard in room 117 of the Marion Center for the Photographic Arts. Carolina Long stands by the door, watching her fellow photography students and members of the Santa Fe community browse through her portfolio sample.
On Nov. 16, the Photography Department hosted its second Photography Salon to give graduating seniors a chance to show their work to the public and receive feedback on it.
"[The seniors] always have the same people looking at our work," says senior photography major and salon photographer Yoana Medrano. "The salon is a way to combat that. If we can get feedback from fresh perspectives, our work will be stronger."
The four seniors featuring their work each had 15 to 20 minutes to discuss their senior thesis topics and the challenges they're facing as they work. After they finished, the salon audience provides the presenting seniors with constructive criticism.
In Sasha Hill's collection of photographs, "Imperfect Beauty," a naked man stands in posed position to showcase certain areas of his body, his curves emphasized by the sheen on his body and the soft, grey light. In every photograph, the model has been posed to cover his genitalia with his hands. Her collection was previously in color, but she found the lines and curves of the figure stood out more in black and white.
"I'm doing a study and exploration of the male form," Hill says. "I was heavily inspired by Renaissance and Greek anatomy."
Her work is well received by her audience, but many people think she needs to incorporate a variety of sitting and standing poses.
Carolina Long, the third photographer to present her work, is more focused on photographing "life as it is right now." After Long's grandfather died, she had no pictures to remember him and she says, "I realized that life changes really quickly," she says.
Her work documents the coarseness of real life by showing the lives of college students—Long's friends—partying. A green hue tints each photograph making them feel nostalgic. Although the photographs feature Long's personal friend group, the pictures of the young adults sitting on couches with smoke streaming out of their mouths, or of a young woman sitting, fully clothed, on a toilet seat with her head in her hands, capture universal moments of breaking away from childhood.
Like Hill's, Long's work is also well received by her audience, but there is still room for improvement. Some people think the pictures should be more colorful, while others wonder why the pictures aren't captioned.
Whitney Wernick is the final student to present her work at the salon. Her thesis is a study of society's view of women's bodies and the body positivity movement. Her samples feature tiny snapshots of her naked models, standing or sitting in different settings. In one picture, a young woman stands in the snow, peering at the camera through a veil of thin pine branches. Another shows a slender girl with long black hair sitting cross-legged on the edge of her bathtub, her arms raised above her head as if in a stretch.
"I told my models to sit or stand however they felt the most comfortable," Wernick says. "I wanted people to view their bodies naturally."
Wernick wants to show young girls their bodies should be celebrated, and has decided to go with life-sized images for her final thesis. She believes the younger girls learn to appreciate their bodies, the less likely they are to grow up hating themselves. The women in her photographs are all around the same age and most have similar body types, but Wernick is still trying to branch out and photograph a wider range of body types and ages for her final thesis.
Although she plans to go with life-sized images, the salon audience felt that smaller pictures would be better given the intimate nature of her project.
The people attending the salon are current and former photography students, but the members of the community who have come to critique the seniors' work are dedicated to providing constructive feedback. For Long, speaking in front of new people has always been difficult, but she believes presenting at the salon is a worthwhile endeavor.
"It's daunting because it's a bunch of strangers," Long says. "But I'd really like to know what people think of my work. I hope other people will understand what I'm trying to do and that I can make moments relatable to other people.