Tags
Related Posts
Share This
Q&A With Charles Goodmacher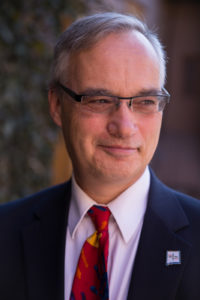 About halfway through New Mexico's 2017 legislative session, Jackalope Magazine spoke with Charles Goodmacher, the government and media relations director for the National Education Association New Mexico. Goodmacher focuses on political organization for NEA in support of candidates in the best interest of education in the state and has been lobbying for the 2017 legislative session. Jackalope Magazine spoke with Goodmacher just hours after Betsy DeVos was appointed national education secretary.
Jackalope Magazine: Being that education is the focus of your political involvement, how are you feeling about the state of education in America?
Charles Goodmacher: On this day that the [US] Senate confirmed Betsy DeVos as our national education secretary, that's an excellent question. I am extremely worried about the future of education in this country. In New Mexico, we have  been cutting back on funding for public schools over and over again and blaming teachers for everything that's wrong [with state education] and now we see that's going to be happening on a national level. I have two daughters in the public education system and I'm worried about their future.
JM: Appointing Betsy DeVos could have quite an impact on the education of new generations. Would you say that this decision could ultimately be self-sabotaging?
CG: We're going in the opposite direction of the countries in the world that are being scored highest [in education]. Some of [those countries] don't have any private K-12 schools. They do that so everybody, including the rich, have a big stake in the public schools. There are other, bigger differences. In some of those countries, it's harder to get into education than law or medical schools: Singapore and Finland [for example], because they require a master's degree before you start teaching. They prepare their educators and them compensate them more. They pay them like lawyers and doctors.
JM: After lobbying since the beginning of this year's session, how would you say things are looking for New Mexico?
CG: I'm there every day and too many evenings, and it's not looking really good. We have a lot of advocates among the legislators who want to increase school funding, not just stop the cuts. But as long as [Gov. Susana Martinez] flat out says no more taxes, no raises to current taxes, and doesn't even want to close some of the loopholes that would allow for more school funding… I'm optimistic, but I think that there is still going to be more cuts to the public schools.
JM: Do you think this problem with education funding is linked with other prominent issues?
CG: It is directly linked. Gov. Martinez has vetoed funding for the [public defense] so people who have a right to a fair trial aren't getting the representation they need. Many [government positions] are underfunded in New Mexico. They're all connected to needing to raise more revenue in the state.
JM: What has stood out to you so far in your time lobbying this year?
CG: So far, each of the members of the congressional delegation, [US Reps.] Ben Ray Lujan, Michelle Lujan Grisham, and both the U.S Senators [Martin Heinrich and Tom Udall] have spoken out about the need to invest in K-12 and higher education. There have also been negative moments about more cuts, and when they did pass a cut for fiscal year 2017, that was a really sad moment.
JM: How does this affect those who aren't quite at the age where they have the education of their children to worry about but have grown out of the immediate need of public education for themselves?
CG: The states that are growing economically are the states that are investing in public education and other infrastructure, and New Mexico is just not doing that. [Martinez's] philosophy is to shrink government rather than expand it, but economic growth happens when employers chose to bring jobs to states where their employees would want to live. If you're an employer and you're looking at different states and see that your employees could be directly affected by [public schools] they won't expand [to that state]. The future of New Mexico is in danger because of these cuts.
JM: Besides just budget cuts, how will recent aggression toward immigrant families affect public schools?
CG: There is definitely an impact. We have a couple of programs that help address those issues in the public schools. The Bully-Free campaign, and Restorative Justice, which is to end the school to prison pipelines. We're supporting schools changing practices. Instead of isolating kids or expelling them, the program helps them [return to public school]. If a kid bullied someone… [we work with them] to work it out with the kids that they bullied. Nobody designed the school to prison pipeline, but it is the result in which students go from school right into prison. It refers to the fact that [students] are severely punished for [minor infractions] and sometimes that means sending them into the criminal justice system, even the juvenile system.
JM: Why is it important to participate in the Legislature about issues like these?
CG: It's important to raise your voice on any issue that means something to you. As they say, if you're not in the driver's seat, then you're going to be taken for a ride. There is no way to avoid being impacted by politics. It impacts us every day.
The Legislative session is open to the public and will continue through mid March.
This interview has been edited for clarity.