Tags
Related Posts
Share This
Profile: Michaela Murray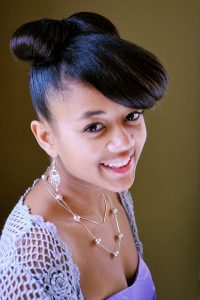 With Santa Fe University of Art and Design closing this coming spring, Jackalope Magazine is checking in with the senior class to see what's next for them. Michaela Murray is pursuing her BFA in Theater (Music Theatre specialization). Originally from Eldersburg, Maryland, she has found Santa Fe to be a lot like her hometown—a small place where everyone knows each other. As her last year at SFUAD is under way, she is avidly participating in every show, and getting ready to set sail for what's next.
Jackalope Magazine: What are you working on right now?
Michaela Murry: So now that show [Side by Side]…right now I am on break for about a week, and then I'm going right back into auditioning.
What was your experience during Side by Side?
It was really good, taught me a lot. We only had four weeks in rehearsal, which is stressful; usually there is a month to two months of rehearsal before we actually get on stage. So we smushed it all together, and got it all together. To grow in the way that I did, in that small amount of time, to give to director what they were looking for, was actually really cool. It prepares you for, not the real world necessarily, but at least for the fast-pace, last-minute things.
Do you feel that the same sentiment can be applied to this school year, or just craft in general?
Yes, definitely, learning how to get a lot in a condensed amount of time. It can be applied to how you audition. You have seconds to show a panel of people what you are capable of doing. To be able to not crack under pressure, underneath that, is definitely something the show taught me. It brought a lot of attention to me about how I react to certain things and how I need to prepare myself for different things. There was a song in the show that I just could not get. For whatever reason, it just wasn't connecting. I realized that I was just overthinking it. That I knew all the words and all the moves, I just needed to let my mind go. The show definitely taught me to be calm, cool and collected.
So what's next?
I want to perform for cruise lines after school, just make a little money; I'm not ready to go right into grad school just yet. I need a break, been in school since I could, you know, talk. We all have. I want to travel a little bit and perform. Working on my portfolio, putting monologues and songs together, sending in my tapes.
What type of work would you be doing on cruise lines?
I want to do shows; certain cruise lines have actual musical theater shows on board. They put together the show, and we would perform it multiple times a night. Like right now, I know a friend that is doing Rock Of Ages. So it's still me doing my work and what I love, but also getting paid and traveling. It's a nice buffer for when or if I decide to go to grad school.
What are your hesitations with going to grad school?
I want to but at the same time, I really am looking to break from school for a while. I definitely am just looking to decompress. But if not grad school, then a conservatory school after doing cruise lines for about a year, or really until I can get financially stable. So wherever is next, I'm better prepared. I'm still choosing between Washington, Chicago, New York, Colorado and LA. Although LA is really heavy for film and that's not really want I want to do. I just want to be able to get back into auditioning and back into that world.
What other things are you working on?
For my thesis, I want to put together an entire show showing my versatility, the songs and monologs I have in my repertoire, in a concert like way. I want to be able to show my growth. I'm also getting ready to start working on our Christmas show written by out chair Cristina Duarte, a possible student led cabaret show, and helping other students with their own project.
With the closing of SFUAD, what has your time here taught you?
What I learned from SFUAD is that sometimes, life doesn't always go the way you wish or planned, that you need to be flexible enough to be able to continue to make your dreams happen for you. Because you're the person that's in control of what happens after something doesn't go as planned.