Tags
Related Posts
Share This
Student Profile: Audrey Clark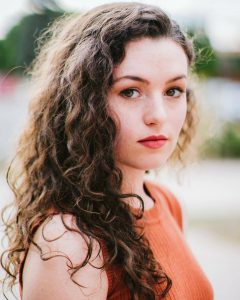 Audrey Clark is a senior Performing Arts student pursuing her BFA in Acting. Originally from Dallas, Texas, she transferred last fall from Richland College in Dallas, where she was nominated for the Irene Ryan Acting Award, sponsored by The Kennedy Center American College Theater Festival, for her work in Comes the Storm. Influenced by her mother, who was a theater teacher, Clark got into acting as early as kindergarten, but didn't really know acting was what she wanted to do until high school. She sat down with Jackalope Magazine to talk about her directorial debut.
Tell us about the show you just wrapped up?
AC: So it was my first ever directorial project. I've wanted to direct for a really long time, have always had an impulse for it. I can remember times while being in plays where I almost had to bite my tongue to not interrupt the director. When I found out about everything that is happening with the school, the opportunity to really do something I wanted was encouraged, and I immediately knew how I wanted to use that opprotunity. So I found a collection of short plays by Shel Silverstein in the library and really thought it would be cool to work with them. I held a small audition, but mostly just brought people I thought would have the time and interest. So I ended up with a really good group of about 10 actors, which we used throughout the six short plays. They were super willing to play around and work really hard, which made my job so much easier. It was just an amazing experience, and I'm really really glad that I did it.
How did you go about choosing which short plays to use?
AC: They were mostly comedies, but still very classic Silverstein. Some were much darker comedies, while others were a lot more straightforward and just had a large range of topics. We opened with One Tennis Shoe, which is about a husband and wife at a restaurant where the husband is confronting his wife about being a bag lady. At first it looks like he is talking nonsense, but more and more, things get uncovered and we find out she has random things that definitely qualify her as a bag lady. So obviously that one is one of the more straightforward ones. We did Smile, which is about a mob that kidnaps the guy that inverted the smiley face. So there was definitely a range of comedy, but overall the cast was able to make it work and have fun with it.
What advantages are there to doing shorts plays?
AC: I knew that I could do just a few of them, which would be easier and I wouldn't need a big cast or have a lot of technical needs. I wanted to choose things that left room for us to experiment with. The biggest challenge was just narrowing down the plays I felt would still be light enough, because there was a lot of dark comedy in the collection.
What challenges did you find as a first time director?
AC: Because we didn't have a big production, my focus was really on the acting, and because that has been my focus, I think that made it easier to understand how to work with the actors. Overall, I think my actors were really great and made it super easy for me. This definitely taught me that if you cast it well, that is half the battle. Good actors want to challenge and play with the scenes and that energy makes my job easy. I didn't have to build from nothing, because they were so willing to try anything. No matter the size or budget or the show, I will cast strong actors even if they don't fit the role to a tee because I would rather have someone willing to challenge themselves and me.
Do you feel like your job as an actor is the same as a director?
AC: They are very closely related, for sure. As artists we want to tell a story and present something that will affect people. That is the overall mission for anyone in the theater world to me. Actors' direct work is to take one story, whereas a director has to connect all the character truths into one story and find how it connects to the overall story. My job really was to reveal things the actors can't see because they are on stage, being able to communicate what's needed and what I wanted to see in that moment.
Did having a small-scale show make directing easier?
AC: For me, yes, because I really wanted to focus on the acting, and because that was mostly what we had, it was really the best possible outcome for me. I think had we had the stress of a larger cast, huge set, lights, those kind of things would have pulled me away from the acting. The 'we are just going to make it work' attitude to me is so freeing, and I liked just being able to connect intimately.