Tags
Related Posts
Share This
Coming Attractions
COMING ATTRACTION AT THE SCREEN
DECEMBER SCREENINGS
Tis the season at The Screen! Before the end of the semester, The Santa Fe University of Art and Design's art house theater brings the best of the season's traditional screenings including the revival of the 1999 Three Tenors Christmas Concert, Bolshoi Ballet's The Nutcracker, and a new production of The Nutcracker from London's Royal Opera House theater.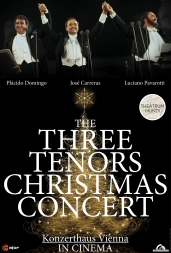 THREE TENORS CHRISTMAS CONCERT
Saturday, December 16 at 11:15 a.m.
Eighteen years ago, the audiences of The Three Tenors Concert in Vienna were the first to hear the combined vocal talents of José Carreras, Placido Domingo, and Luciano Pavarotti. The performers, described today by reviewer Martin Keller as being "as famous as the faces of Mount Rushmore," are presented in their historic concert with close ups and grand master shots singing 21 traditional songs of the holiday with the Vienna Symphony Orchestra.
THREE TENORS PROGRAM
Medley: White Christmas, Let It Snow, Oh Tannenbaum , Ay! Para Navidad
Tu Scendi Dalle Stella
Carol of the Drum (The Little Drummer Boy)
Medley: Ave Maria Dolce Maria, Brahms Wiegenlied
Jingle Bells
Medley: Children of Christmas, La Virgen Lava Pañales, I´ll Be Home For Christmas
Adeste Fideles
Cantique De Noël (Oh Holy Night)
Amazing Grace
Felize Navidad
Silent Night
Pregarìa (El Cant De L´Amina A La Verge)
Medley: Winter Wonderland, Strauss Wiegenlied, Sleigh Ride, Susani
Un Nuevo Siglo
Medley: Dormi Oh Bambino, Happy Christmas, War Is Over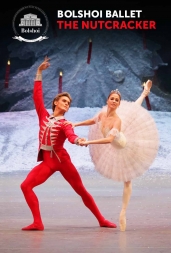 Sunday, December 17 11:15AM
The Bolshoi Ballet's The Nutcracker, playing for its third time at The Screen, features the best of the Russian Ballet. Two hours of the most pristine and classical dance is brought to the local theaters in digital glory with its cherished 7.1 surround sound Tchaikovsky score.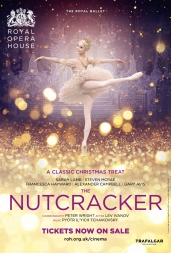 ROYAL OPERA HOUSE THE NUTCRACKER
Saturday, December 23 11:15 a.m. & Monday, December 25 1:30 p.m.
First performed in 1892 on the London stage, The Royal Opera House's most attended ballet remains Peter Wright's The Nutcracker. And according to a Royal Opera House press release, this year's restaging continues "with it's festival period setting, dancing snowflakes and enchanting stage magic" with the addition of some of the oldest surviving choreography from the "sublime pas de deux for the Sugar Plum Fairy and her Prince." Emphasizing especially the relationship between the characters of Clara and The Nutcracker Prince, The Royal Opera press states that this year's production "gains a touching subtext of first love" that makes it appealing for the entire family.
Visit thescreensf.com for movie times
505.473.6494
1600 St. Michael's Drive