Oct

09
posted by Jonathan Hargraves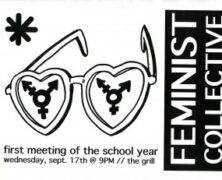 Sep

25
posted by Jonathan Hargraves
The Feminist Collective held its first weekly meeting Sept. 17 at The Grill. Among the items discussed, besides a new meeting place, was how the less than 10 members in attendance could make a definite and positive impact on campus policy this year. The feminist collective wants to "create a safer environment for women, and, also, for everybody," says President Maria Siino. Siino, a 19-year-old sophomore, and former Collective vice president, has succeeded SFUAD alum and Collective founder Julia Griffin as the club's top administrator. Griffin, who now lives and works in Humboldt County, Calif., says of Siino, "Maria is a lot of intensity in a very small package…I know she has the fortitude, the sense of humor and the imagination to run this group…I trust her to pick the right future for the Collective." Siino, in her new role, views herself as a facilitator in service to the needs of the Collective, its members and the student population. "I hold a lot of the responsibility, but I try not to maintain all the power," Siino says. Her leadership style is meant to cultivate an inclusive atmosphere, and to ensure that lack of official position, or the holding of a position lower in the hierarchy, does not preclude any potentially valuable contributions. "We want to make sure that no one's voice goes unheard," Siino says. Among those voices is sophomore studio arts major Shelby Criswell, know on Facebook as Buncle Shelborp. "I joined the Collective because there is a big need to redefine the word 'feminism' and show people it's not a dirty word," Criswell says. "To me, feminism encompasses so much more than the struggle of women. It's the fight for equality of everyone…it's the advocacy of justice for survivors of...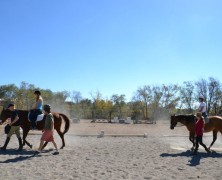 Feb

15
posted by Sandra Schonenstein
What? We have a horse club? You actually ride real horses, you don't just talk about them? Those are the questions that Andi Star, Horse Club president, usually hears when she tells students about her club.