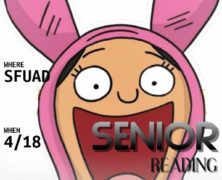 Apr

17
posted by Chantelle Mitchell
Creative Writing and Literature holds its second senior reading April 18; these readers discuss their work.

Sep

18
posted by Andrew Koss
The Student Writers Association (SWA) held its first meeting of the school year last week, and with it began another year of quirky innovations in the art of writing. The coming semesters promise another mixed bag of surprises from the group, which delights in denying conventions. As a member of SWA myself, I decided to step out of the objective view of a reporter and bring some of the spirit of the group to our interviews. I ask each of my colleagues to bring their favorite book with them. Our assignment?  To flip through the pages and find a word or phrase that describes each member of SWA. What follows is an act of literary communion, wielding dangerous Sharpies and filled with ink-splotched abandon. Melinda Freudenberger "That crazy bastard may be the only sane one left." —Catch-22 When I meet up with Melinda Freudenberger on the Quad, she is smoking a cigarette under a tree. I ask her what's on the horizon for SWA this year. "We're planning a lot of cool open mics," she says, and recalls watching a video of a band performing in a cave. While there are no caves in the Santa Fe area, she says we can expect some unusual locations for open mics. "We're planning on streamlining Coffee Spoons," Freudenberger says of SWA's literary magazine. Coffee Spoons began last year as a monthly, online publication, culminating in the release of a limited, physical copy at the end of the spring semester. After struggling to receive submissions to the magazine, SWA has decided to work with students who attend their meetings to produce pieces for publication. Issues of Coffee Spoons will then be released at the end of each semester. Freudenberger believes that the group's past difficulty in receiving submissions can be linked to students' insecurities. "I equate this with open mic anxiety," she says. "I share the feeling of not having something to read at an open mic or not feeling comfortable having my work published. Publication is put on a pedestal and it doesn't need to be like that." Coffee Spoons serves as an entry-level publication for students, but that doesn't mean that all work is accepted. Freudenberger credits her acceptance into SFUAD's annual literary journal, Glyph, as giving her the confidence to submit to outside publications. "You can be rejected from Coffee Spoons," Freudenberger says, "but it exists as proof that you can be published." SWA has not always been so innovative and fun. In fact, Freudenberger says, "It was pretty shitty. The first meeting I went to, the seniors just talked at us. They told us to bring work in and they'd workshop it, but nobody ever did." Freudenberger recalls a lack of warmth. "There wasn't as much encouragement to new students to read as there is now. It felt closed off." This lack of community served as the impetus for change. Creative Writing faculty member Dana Levin was instrumental in finding new recruits. She pulled Freudenberger aside one day, along with Amaya Hoke, Marina Woollven and Nik Thomas. Levin took them by surprise when she addressed them as SWA. "That's when things started to change," Freudenberger says. "We had to stop and consider whether or not we actually cared about it, and if we did, how could we make it better?" The group was strengthened last year by then-seniors Brandon Brown and Bailey Schaumburg. They provided the warmth that was missing. Schaumburg took charge of organizing the open mics. Brown made a conscious effort to mentor the underclassmen, grooming them to take over after he graduated. "We were really excited about it," Freudenberger says, "but also a little nervous." This is Freudenberger's second year as a board member of SWA. The work is not without its stress. So much time gets put into organizing events that board members don't always get to see the benefits of their work. But every once in a while, there is proof that the...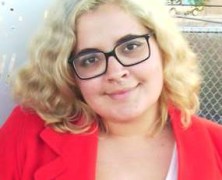 Oct

23
posted by Zoe Baillargeon
SFUAD's Student Writers Association (SWA) has recently launched a new series of craft seminars aimed at enterprising students hoping for more opportunities to expand their work. Led by their peers and held during lunch hours so as to accommodate students' busy schedules, each session individually focuses on an aspect of creative writing, such as character development, dialogue or plot. "The seminars are meant to reinforce what we're learning, as well as adding some new ideas on those very topics," says Jen Hanson of SWA, the mastermind behind the seminars. "I felt that there are some areas of craft that classes cannot delve deep into, as there are a wide range of things which need to be taught and learned. In creating these seminars, my hope, and SWA's hope, is that students will have an opportunity to really dig deep in specific topics." Amaya Hoke, a sophomore Creative Writing major from Texas, took on the task of hosting the first seminar on Oct. 13. Entitled "Split 'Em Open," the session focused on character and characterization. "It was definitely a joyful experience, so many people showed up!" enthuses Hoke a few weeks after her seminar. "I gave the attendees an option of two exercises. They could create a schedule for their character, like 8 am – wake up, just to try and show the daily life of a character. Another was to try to portray how their character was by describing the contents on the inside of their car. There were some pretty amazing results!" Hoke chose to focus her seminar on characterization because "I've always been really passionate about characters, I feel like they make the story. I feel like if a writer can't love and dedicate time to their characters, then who can love...