Tags
Related Posts
Share This
Jake Trujillo: On Barista-ing, Music, and Being House Majority Liaison
By Clara Hittel/Photos by Christopher Stahelin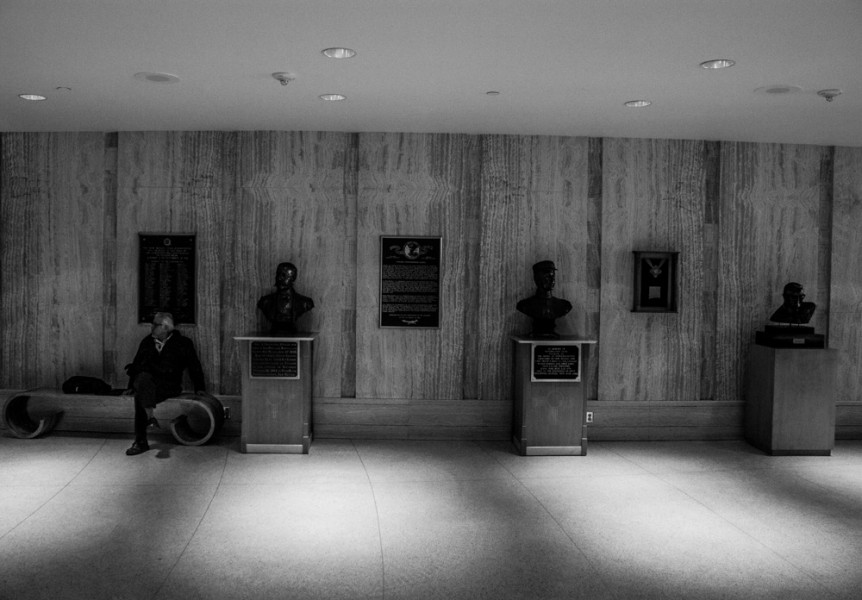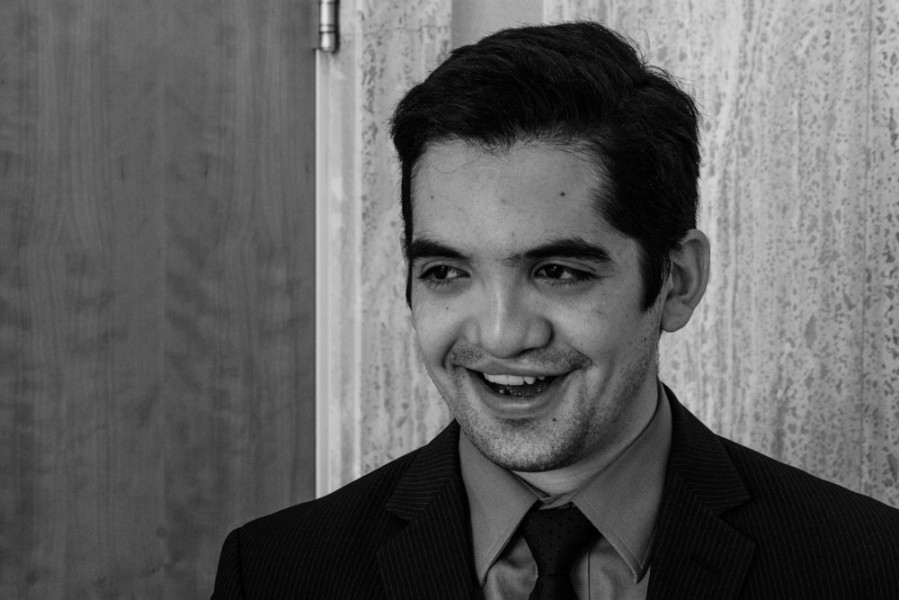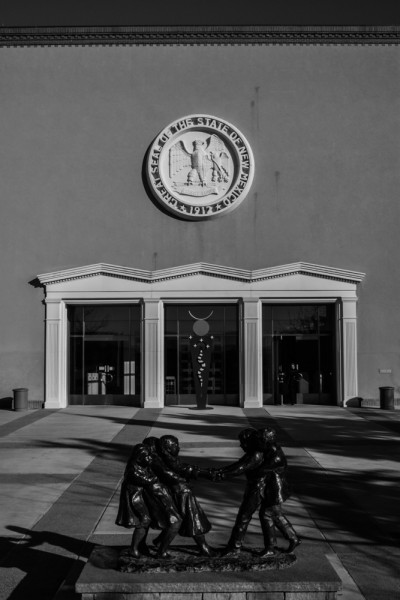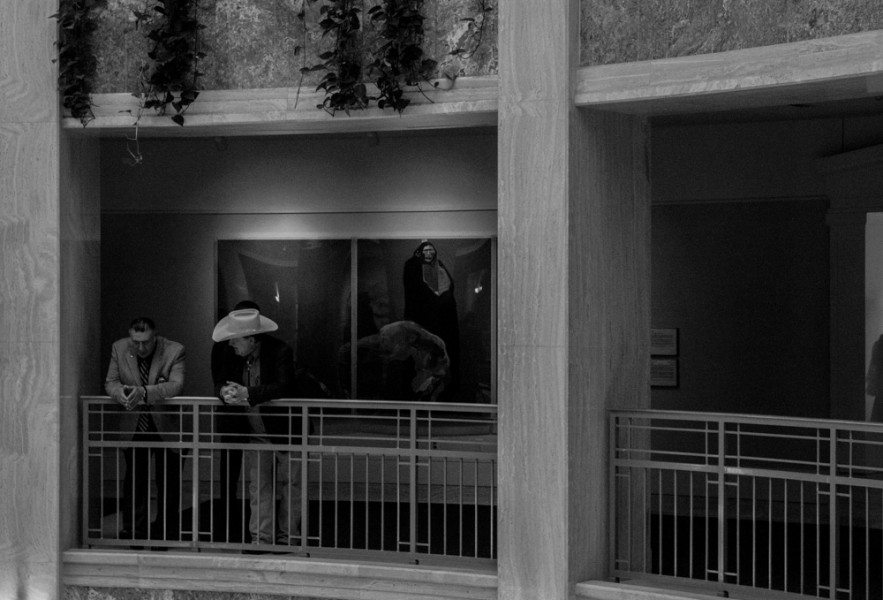 Jake Trujillo sits on a bench at the edge of the room observing a heated(ly comical) debate on the preservation of the lesser prairie chicken between state Rep. James Roger Madalena,  D-Rio Arriba, and state Rep. Candy Spence Ezzell, R-Chaves.
After some staggeringly unprofessional questioning and a representative's impersonation of a chicken, House Memorial 21 passes—"A memorial requesting that local officials support local efforts to preserve and protect the lesser prairie chicken and oppose its listing as "threatened" pursuant to the Federal Endangered Species Act"—and Trujillo slips from the House.
Photographer Chris Stahelin and I later find him looking down at us from the second floor balcony. We wave at each other, and then the House Majority liaison disappears from the balcony in order to come down and speak to us.
I first met Santa Fe-native Jake Trujillo in 2008. He was playing guitar and singing an original composition at Meow Wolf's old location off Second Street. I thought he was a very impressive songwriter, and after that I saw him everywhere I went like he was a character in a comedy about a small town—the character that seems to work in every shop and café. (Note: Trujillo actually has worked in many cafés around Santa Fe.) This is why I was not surprised to find him working at the New Mexico State Legislature.
"I got pretty lucky in the grand scheme of things—I got a pretty cushy job," he grins.
This year is Trujillo's fourth at the Legislature—a job he says simply fell into his lap. He deserves it, even if it's only temporary.
"…It was always harder…to go back to barista-ing after working at the Roundhouse," he admits. "Being a barista can be hard work, and you're on your feet a lot. I find that it has a tendency to be more emotionally taxing as well, but I'm probably a big pansy. In any case, empirical evidence suggests that I'm not a very good barista…"
"I'm often praised here for doing good work that I put a lot of time into.  I never really had that satisfaction as a barista.  You can make as many little flowers in the latte foam as you want, but at the end of the day I don't find it to be rewarding work."
As one would expect, Trujillo did not own many suits prior to his job at the Legislature. He seems a little embarrassed when I ask about his attire, but appears sharply official in his gray business suit.
"Now that I have them, I feel like I have to wear them…" he explains unnecessarily, as all of the men are wearing suits.
So what does the House Majority liaison do?
"I originally worked with the previous [House Majority] liaison as a general assistant to the House Majority office.  That job basically consisted of making copies and picking up birthday cakes from the store…" says Trujillo, who has since risen in the ranks.
"Being a liaison is a combination of people skills and computer skills," he continues. "Essentially, I track the bills by filtering information from our database…Once the bill is out of the House and into the Senate, I ask the Representative which Senator they would like to carry the bill on the senate floor…[then] I provide the Senator with any information they'll need to carry it."
Trujillo describes his first task of the day:
"I wander in at around 8 a.m. [and] I print off articles from the Santa Fe New Mexican website that pertain to the legislature. These get copied into a packet that gets passed out to all the representatives. I have to be careful not to print anything that's too incendiary, etcetera, so nobody's feelings get hurt."
As Democrats are the majority in the state of New Mexico, being the House "Majority" liaison means that Trujillo works for the Democrats.
"I like working for the Dems…I could do a lot worse."
For a man on the job, however, Trujillo does not seem in a great hurry to get back to work.
"It doesn't get busy for me and my job until the last couple of weeks," he says, referring to the current 60-day legislative session and the fact that the bills have to trickle down through the House before they go to the Senate, which takes a while.
"I get a lot of reading done."
In this patch of free time, Jake Trujillo escorts Chris Stahelin and me up to the second floor. As Stahelin wanders off to take some photographs, Trujillo and I lean against the railing of the rotunda and talk takes a detour from the Legislature. He shares with me an encounter he had with my mother last time she was in town, when he was still working at Downtown Subscription. He confused her for someone else's mother, yada, yada, yada. I then ask him about his music, because my first impression of him singing that incredible song has stayed with me.
"I haven't played live in years," he admits.
Trujillo still practices, though, and is in the process of writing and recording a new album. I want to know more.
"I don't have any pertinent information about the album at this point, but I'll let you know when I have anything I'm proud of finished," he promises modestly.
I decide to let Jake Trujillo return to work. What does he do now?
"I tend to sit in on the floor session…because I don't go to many committee meetings, so it's the best opportunity to hear interesting debate. After all the bills for the day have been addressed, I usually go to lunch. The afternoon is much slower, because everyone goes to committee.  I tend not to, because it's hot and musty in there most of the time…"
I noticed as I look around me on the second floor that people are filing into many different committee rooms. It seems that time of day has come.
"The afternoon is pretty freeform until I leave at 5 p.m. Later on in the session, I'll need to stay at work until they leave the House floor, even if it's after 5 p.m., which it often is.  So the hours get long eventually, but for now they are not."
The second floor quiets as committee meetings begin, and it's time to leave the Roundhouse to the politicians. So long, Jake Trujillo—I'm sure I'll see you around.