Tags
Related Posts
Share This
"Give Yourself a Chance" Memorial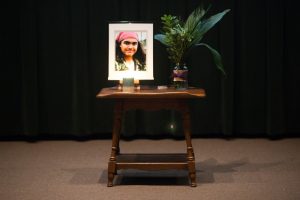 On Nov. 27, students, faculty and loved ones of 2017 SFUAD Film alumnus Zack Eatmon-Ponciano gathered in the Screen for a memorial dedicated to recently lost members of the SFUAD community. Due to the nature of Eatmon-Ponciano's passing—he took his own life early Nov—Eatmon-Ponciano's family and memorial organizer Daniel Williams wanted to encourage the community to "give yourself a chance." While the memorial was focussed primarily on Eatmon-Ponciano, people were also encouraged to share memories of Harrison McClure, Mollie Nelson, Nicole Katya Souverbielle and other members of the SFUAD community who have died.
The memorial began with a speech by Williams, a local actor, and was followed by a photo montage of some of Eatmon-Ponciano's happiest moments put together by his cousin. Williams also played one of Eatmon-Ponciano's photography films, "Blur of Our Bliss," a photo montage of Santa Fe, California and his home in Hawaii set to the song "Take Us Back" by Alela Diane.
Later, Williams opened the floor for some words of remembrance. Associate Dean of Academic Affairs Liam Lockhart spoke about Eatmon-Ponciano as both a student and friend. "He had a face so angelic and a smile that was always on it," Lockhart said. Film professor Terry Borst also spoke about Eatmon-Ponciano's work in the Film school and on Shoot the Stars where he served as set photographer for two years. "These are the kind of students you dream about," he said.
While Eatmon-Ponciano's parents were not able to make the event, his aunt Leau Phillips gave a heartwarming speech about her nephew. "I loved him before he was born because I loved his parents," she said. Philips wanted everyone to know that her nephew was happy at SFUAD; that he loved being here. She encouraged those who attended to remember Eatmon-Ponciano in everyday moments. "Every time you are proud of yourself, think of Zack. Every time you recognize kindness being done, think of Zack. And of course, every time you experience the genius that is Quentin Tarantino, think of Zack."
Students at the university also got up to speak about Eatmon-Ponciano as well as share memories of other SFUAD students who have passed in recent years. Film alumnus Alec Brown shared memories of Eatmon-Ponciano, Souverbielle and McClure. Angel Urquidi also spoke about Souverbielle. He reminded those in attendance that "a person never dies unless you forget about them."
The memorial ended with a ceremonial candle lighting. Williams handed out candles and passed the flame from candle to candle. "When you look at the power of influence, we can start with a single flame," he said. After a moment of silence, the candles were blown out and people gathered to offer condolences and share further memories.
If you or someone you know are struggling with depression or suicidal thoughts, please give yourself a chance and reach out for help. The National Suicide Hotline is 1-800-273-8255. You can also find resources online at https://suicidepreventionlifeline.org/.