Tags
Related Posts
Share This
End-of-Semester Events
As the Fall 2017 semester marches toward the holiday break, Santa Fe University of Art and Design students from various departments are preparing to read, perform and exhibit their work. Here are some of the events coming up—please let us know if there are others you would like added to the list.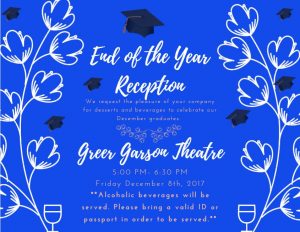 End of the year reception, 5-6:30 p.m., Friday, Dec. 8 at the Greer Garson Theatre (valid ID required for alcoholic beverages).
CREATIVE WRITING SENIOR READINGS
December seniors will read selections from their senior manuscripts in two readings to be held at 6 p.m. on Tuesday, Nov. 28 and 6 p.m., Tuesday, Dec. 5 at Collected Works Bookstore. The first group of readers includes Madeleine Sardina, Chantelle Mitchell, Kylie Yockey and Brantlee Reid. The second reading will feature Charlotte Renken, Alison Gamache and Kelsey Moghadaspour.
FILM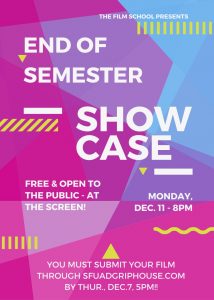 The Film Department will present a showcase of student films at 8 p.m. on Monday, Dec. 11 at The Screen. The event is free and open to the public.
MUSIC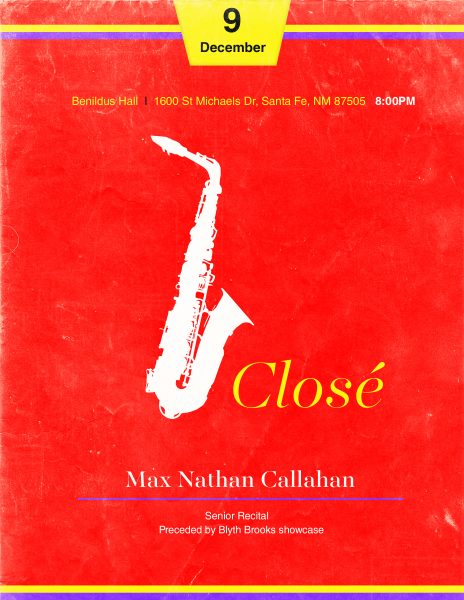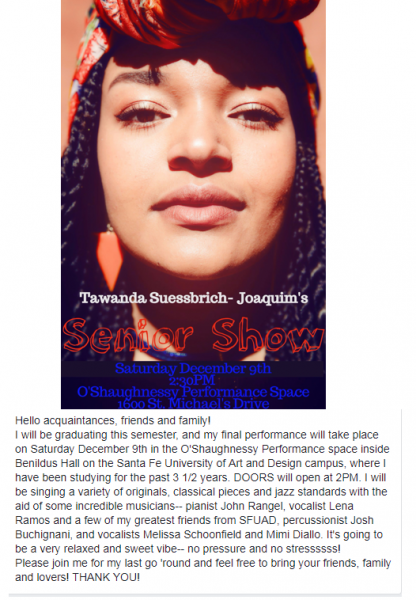 Saturday, Dec. 9. Senior recitals featuring Tawanda Suessbrich-Joaquim (2:30 p.m) Max Nathan Callahan at 8 p.m., preceded by Blyth Brooks.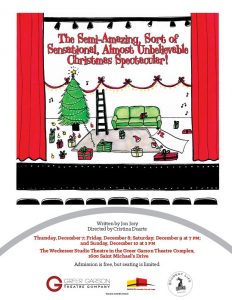 PERFORMING ARTS
The Performing Arts Department's Christmas Spectacular Show will be held the following times and dates:
Preview: 7 p.m., Thursday, December 7
Opening: 7 p.m., Friday, December 8 with a student gala/party in the Greer Garson lobby prior to the show from 5- 6:30 p.m.
7 p.m., Saturday, December 9
2 p.m., Sunday, December 10
PHOTOGRAPHY
Chris Dorantes, senior thesis exhibition, "Nature Erotiqué" 5-7 p.m., Friday, December 8 in the Marion Center for Photographic Arts
VISUAL ARTS
Control
SW Annex Gallery
Opening reception 5 to 7 p.m.  Exhibition is up Dec. 7-14
Hector Hernandez
Sarah Canelas
Davis Fleming
Samantha Fe
SEMIPERMANENT
Opening reception 4:30 to 6:30 p.m., Exhibition is up Dec. 7-14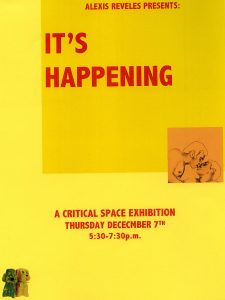 It's Happening
Critical Space
Opening reception 5:30 to 7:30 p.m., Dec. 7. One night only.
Alexis Reveles