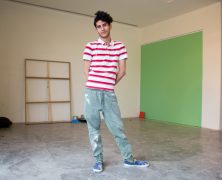 Dec

04
posted by Melissa Dow
For one night only, Alexis Reveles presents It's Happening, a Critical Space Exhibition, 5:30 to 7:30 p.m., Thursday Dec. 7.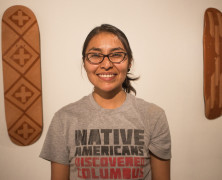 Apr

07
posted by Madeleine Sardina
Marina Eskeets' senior thesis Eskeets' exhibition is a multimedia installation that incorporates elements such as video, weaving and earthwork.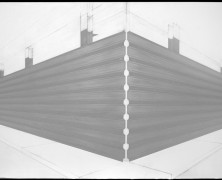 Sep

12
posted by Brandon Ghigliotty
The Fall 2013 semester is bustling with events and the art department is no different. Three events draw near: faculty member Tom Miller's exhibition at Zane Bennett Contemporary Art, Enrique Martinez Celaya's lecture in Tipton Hall and hARvesT, the 2nd annual juried exhibition. Tom Miller's exhibition, Walling: Containing Architecture, looks to challenge the role of barriers in society. Miller's concern lead him to a body of work that navigates the notions of transition and perspective. The show features an installed wall centerpiece measuring 24 feet in length. Its front—a stark, neutral white—contrasts sharply with the worn back, which reveals supports reminiscent of tank traps. Miller was worried about being limited to painting when he entered graduate school. "With sculpture I could do anything," said Miller. On Oct. 1, Enrique Martinez Celaya comes to campus for a lecture in Tipton Hall. Martinez Celaya, a Cuban American artist, is responsible for shaping nearly 12,000 feet of gallery space at SITE Santa Fe. According to Martinez Celaya's biography, he was pursuing his doctorate in quantum physics before shifting his focus to the art he practiced in his spare time. Given the gestures of reclamation within Martinez Celaya SITE Santa Fe exhibition, it would be a great opportunity to ask questions such as, "I read something in your biography about laser patents. What the hell, man?" The lecture is a collaborative effort between SITE Santa Fe and Santa Fe University of Art and Design. Linda Swanson, chair of the art department, discussed the relationship between SITE Santa Fe and the university. Such as the opportunities afforded by internships and the benefit of having Joanne Lefrak, director of education and outreach, engaging with the students in the classroom. "I think of them as one of the institutions that expands...