Dec

13
posted by Sophie Farrell
Performing Arts Department alumnus Michael Pepp discusses life after graduation and offers advice to current and graduating students.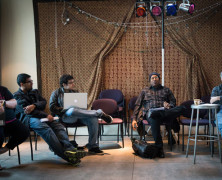 Mar

04
posted by Serafima Fedorova
On Feb. 21 in O'Shaugnessy Performance Space, Contemporary Music Program Chairman Horace Young, faculty members Steve Paxton, Melinda Russial and Deborah Ungar, along with Career Services Director Joanie Spain discussed career choices and master's degrees in music entertainment and education.
The weekend workshop was more of a roundtable with questions and answers on qualification, making the right choices and the availability of options. Music department faculty and advisors exchanged information and anecdotes about their own graduate school experiences.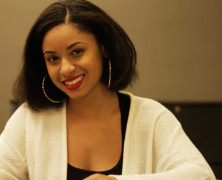 Feb

26
posted by Zoe Baillargeon
From art school to graduate school: With graduation on the horizon, Shenyse Harris, a senior in the Performing Arts Department, recently joined the legions of graduating students from this school and around the country auditioning for graduate performing arts programs. Harris, a BFA Acting major, has appeared in a number of productions during her time at SFUAD, including Dracula, Our Lady of 121st Street, Some Girl(s), and Once on This Island. Harris sat down with Jackalope to discuss the audition process, her prep work with PAD faculty member Jon Jory, and her successful audition for one prestigious MFA program. Jackalope Magazine: Why did you want to become an actress? Shenyse Harris: Mostly it was because I missed my sister a lot growing up. My sister is about 13 years older than me, and she moved away to Los Angeles to pursue an acting career. I think for me, acting was something that made me feel closer to her and gave us something to talk about, because, you know, when you have an older sister, you sometimes don't really have a lot in common or a lot to talk about, so it was a common ground for us. Then, from there, it kind of grew and progressed into something that I was good at. I always wanted to do sports. I danced, I did sports, and then acting happened. JM: Why did you choose Santa Fe University of Art and Design? SH: The financial aid packet was pretty bomb! (laughs) But at the time, I was in a mindset of just trying to leave the house and I auditioned for a lot of schools at the International Thespians Festival, and I got callbacks…but for some reason my mind wasn't set on going to a...