Mar

03
posted by Madeleine Sardina
On Feb. 23, SFUAD's Studio Arts Department held its annual juried student art exhibition, Totally Unfair!

Feb

29
posted by Cris Galvez
SFUAD's annual juried show for visual arts, "Blind Faith," is currently exhibiting at Wade Wilson's Art Gallery, located at 217 W Water St, Santa Fe, NM 87501, and will be on display through March 11.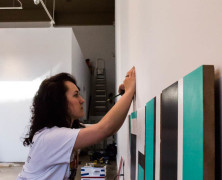 Feb

20
posted by Christy Marshall
Hannah Marcotte installs her piece "Synecdoche of a dress" for the student juried show at Wade Wilson, which opened Feb, 19 and runs through March 11. "Synecdoche" means a part representing a whole. "Synecdoche of a dress," As Marcotte explained, is about 5-foot-by-5-foot piece she made by taking micro photos of a dress she owns and painting each photo on to 1-foot-by-1-foot boards that make up the whole piece....