Tags
Related Posts
Share This
Form, Function, Design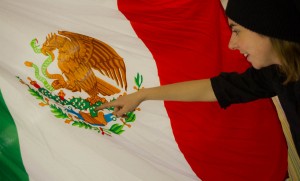 By Charlotte Martinez/ Photos by Michelle Rutt
Rebecca Alvarez, transfer from Mexico and senior at the Santa Fe University of Art and Design admits she sees things most people don't. It's not dead people. What she sees is very much in plain sight, yet overlooked in modern society. Alvarez sees it because she works with it, she slaves over it and has dedicated her college education to it. Some call it visual communication, others call it the art of persuasion. Alvarez says "more than anything [it's an] aspect of functionality." The secret is summed up in two words: graphic design.
"Design could be related in any sphere like the government, politics," Alvarez begins. The designer, for example, that created Helvetica, a typeface used especially on subways in New York, describes the influence of checkboxes on electoral ballots. Alvarez says "design could change how you as a voter go and vote."
"You have to kind of live with the idea," Alvarez says, "that more often than not people won't recognize that something is…" she looks up as if to form a thought. Because English is her second language, Alvarez' thoughts move faster than her speech. She adjusts her black beanie and begins again. "Design is taken for granted. Sometimes you don't even realize this is well done. You either like it or don't like it. Does it function or doesn't function?"
Functionality is one reason Alvarez decided to transfer to SFUAD. Born in Austin Texas but raised in Queretaro Mexico, Alvarez says her decision to return to the States was due to the University's vilification of graphic design as an art form. "In Mexico," she says, graphic design "is not as appreciated. It's not well paid and the culture [suggests] that it's not needed." She was further convinced of her destination when she attended a design conference in Mexico. "When I saw these designers they were really doing things that I felt interested in," Alvarez says. "Some of them were activists, others were more artistically oriented. Still," Alvarez continues, "not knowing my life before what I learned here [at SFUAD], I didn't know what I was doing." She believed, more so than Mexico, her questions might be answered in the States.
Rebecca Alvarez explains the symbol of the Mexican Flag
After high school, Alvarez spent eight months working in Canada before looking into New York and Miami for art colleges. Alvarez, however, wasn't prepared to commit to a University life in America and though she had family in Miami, the proximity and community, she explains, were "not right for me." Deciding she'd play it safe, her education started in Mexico at La Universidad de Valle, where she was able to keep close to friends and family. After one year, however, Alvarez utilized Laurette's International program, an exchange network among Universities across the world.  The offer to study art in Santa Fe, NM was the opportunity she was waiting for.
"We checked the prices and it was an awesome deal," Alvarez says, "it was cheaper than it was to be at home. Laurette gave a scholarship and my university gave a scholarship. I came for one semester and by the third week I was like 'oh, I like this.'" With some of her first classes, Alvarez says, came some of the first answers to her questions. What is art, being the main one, and now that she "sens[ed] how things were seen" in the world of graphic design she decided to stay another semester.
That summer, while working housing at SFUAD, Alvarez decided to transfer.
"It's kind of giving up everything for nothing at that point," she says. "I have my life back [in Mexico], all my friends all my family, my culture." Still, she knew her future in America would be worth it so Alvarez began the transfer process, "which was really easy for me at the time because I was a citizen. I had scholarships, I had loans and I had help from the chair of my department."
Today, Alvarez works as a senior resident assistant for administration and in her time off she participates in the design collective, Hexagono. When asked about her working methods, Alvarez reflects on her accuracy of design, something that can't be helped if you have the third eye for perfection. "We're the retarded people," Alvarez says, "who for an hour are moving a letter closer and closer because it has to be right there. It's just pure on looking at it. There's no formula, there's no right or wrong."
In the future, Alvarez is looking forward to the freelance aspect of employment, of traveling and continuing to learn her craft. "My biggest passion," she says, "would be to design as an art form." Bound for opportunities and affordable living, Alvarez thinks California or New York would be a good choice, though she would miss New Mexico.
"The magic of Santa Fe is that it keeps you focused," she says. "I think in a more abstract way." Like the landscape of Mexico, Alvarez believes Santa Fe's sunsets and mountains has kept her environment an influence in her work. In Santa Fe, she explains, "you're not wondering around. It's more quiet and I wouldn't do what I do if I wasn't here."
Wherever she ends up, Alvarez looks forward to studying as much as she can for as long as she can. "I feel like I know too little," she says, "like this is just the beginning."