Tags
Related Posts
Share This
Art and Community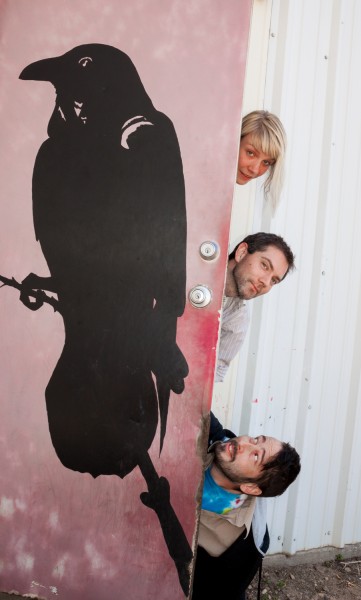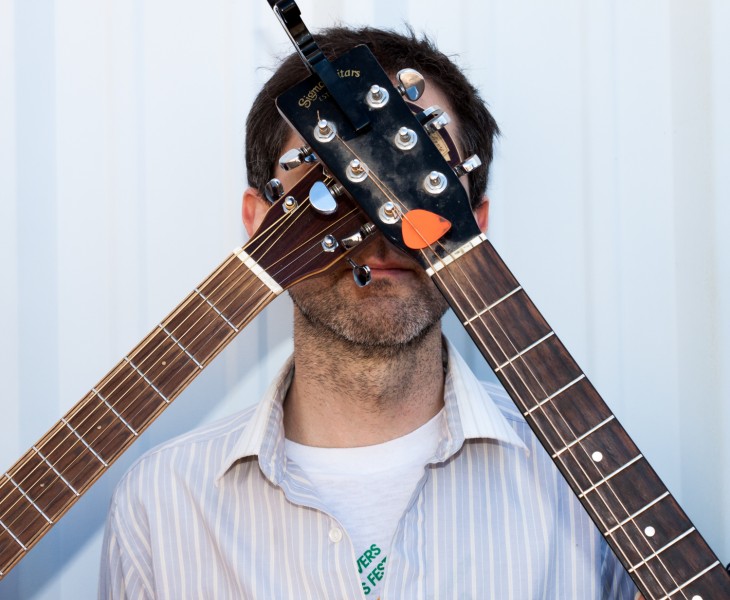 Nicholas Chiarella, a Santa Fe based artist and contributing faculty member at the Santa Fe University of Art and Design, moved into his loft apartment on Santa Fe's west side in November of last year. Within five weeks, Chiarella was hosting "Sit Wherever You'd Like," a house-show of the sort that seems to be at the heart of Santa Fe's community of young and emerging artists.
The show was an exhibit of artwork by Chiarella and several of his friends, and was his was of having a house-warming party that was more collaborative and inclusive than simply inviting his friends over to see the various shades of childhood blue he had painted his bedroom walls, the funky fluorescent light that was bisected by the wall separating his bedroom from the hallway, and the small installation piece that he had begun working on in his bedroom. He hung track lights to illuminate the large expanse of wall on the house's ground floor, advertised the event in a laid back manner, and successfully hosted his first art opening.
This type of all-inclusive do-it-yourself attitude is what seems to keep Santa Fe's younger arts community alive. Chris Johnson, a local poet, writer for The Alibi, and member of Meow Wolf, explains that, "art is a social, not an elite, function." Johnson believes that the presence of art in informal spaces is inextricable from the value of art itself. "Art at its nucleus is a means of understanding life better," explains Johnson. "Everything I've ever done has been outside of a gallery setting, which allows me to create things that I can give to a community in all walks of life."
Meow Wolf was built on exactly this mindset. Megan Burns—also known as Santa Fe musician Flamingo Pink—a local musician and Associate Director of the Santa Fe Performing Arts School who co-founded Meow Wolf with several friends in 2008, explains that the collective was conceived of with absolute openness to collaboration and non-elitism. The collective arose out of several conversations about art projects between Burns and her friends that usually ended in, "we should just do it—all we need is a space and the interested and invested artists that we already know exist in this city."
Red Cell, a local artist, writer and curator who began hosting house-shows under the title 'The Process' around the time that Meow Wolf was founded, explains that, "change always happens on the edge—it is the underrepresented people who count."
Red Cell concedes that, when show-casing work in an informal setting, it is easy for the line between house-show and house-party to blur—he himself, he admits, has certainly hosted his share of both. "In the end," he says, "it's all about why you're there. I once had a show at my house with people lined up down the street to watch the band playing through my living room window. They just stood there, in complete silence, to listen; if somebody disruptive showed up, everybody told them to be quiet or leave."
For Chiarella, the need to share art in a way that connects people and inspires them creatively was the factor that led him to have an opening of several people's work at his house rather than a house-warming party that featured his own work. "Art becomes art," says Chiarella, "when it synthesizes inspiration and dialogue." He is eager to continue to contribute to the more personal, informal, and collaborative art scene in Santa Fe that he sees as an essential supplement to more institutional settings for sharing art: on April 13th he will host an album release party for Flamingo Pink's first studio-recorded album, Theysey, featuring what he calls "playful interactive works" in addition to live music played by Flamingo Pink and Kevin Hogan.
A version of this story also was published in The Santa Fe Reporter