Tags
Related Posts
Share This
That's a Wrap!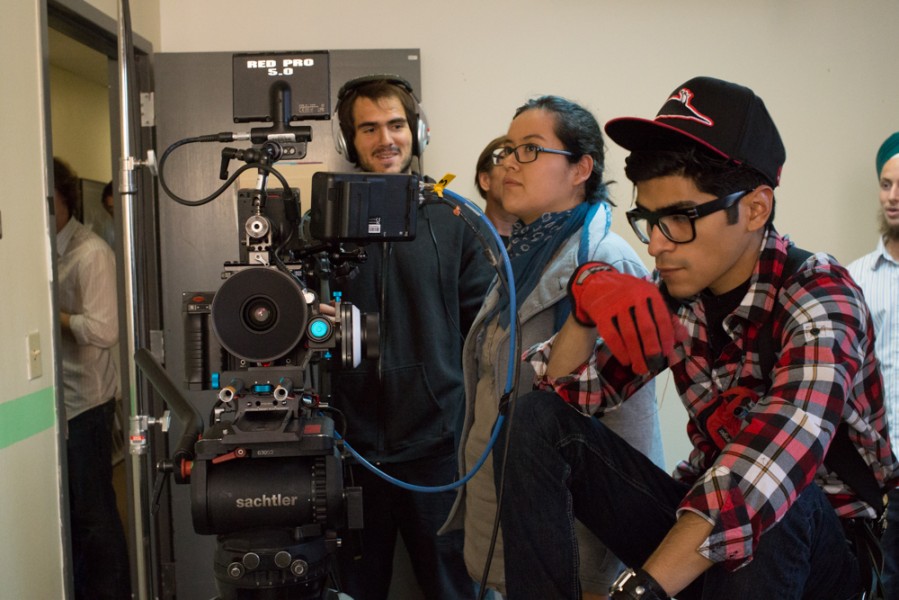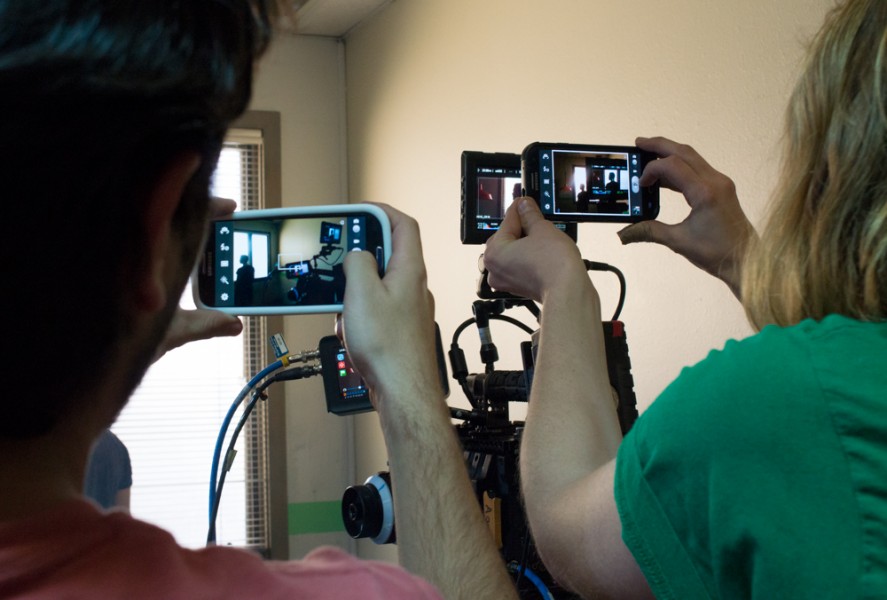 The filming of Shoot the Stars scripts Mister Stapleton and Dead Celebrity have successfully wrapped and Amy West, first assistant director for Mister Stapleton, says she is exhausted. West and her fellow crew members agree that although two days for each shoot doesn't seem like much, 12 hours on your feet, inside the stage, outside in the cold, and preparing for the unexpected is no easy task.
Paula Amanda, assistant chair of the Film Department says Shoot the Stars should feel like a "real world scenario." It is, she says, "the student's show" and like last year, the four-day shoot with two scripts, two actors and two directors is meant to challenge its students by launching them into professional sets. They are, however, not completely on their own. Film professors like Hank Rogerson, Mark Sewards, Brad Wolfley as well as non-staff helpers Joe Bacharka, Meg Blissel, and Alex Raguini act as mentors on set, working one on one with the crew.
"Having access to their extraordinary capabilities fill[s] in the gaps of what [we] don't already know," says Mister Stapleton's director, Joshua James.
West too expresses how thankful she was to work and problem solve with her teachers. "They are wonderful!" she says. "They always treated us with the respect of a colleague and gave us the confidence that we had the capability to do our jobs in a professional way, but were there to cushion the fall if we made mistakes. I also think that simply having people on the job who have experienced a professional film set gave us all a standard to strive for."

Star actress Jordana Spiro (The Mob Doctor and Trespass) shares that while she and her co-star, Richmond Arquette (Se7en andFight Club), were on set in Garson Studios they felt as if the crew already had a strong foundation. With the work of pre-production (shot lists, set building, costume, scheduling, testing) already in action, Arquette says "I wouldn't have thought this was a student production."
Chair of the Film Department Chris Eyre adds that they're "blurring the lines a little bit" when referring to the crew's access to film stages, set tools, professional cameras and sound equipment all within their school environment. "We're providing professionalism at a great level to our students."
Now, for the topping of the cake: a pair of "generous" and "kind" stars, as Angelique Midthunder from Midthunder Casting calls actor Richmond Arquette and actress Jordana Spiro. Midthunder, who recently re-located her business inside Garson Studios, explains that Arquette and Spiro were selected from a list of candidates that fit the description of female in her 20s and male in his 50s.
"Female in her 20s," Spiro repeats with a chuckle, while adding air quotes around 20s. Despite her roles of college student in Mister Stapleton and a young woman in Dead Celebrity, the actress, age 36, did not let her age impede her performance. "I was excited to come," Spiro says, "and to be involved in a workshop environment." Spiro, who herself is attending graduate school in Columbia, says that she does not distinguish the "professional" filmmaker from student filmmaker on set because they all work together.
"They told me free muffins," Arquette, age 50, says when asked why he submitted his name for Shoot the Stars. "No, it sounded really fun," he continues, "the young crew brought enthusiasm to the production. They were not jaded and very passionate." He adds that he and Spiro "were really well treated by this school" and that projects like Shoot the Stars are "fewer and farther in between," for unlike worrying about the "final result," Shoot the Stars focuses on "sharing in the journey of the process."
In addition to great talent, Chris Eyre says that Mister Stapleton and Dead Celebrity were "well matched to their directors" because both were "unique in their own way." Seth Fuller, director of Dead Celebrity, says his "overall vision" as a filmmaker "is to draw emotions out of people…to shape tone or emotion." The script Dead Celebrity, described, as a sci-fi drama, is therefore suited to Fuller's style, just as James' theater background makes the Stapleton script suited for him. Eyre supports the selections further by calling James an "actor director" who works with character, while Fuller is a "shooter," a visual storyteller.
Working closely with director James, Arquette says he felt like he was working in the "hands of someone who can communicate with actors…and that's very important." Spiro agrees saying that both James and Fuller guided her while giving her space to explore. They were "captain at the ship," she says, "leaders of their vision."
James, who had some surprise at being selected as director, says "working with the actors put me at ease, helped me stay loose and roll with it."
Spiro shares that as an actress, doing a comedy and a drama in the course of four days provided a good character challenge. Marcia Mulroony, the protagonist in Mister Stapleton, is someone who "has read too many books about out-of-the-box thinkers." Mulroony believes that if you break the rules and are persistent then you'll get what you want. "She's probably aware that Albert Einstein didn't do well is school," Spiro adds.
In Dead Celebrity, Spiro says her character Lauren Jacobs is a sweetheart. "There's a real kind of loneliness about her," Spiro says, "she's the kind of person that has all this love to give but doesn't know who to give it to."
Richmond Arquette calls Mr. Staple in Mister Stapleton "a person who has a lot of his self image in who he is as a professor. He gets love through getting respect and he gets respect from his students fearing him."
In Dead Celebrity, Arquette's character, Jake Carter, is "someone who is not able to let anyone close to him." Arquette adds that "he's in a great deal of pain and through the course of the story he is re-awakened by this woman and her reverence for something he did that he did not respect at all."
Before leaving Santa Fe, Arquette and Spiro were sure to leave their last bit of advice with the Film School. "Don't quit," Arquette says. "Just like in the real world," he says, "put pen to paper, put your shoes on and get out there. You can make whatever you want."
Spiro's advice? "Just do it. There is so much agenda outside," she says, "a lot that is key to your survival, but keep trying to listen to that voice inside you. Keep in check and in balance."
Assistant Chair Paula Amanda adds that although "the artist's road is tough," it's important to keep in mind that "artists are the ones that change the world." On that note, Shoot the Stars is officially in its post production stage. It's time now to finish the story.