Tags
Related Posts
Share This
Tales from the Trenches: AGNI Editor Bill Pierce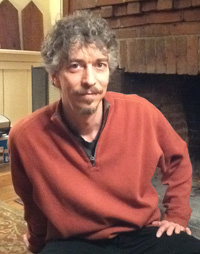 The editors of Glyph, SFUAD's annual literary magazine, have reached their final stages in the editing process. I have been honored to work as editor-in-chief. With half a semester left, the discussion has shifted from the work of others to our own futures in the literary world. Creative Writing Chair Matt Donovan leads the class, titled "Professional Practice," and each week, we are privileged to speak to many of the leading editors and writers in our field.
On March 12, AGNI Senior Editor William Pierce appeared via Skype for the class. AGNI is a prominent literary magazine, published at Boston University, with a presence both in print, with a run of 3,000 copies per issue, and online, with more than 60,000 readers per year. The magazine has print subscribers in 38 states and 10 countries, is carried by 100 city and university libraries, and is distributed through bookstores as well.
The class interviewed Pierce on a multitude of topics, with the clearest themes being the submission process, web content and what editors seek in writing, particularly at AGNI.
We soon discovered that the process at AGNI differs greatly from other magazines. Every submission makes its way to head Editor Sven Birkerts, rather than into what's often called a "slush pile," raided through by interns who are with a magazine for a year and aren't seasoned readers. With 15,000 submissions a year, and an acceptance rate of 1 percent, it's good to know that everything is truly considered. Of the 60 per-day that come in, approximately 10 are then passed off to other editors for a full-on concentrated reading.
"We don't have a group of readers who are transient and just looking for things other editors want to see. Other publications [have interns that can say] 'that's not the kind of thing [the editors] want to look at,'" Pierce said. "We choose readers based on their individual view, [based on] what excites them, what they want to get behind."
Reading through AGNI is to read through a magazine's vision. With varied voices and a theme that often appears "through no intention at all," AGNI has been able to publish some of the biggest up-and-coming writers (Ha Jin, Jhumpa Lahiri, Susanna Kaysen, to name a few).
In regards to web content, Pierce described the pros and cons of web content. Web content does allow work to get out there, and has ended an often-used answer to submitting authors  of "We just don't have room for that in the magazine."  However, it can create difficulties for the print publication. The issue can often be, "why subscribe when I can read other work for free online?" However, as AGNI's site states, it is an extension of the print magazine. Half of what is published by AGNI appears only online. Often, readers who become interested through work on the site then subscribe to the print. Personally, I love the feel of AGNI in my hands; a screen could never thwart the physicality and feel of a book.
Finally, in one of the most fascinating explanations I've heard of reading and seeking out work for publication, Pierce described how editors hope not just for good writing, but to discover a soul or viewpoint that lives inside the piece itself.
Pierce elaborated: "Literary work is all about the lens through which the world is seen. The warps in the glass. We like to be soaked in another person's sensibility."
I often fear, with any submission, that it has to be perfect, that it has to be complete in every sense. This often halts me from sending in work of my own. However, Pierce explained, "Something can come in that isn't pristine, [it can be] a bit rough, but if it's soulful and has some subterranean drive or urge to it, we want to read that. Not only do I want to read it, but I want to show it to others I know who may not even like to read."
Other publications can feel that the work doesn't sound like their publication, or have created certain mental blocks toward subject matter or form (example: long lines in a poem). But over at AGNI, Pierce described the main question as: "did it excite you?"
When we return from spring break, Glyph's editors will be lucky enough to interview Enriqué Limon, Deputy Editor and Arts and Culture editor of The Santa Fe Reporter. From these talks, each of us finds we are only more enlightened about the world we'll be stepping into, and the resounding message, although difficult, gives us hope. It will be a long, long journey, possibly a dozen years of sending out work, but if we are honest with ourselves and with our art, writing what we want to put into the world, we can be living our dream.