Tags
Related Posts
Share This
The Mayor's Proposal
In his recent State of the City Address, Mayor Javier Gonzales proposed an ordinance that would change all single-stall restrooms to gender-neutral restrooms. This would not affect restrooms with multiple stalls, but rather those that only have one toilet, one sink and a door that locks from the inside. If the ordinance passes, businesses and government buildings with single-stall restrooms will be required by law to change the signs outside of those restrooms from "Men" and "Women" to signs that signify gender neutrality.
This is huge for the transgender community, which Gonzales reached out to during his electoral campaign last year. As reported previously– in an article on the new gender neutral restroom in SFUAD's library– using the restroom is often a very anxiety producing task for transgendered people. It is also often a safety issue, which is part of why the mayor has proposed the ordinance.
"It sends out a very strong message to the transgender community that we recognize that it's important to feel safe and that where we can make strides… we're going to do so." Gonzales went on to say that "Santa Fe is a place where we value diversity. It's a place where we try as hard as we can to not judge others, but most importantly we all strive for a community that's safe for everybody…" As a community, he said Santa Fe is defined "by the policies that we adopt and adopting policies that continue to strive toward equality is important."
Gonzales believes that members of the Santa Fe City Council will vote to enact the ordinance.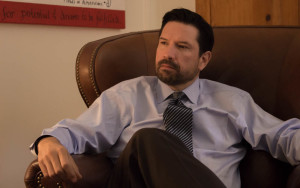 "I completely support the mayor and this proposal," says District 1 City Councilor Signe Lindell. "It benefits us on a bunch of different levels…[such as] if you have a family member that needs assistance and it might not be comfortable for a male and female to go in the same bathroom." Lindell says that it's also helpful when it comes to parents and their children. "Kids reach a certain age and you're not exactly sure if you want to send them in by themselves. I just think that on a family level it's helpful and I also think that for transgender people it dissipates what can be a fearful situation… I don't see a downside to it."
SFUAD students feel very much the same way. Jackalope questioned many students about how they felt about the ordinance.
"I think it's nice that I'm not going to have to go online and check all the websites like the "Refuge Restrooms" to figure out where… I can actually go to the bathroom," says Sophomore and Digital Illustration major Morgan Czeropski.
Freshman Film major, David Church who admits he didn't know much about the transgendered community before attending SFUAD.  "I guess I could say that upon moving here… I've been exposed to more of the gender neutral idea and as I'm starting to understand it, I'm starting to also understand their [transgendered people's] needs, so gender neutral bathrooms for them would probably be a good decision so they can feel comfortable…"
Freshman photographer major Lauren Eubanks believes that city-wide gender neutral bathrooms are "a really good idea. We're really including everyone now."
While the mayor has a lot of support from citizens and city councilor members alike, there are people who oppose the ordinance. A recent poll on the Santa Fe New Mexican website showed that 321 out of 422 readers do not want the ordinance to pass. In response to this opposition, Gonzales urged detractors to take the time to learn about the ordinance as well as the struggles that the transgender community goes through due to gendered bathrooms.
"This won't change anything about what they know about public restrooms," Gonzales says. "There are still going to be restrooms that are dedicated just for men. There are still going to be restrooms that are dedicated just for women."
Lindell believes that these polls are skewed. "I think that… a small number of people that for whatever reason oppose [this proposal will] sit and click their computer all day long. I don't know that these polls are really worth reading. I think that if someone feels strongly about it they will just click and register and click and register and click… We're probably going to do this and believe me, it will be out of people's minds quickly."
Creating gender neutral restrooms will follow the regular ordinance process, which will take anywhere from 60 to 90 days. There will be public hearings for citizens from the community to express their opinion on the ordinance, but the actual vote will take place within the Council. Gonzales hopes to have the ordinance in place by this summer. There will be a grace period in which businesses and government buildings have time to make the switch. Gonzales believes that it will take about a year for all businesses and government buildings to make the switch. If a business refuses to comply with the ordinance, then legal action will be taken, however Gonzales doesn't believe that will be the case for the majority of Santa Fe.