Tags
Related Posts
Share This
WELCOME TO THE CIRCUS
Brissa Piñera has been interested in circuses since she was young. She would go to shows on occasion and engage in performances when she was in high school, but her real inspiration for her upcoming short film "Radost" came from a popular circus in Queretaro, Mexico—where Del Mar is originally from.
"I like the concept of not having animals in a circus," said Piñera, a junior exchange student in the Film School.
"Radost" is a short film about a circus that is on the verge of foreclosure and the family unit that is often formed in these types of environments. Piñeraplans to shoot at Wise Fool New Mexico, a local organizations that gives New Mexicans opportunities to learn and perform circus/puppetry acts.
Pre-production for "Radost" began at the beginning of the semester since the film is being made for Piñera's Advanced Cinematography class. In addition to planning a crowd-funding campaign, Piñera and her student-run marketing team is planning a fundraising event on the Quad at 6 p.m., April 9. Radost's crew is seeking $1 donations  from now through principle photography which begins April 18.
Piñera described her love of circuses as being first ignited by her aunt, who has had a lifelong career in the performing arts. She says her aunt used to play all kinds of music without words, many that were popular among circus acts, and over time Piñera grew fond of it.
"I like how everything is just an illusion," says Piñera, who finds the escapist and grand nature of circus performances to be a truly joyous thing.
"Radost" follows two main characters: Charlie the Clown—a buoyant performer who strives to keep the circus afloat and Ellie—a homeless orphan who discovers the circus. For Ellie, whose own salvation depends on the success of the circus, "they become the first family she[Ellie] has ever known," Piñera says.
"I want to submit to every film festival possible," said an eager Piñera. She says that in addition to the online campaign and the Quad event, she hopes to submit "Radost" to festivals in the US, Mexico, Canada and possibly even Europe.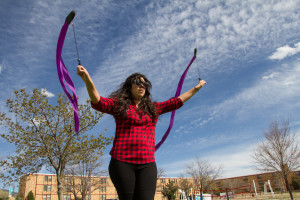 "Circus arts are underestimated right now," said Piñera who believes today's technological accessories bring the circus to the audience, not the other way around. With fire-dancers, suspension acts and a handful of juggling aficionados, Radost will be showcasing student and area-talent for the production.