Tags
Related Posts
Share This
Dana Levin Departs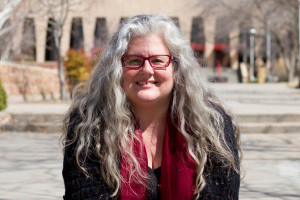 In the almost two decades since poet Dana Levin began teaching in the Creative Writing department on this campus—first at College of Santa Fe, then Santa Fe University of Art and Design—her legacy has become etched in stone. Colleagues speak of her wealth of knowledge, students of her passion.
Levin has accepted a writer-in-residence position at Maryville University in St. Louis, and her time as full time faculty in Santa Fe comes to an end this semester.
With Levin about to enter the next chapter of her life, she reflects on her arrival to Santa Fe.
"I wanted to be published in The New Yorker!"
In the five years following Levin's post graduate completion at NYU in 1992, she failed to find anywhere to publish her work.
"It was very demoralizing," she admitted.
Living in Burlington, VT at the time, Levin picked up a copy of Poets and Writers magazine, thumbed through the advertisements. One immediately caught her eye.
"Do you think that Galway Kinnell, Robert Hass and Jorie Graham are some of the best poets of the latter half of the 20th century?" it read. " Are you looking for poems with passion, scope and craft? Subscribe! Submit to Countermeasures!"
She loved the ad, but was still unconvinced.
"I did think those poets were great," Levin said. "and I was looking for poems with passion, scope and craft. But I wanted to be published in The New Yorker! Not some podunk magazine Countermeasures."
Six months went by, and Levin still wasn't published, when she saw the advertisement again.
"I was really resonating with this ad and the magazine was located at the College of Santa Fe."
So, Levin submitted a piece she knew wouldn't be published anywhere else, a six-page poem about the Vietnam War that she admitted was 'nuts.' Soon, Jon Davis, an editor at Countermeasures along with CSF faculty Greg Glazner, called Levin.
"You're the poet we've been looking for," he said to her.
Levin's editorial relationship with Countermeasures and the university lasted for a few years when they eventually asked her to come to town for a reading. While visiting, she had lunch with Glazner who was happy to offer her a job that was supposed to be for only one year.
Due to the growth of CSF's writing program, and its lack of diversity in the teaching staff, Levin was offered a full time position, eventually rising to department chair before CSF's downfall in 2009.
"There's a lot of viper pits out there…"
Of the four main faculty in SFUAD's writing department, Levin is the most tenured. Though her 17 total years split between CSF and SFUAD could have dampened her spirits, it never has. One of the newest full-time faculty member James Reich credits her for the drama-free nature of the writing department.
"There's a collegial aspect to our department that is rare," said Reich, "and Dana has been at the heart of that."
The other newest faculty, Julia Goldberg, agrees. Her time spent as the editor-in-chief of The Santa Fe Reporter gave her awareness of Levin, not just as a prominent teacher at the university, but as a celebrated poet. When Goldberg came to SFUAD as an adjunct professor, Levin was quick to make use of her experience in journalism, which eventually resulted in this very publication.
"[Jackalope] wouldn't have happened without Dana," Goldberg said. "She heard from students that they wanted more publishing opportunities, saw some opportunities for professional practice. She advocated for it for the better part of two years."
Aside from that, Goldberg sees Levin as a mentor of sorts.
"I don't know if there is a poetry equivalent of 'first do no harm,'" said Goldberg, "but I think she wants people to succeed, she wants to offer her thoughts, she kind of goes up and down the scale of excitable to zen. She probably has more emotions in an hour than I'll have the rest of my life. There's almost nothing you can bring to her that she won't put her full energy and attention to fixing the problem or answering the question. She's been an incredible mentor and advocate for me, so I'm really going to miss her."
There will be a lot of people who will miss Levin, but maybe none more than department Chairman Matt Donovan. Donovan was introduced to Levin in 1997 by a mutual friend.
"I immediately loved her as a person," Donovan said, "and immediately fell under the spell of her poetry. I spent a lot of years writing bad knockoff Dana Levin poems."
The two became close, with Levin even writing Donovan a letter of recommendation to her alma mater and attending his wedding in 1999. She eventually offered him a position as a faculty member in 2004 for his first teaching position.
When CSF folded, Levin was offered the Russo Endowed Chair of Creative Writing at the University of New Mexico while Donovan was offered the department chair position at the newly minted SFUAD.
When Levin's three-year contract at UNM expired, she was eager to rejoin the Santa Fe community. Opportunity arose when Donovan was awarded the American Academy in Rome's Rome Prize and lived in the city from the fall of 2011 for a year. With her breadth of experience and intimate knowledge of the campus, Levin was a natural choice for acting chair. When Donovan returned, and the two shared the chair, their relationship was hardly strained.
"I don't think that [our relationship] changed at all," Donovan said, "I can't imagine a better colleague than Dana Levin. We were co-conspirators. I was still turning to her for guidance."
Donovan also agrees with Reich's assessment, regarding the harmonious working relationship between teachers, and Levin's role in fostering it.
"There's a lot of viper pits out there, needless contention," he said. "We don't have that with anyone in the department, who are all fantastic colleagues and devoted teachers. It could have been potentially contentious with co-chairing, but it wasn't. We buoyed each other."
"What makes Dana, Dana?" 
"The fact that that question renders me speechless," said graduating senior Bailey Schaumburg, echoing countless other students on how difficult it is to quantify Levin's impact on their writing.
"It's just her presence," recent graduate Arianna Sullivan offered. "It's the way she transfers all of the passion and struggle and beauty that happens in the world onto the page."
Like many of Levin's students, a quote sticks in Sullivan's mind.
"I just remember this one piece, maybe [it was in] beginning poetry workshop, and she gave it back to me, and it said in the top corner, in green pen, 'Have courage, my friend.'"
Franco Romero, a junior who is sad to see Levin leave before he does, shared a similar experience.
"She was talking about writing a poem," he said, "but I think it can be applied to any type of writing. She said, 'the only way to write is to stay in the struggle.' I think about it every time I sit down to write."
CSF graduate Farren Stanley remembers Levin's skill as a teacher, but was inspired by Levin before she even stepped into the classroom.
"Dana's work itself is, of course, formidable—breathtaking," Stanley said. "The kind of writing that makes you ball up your fists and want to dive back into your own writing because you see what's possible."
Honest is another common thread, both in her writing and as leader of a workshop.
"She's really smart in the way that she knows how to relay the information honestly, but tactfully," Schaumburg said. "She's honest, strong willed and badass, but not a meanie."
Levin knew about her impeding departure for awhile before she sent out a mass email to department majors. Responses were quick. All of them positive. Many may have cried, but all wished her nothing but success in her new position.
"…doors don't open as readily"
It was the right time, Levin decided, when she accepted the job at Maryville. The SFUAD writing department was building itself nicely, and writer-in-residence opportunities don't come every day.
"I guess the older you get," Levin said, "my philosophy is that doors don't open as readily, so you have to think twice about not walking through them."
That hasn't stopped her on reflecting on her many years with the program.
"It's kind of like my graduation too," she said "Especially when I think about how this is the first real job I've had, first with health insurance. This was really the beginning of my professional life."
Levin's position at Maryville will keep her there during the fall, but she will return next spring to teach one class. Some may claim that she's not really leaving, but that couldn't be farther from the truth. As the fall of CSF was to the city of Santa Fe, so too is Dana's absence as full-time faculty. For almost two decades, she built a respected writing department. A place where students are "weird and interesting. Where [they] can create, invent and fail."
Many have pointed out that Levin is irreplaceable, but she disagrees.
"When [the Maryville] offer came to me, I feel like I did good work with this program," she said. There were certain things that didn't happen [here], which is OK, but I feel good about where the program stands. I don't think it's going to fall apart at all. It will be different, but it's solid."