Tags
Related Posts
Share This
Preview: "Borders"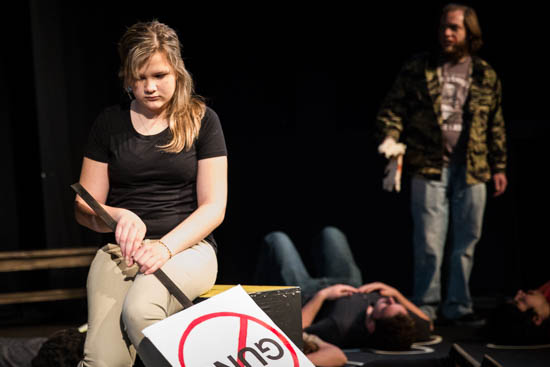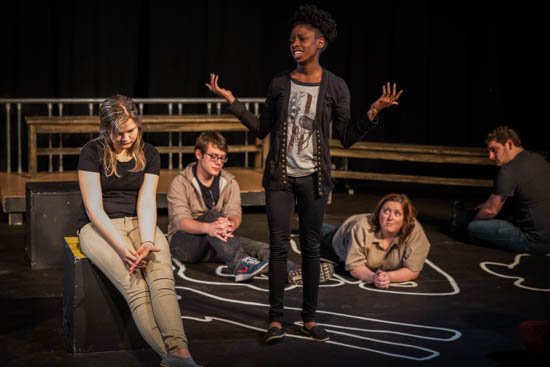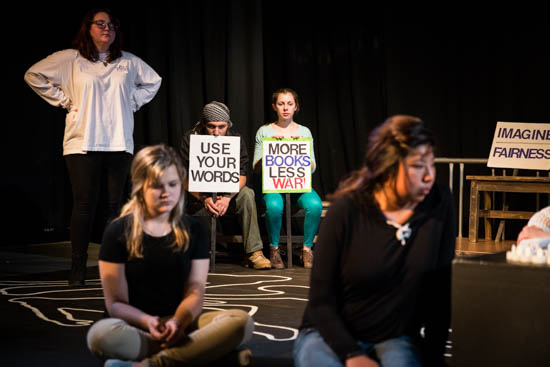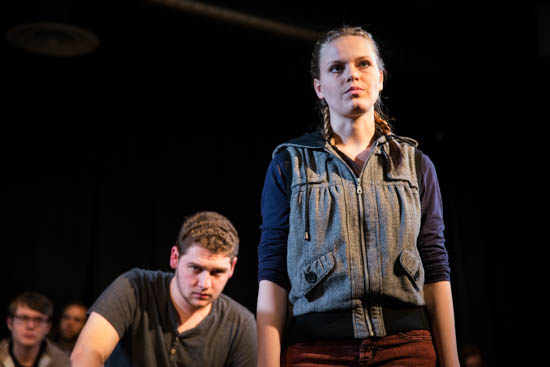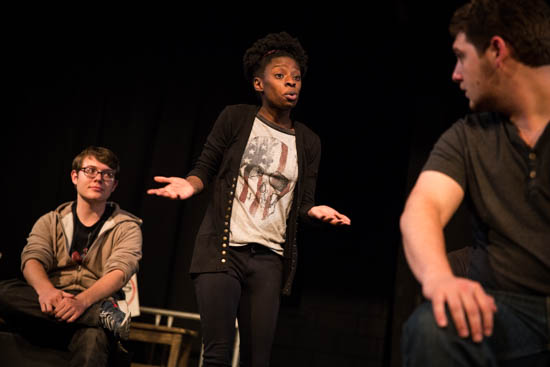 "What is a border? Is it meant to keep in or keep out?"
This question and many more are explored in the not-to-be-missed new production of "Borders: Crossing the Line," opening tonight April 30 at 7 p.m. at Warehouse 21 and running through May 2.
The audience enters the black box theater to find a black stage splattered with white body outlines. Benches and bike racks are lined up against the back curtain. Students enter with protest signs, slogans reading "Use Your Words" and "Imagine Fairness." A picture of Malala Yousafzai with her hand over her heart is particularly striking.
"Lynn and I conceived the theme for this production in the fall and started collecting relevant articles and quotes that would serve as inspiration for the student writers," says teacher Dale Dunn.
The play, written by students at SFUAD, the New Mexico School for the Arts and the Santa Fe Indian School, tackles the complex issue of borders. Nick Martinez, a student in the class and a reporter for Jackalope, covered the process in a previous article.
Dunn and Goodwin's previous playwriting class produced a play about cyber-bullying and the rabid youthful fascination with technology and how it detracts from quality of life. "Left to Our Own Devices" is an entirely different creature from "Borders," but in both plays Dunn and Goodwin's passion for exposing young people to important social issues such as identity come through loud and clear.
In "Borders," the show jumps back and forth between characters and scenes, touching down just quickly enough to ground the audience before we are swept up again in a different moment. Hamilton Turner's character, the tiger, acts as the narrator, guiding viewers from the booth of a drone operator to a bridge somewhere to the boundary-less space the play seems to exist in, offering the audience a clean slate from which to contemplate the issue.
Borders take all manner of forms throughout the play – religious forms, ancestral forms and more. Characters range from journalists to immigrants to even a nuanced bomber. Paying homage to its theme of identity with or without borders, several characters also speak lines in Persian or Spanish.
The language in the script, written by the diverse group of writers-actors, is a heady, mature and accessible mix of metaphor and fact. Each student brings something different and original to the table.
"They bring such unique perspectives to their writing and it has allowed all of the students, I think, new insights into their fellow writers," says Dunn.
She and Goodwin also hope that this play will inspire people to be more critical of their place in the world.
"I hope that the students' work continues to foster conversations both with the community and among the individual audience members," says Lynn Goodwin.
Run time stands at an hour and fifteen minutes.
"Borders: Crossing the Line" opens at Warehouse 21 tonight at 7 p.m., and runs throughout this weekend. Friday May 1 and Saturday May 2 at 7 p.m. and Sunday May 3 at 2 p.m. Tickets are $10 for regular admission and $5 for students.