Tags
Related Posts
Share This
Kate Reid Teaches Songwriting Class
A new class is getting a lot of buzz on campus this semester. Taught by artist in residence Kate Reid, Songs of Our Lives focuses on folk music, social justice and the history behind activist songwriting. At the end of the class, students will have written and professionally recorded their own song with SFUAD's record label Arroyo Records. They will also finish out the semester with a student showcase performance of their work May 7.
"When [Liberal Arts Chairwoman] Corine [Frankland] and I were talking about me coming down here to do the artist in residence work, we talked about what kind of course I wanted to teach. For me it was a natural progression into combining songwriting with social justice movements, work and themes because that's what I do with my own work as a musician," Reid tells Jackalope. Reid, who was a visiting artist last semester, is a folk musician herself. Many of her songs focus on LGBTQ and feminist issues. Her involvement at SFUAD is part of the Artists for Positive Social Change initiative. "The goal for me is to be here for the semester to teach this course which involves an academic piece but also an artistic piece," she explains.
Reid's hope for the class is that students engage with both folk music and the social movements behind the genre while also writing their own songs. "I just want them to love folk music!" she exclaims with a laugh. "I think the storytelling aspect [of folk music] is really interesting. It's the topical songs and protests songs that [I enjoy and] I think are really necessary…I like music that really kicks me in the ass. I want someone to shock me with their lyrics," Reid says. In class, she talks a lot about what makes folk music so special. A lot of that comes from the very root of the name. Because it is folk music, it talks about people. "For me folk music is music that talks about people's lives and experiences and sort of documents…how we live and how we treat each other."
While students signed up for the course due to its material, many were also drawn to the class for Reid herself. "I took the class because I see Kate as a mentor," says Contemporary Music Program major Heather Grace Ranelle. "After hearing her the first time, I bought three of her albums. She was singing about my life. I was instantly drawn to her energy."
Creative Writing and Literature Junior and Arroyo Records member Kylie Ayn Yockey was also drawn because of Reid. "The class itself sounded rad, but it was really Kate that sold it for me. She came into a class I was taking and sang for us and explained the course. She is just crazy cool, and so I just had to enroll."
While there isn't a textbook for the course, students are expected to come to class having read various handouts and listened to songs supplied by Reid. Some of the readings include excerpts from "Souled America," "Talkin' 'Bout a Revolution" and essays by folk singer Pete Seeger. Students must also write down their responses to each reading in a journal and hand them in at the start of class. Many of the readings deal with social justice movements, which students are required to reflect on. "It's a way to help them start thinking about where they want to go with their songwriting project. When I'm giving them feedback, I'm underlining and highlighting things saying 'This is an interesting idea. Can you expand on this?' It's a way of them connecting what they learn in class to their own process," Reid says.
Reid uses the readings as a means of giving her students a greater understanding of the social movements happening at the time famous folk songs were being written. She also opens up discussion in class for students to talk about how the homework relates to modern day social justice. A lot of the students are really engaged in the topic. "I want to learn more about our social climate," Yockey says. "I'm constantly trying to stay informed and sensitive on all issues, usually through the Internet and social media, but that can kind of be a hotbed of aggressive opinions, so now getting it from an academic source is helpful."
Reid also has guests coming in to talk to students about civil rights and other social movements. Contemporary Music Program chair Horace Young will be visiting the class Feb 19 to talk about the civil rights movement of the 1960's. "He's going to be doing some speaking… and talking about his own experience growing up as a young boy in the middle of all of that, which is really cool… He's so passionate," Reid says. "It's really important for students to hear from somebody who actually lived through that time and listen to their experiences. That's so powerful for students."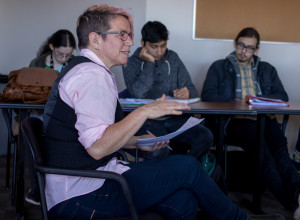 One of the biggest parts of the class is the students' original work. Students have an option of recording their music solo or with a band Reid and Young plan to put together. They will record their music with SFUAD's very own Arroyo Records and perform them at a showcase May 7. "Right now Horace and I are figuring out times to book them into the studio… They're going to be doing that recording and the plan is that those songs will be released with Arroyo Records," Reid says.
Students are grateful to have the opportunity to have their own songs recorded. Even those who don't have a lot of musical background are looking forward to the process. "I'm so musically challenged, and have tried and failed to be a lyricist previously, so I'm pretty anxious about the songwriting project. I'm excited, because 'oh my god what if I can actually make something good?' but I'm anxious," Yockey says but adds that she is excited still to see Arroyo Records work with so many new artists. "I'm really just looking forward to hearing what everyone's created. We have some really creative minds in class, so it'll be good."
To find out more about Reid's work visit her website and don't miss the class' showcase performance May 7.