Tags
Related Posts
Share This
Pothole Project
An artist's strength comes from the power of observation, or the ability to notice room for change in the small details of daily life. Around the beginning of the fall semester, senior photography major Whitney Wernick shed light on this aspect of artistry once more for the student body at SFUAD with a sunny display: plots of colorful flowers arranged in the potholes around campus.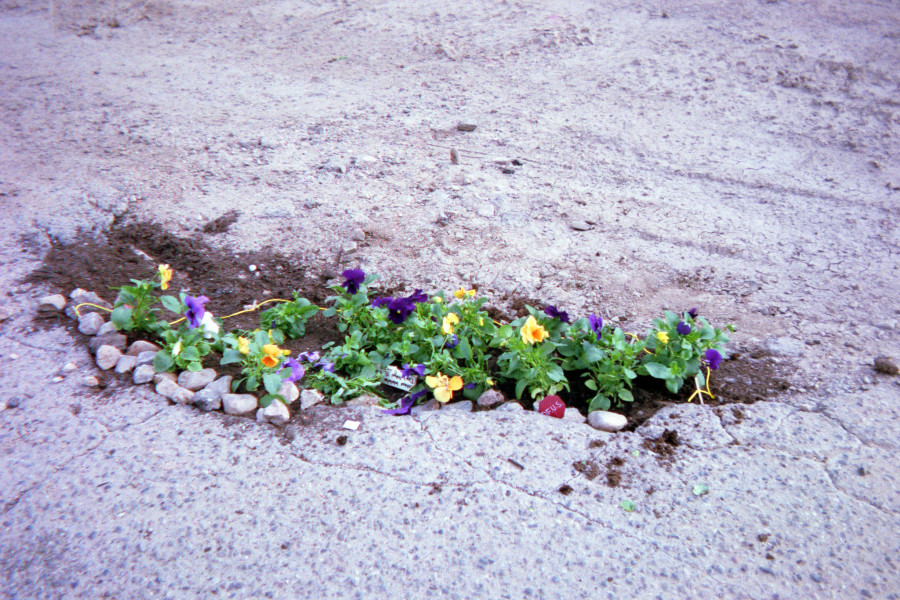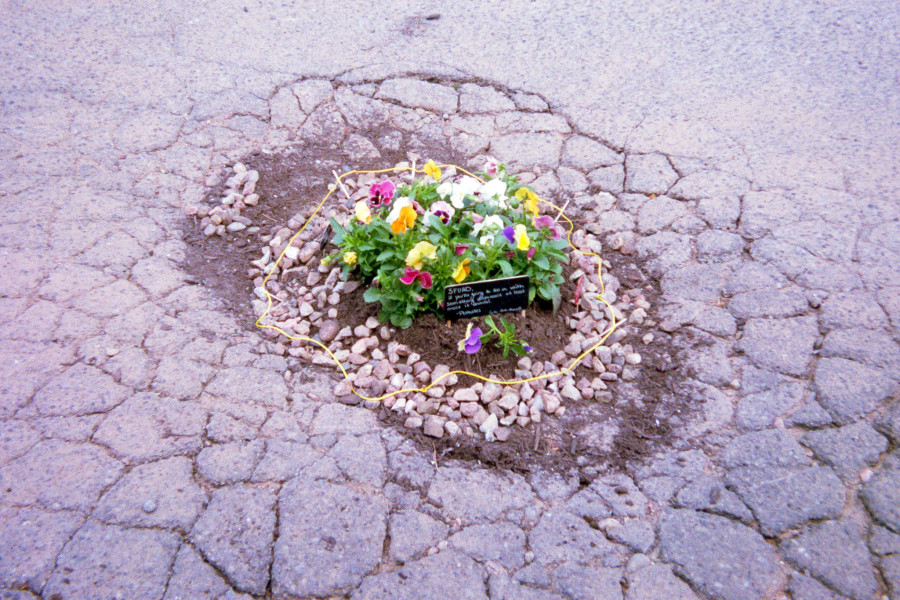 Wernick's outdoor installation entitled Don't Forget Us SFUAD. – P.H. came to fruition as she observed the school's yearly manner of filling in the potholes that riddle the campus roads. In her artist's statement, Wernick writes, "This series of pothole flower pots and disposable images is tended to bring attention towards SFUAD's tendency to faithfully fill in the larger potholes around campus with dirt and rocks every year before winter. During my four years at SFUAD I found they would take to these actions the weekend prior to Orientation week, which is normally the last two weeks of August, and the same weeks that parents just so happen to be visiting. Around that time it starts getting very cold in Santa Fe and will then snow. Once all the snow has melted we are left with muddy, rocky, deep potholes that only get larger."
Armed with soil, caution tape and a disposable camera, Wernick and studio arts major Omar Lazri filled the close to 20 potholes with annual flowers, finished with small signs that read "SFUAD, if you're going to fill us with something disposable at least make it annual! –P.H. [short for potholes]". Wernick then documented the project on disposable film and distributed copies of her artistic statement across campus to involve as many students as possible.
Wernick has been looking for tangible change on campus since her sophomore year, when she created a petition to Student Life for repairs such as washer and dryers, pest control and better lighting at night on campus.
"If you want to do something, why don't you actually do it?" Wernick says, rallying for action as a product of words. She has since been taking this to heart and attempting to share the sentiment of unity with the student body. Enthusiastic reception for Don't Forget Us SFUAD – P.H. has encouraged Wernick to continue supporting positive change with similar concepts.
"I'm in the process of creating more projects on campus, and I have students messaging me, saying that they have great ideas and want to help," Wernick says, "I have teachers who want to help me because they love the project to much."
Though the flowers were quickly stripped away and replaced by finally filled potholes, this was a much needed repair and the ideal end product for Wernick. Not everyone was allotted the time to enjoy the little gardens, but it was a clean display of the amount of artistic thinking needed by students to have their concerns heard as well as followed through with solutions. Director of Student Life Ryan Davis explains how students should go about art like Wernick's on campus in a safe and respectful manner.
"When students are taking a class and plan to display their art on campus, they are required to complete a form. That form has a place for my signature. When I meet with the student I then go over a risk assessment with them before I approve it. It would be great if the same process was followed outside of class too. This is also great preparation for life outside of SFUAD," Davis says. "I have dedicated my life to helping students and being an advocate for them. Speaking with me is an excellent first step to see what can be done or what may be happening behind the scenes. If I or the university can fix a problem, we fix it. If we can't fix a problem, we make a plan to fix it. Protesting does not have an impact on that process. Finally, outside of SFUAD, people who protest have tried many many other means to resolve their problems before protesting. It is when all other avenues have failed that they protest. Otherwise, it is just protesting to protest without actual intent on resolution. In this situation, if the student had spoken with me before installing her artwork as a form of passive protest, I could have said, 'We are already aware of that issue and here are the steps we are taking to resolve it. Would you be willing to put your efforts and art to work in other ways to benefit the campus?.'"
Wernick says her intention was not to create friction but rather to demonstrate her thoughts on SFUAD's attention to issues. Her artist's statement ties this back to the title, asking that SFUAD administration take a closer look at what is important for the population of the campus, such as general safety. Davis acknowledges this tactic but maintains the position that there are other options for students with similar concerns.
"The point is, Student Life is here to help students. Give us a chance to help and have a conversation with us. We may not be able to fix everything or even agree with students on everything but we can provide information, reasoning, and establish mutual respect," Davis says. "It is never our intention to ignore student issues. But we do need students to come tell us what issues they are experiencing."
When asked what Wernick would say to students who have similar frustrations and want to be heard, the response comes without hesitation.
"Just do it," Wernick says. "Honestly, just go for it. I'm here for a reason and I'm here as an artist, and artists are sometimes supposed to make you uncomfortable. I've been encouraging students who are posting angry things about SFUAD to just do it. Obviously, don't do anything to break the law or anything too extreme, but as long as you know where you stand and what you're trying to do and you are doing it in a proper manner that is not offensive to anyone, just go for it."
The general message of this piece, and what Wernick has to say about her future projects, is saying what needs to be said in the nicest way possible but in a way that will produce results. Wernick writes, as a conclusion to her statement:
"Instead of filling the potholes with dirt and rocks that end up washing away and leave a larger hole, why not fill the potholes with something useful and enjoyable, something that will make you want to drive around, instead of forcing you to?"