Tags
Related Posts
Share This
2017 Senior Photography Shows
On April 28, before Outdoor Vision Fest kicks off its annual interactive, visual exhibit, the senior photography students will be debuting their final theses for the Photographic Project class. The purpose of the Photographic Project is to construct a photo exhibit that captures each student's accumulated experience and development at the Santa Fe University of Art and Design.
Richard Sweeting, a senior photography major from El Paso, will display his photo collection in the BA show, titled "Smara," which is a Sanskrit word rooted to memory or recollection. According to Sweeting, all the exhibits have a common theme of examining the past. Sweeting's collection is of fantastical hybrids between nature and the individual, inspired by the hikes he used to take around the mountains near his childhood home. "At one time, El Paso was underwater," Sweeting says. "Now it looks like a sea floor. When it's foggy, it's like you're in the ocean." The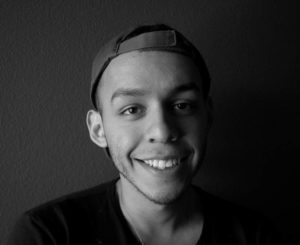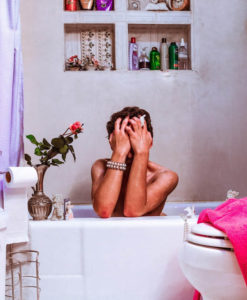 photos of his show pay homage to the realm of Sweeting's memory. Through the use of double exposures and blending, each photo "contains a lot of different experiences from my life." The combined photos document big journeys in contained and accessible visual forms. "[The show] is about completing the cycle of the journey." Sweeting's photos also include psychedelic aspects, the conflict between man and nature and an ancient idea of 'the right of passage.'
Another senior show from the BA students will be "Midnight Motors," a study of motorcycles and riders in an urban, night environment by Jason Stilgebouer, a first semester senior from California. "It's very personal to me because I grew up building cars with my dad and my brother," Stilgebouer says. "I'm a big gearhead." After deciding that photographing mere cars would be too easy, Stilgebouer followed the connective thread of the Santa Fe motorcyclist community to capture the passion that brings different people together. "Each rider has their own style," Stilgebouer says. "It reflects in their bike."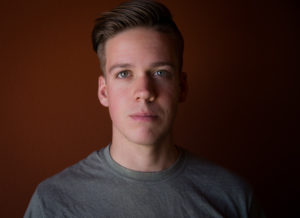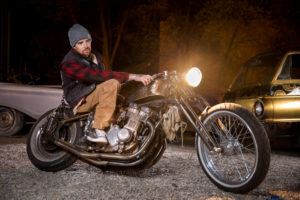 While Stilgebouer's project reflects on pleasant memories of his family, Marco Rivera, another photo major from Amarillo, uses his thesis to explore the underbelly of his family's dynamic during his parents' recent divorce. "The subject of these photos is me," Rivera says. "Me and my relationship with my mother and her relationship with my father, her husband." Rivera states that the project was born out of parallels between how both he and his mother approach love. Each photo depicts Rivera in the form of his mother, "They are the silent struggles she went through during the divorce," he says. The photos were taken in his home, providing an honest, solemn and unsettling atmosphere. Rivera's portrayals interact with the environment, providing narrative clues to the separation. In one photo, he depicts his mother collapsed on the floor in front of the fridge, calling attention to what is considered a female role of a caretaker and her grief in that position. "I want [the viewers] to leave with a feeling of solidarity," Rivera says. The photos are sad but they are also affirming to anyone who shares the experience of familial dismemberment.

Whitney Wernick will be showing her thesis, "Body Positive." Wernick is a senior photography major from Grapevine, Texas on a mission to change how women view their bodies. Wernick's show depicts an array of women posing nude in ways that do not attempt to disguise or edit the aspects of their bodies that have been deemed ugly in popular culture. The photos are natural, set in environments that are meaningful to the subject, and emphasize scars, birthmarks, stretch marks, fat, muffin tops and cellulite. The bodies are not touched up. "All the of the models have inspired me," Wernick says. Wernick grew up in a household that emphasized the need to dress-up and wear makeup and be traditionally feminine. Wernick wants to push back against how society and men demand women should look. With each photo, Wernick had her subject write a statement of what they love most about their bodies "They all connected," Wernick says. "Every statement in one way or another says, 'I love myself. My body protects me. It is my home.'"
Across the campus, the BFA students of the same class will be showing "Venerātum," named for the latin word referring to being worshipped or adored. In this gallery, Sasha Hill, a senior photography major from Indiana will be showing a transformative narrative of her relationship with her partner. "It's a love story," Hill says. Her partner is the subject of most of the photos. "[This project] helped me see him in a different light," Hill says. "When you're really close, you just can't see things for how they really are." The project began as a study on form and shape but became personal glimpses into her own life. As Hill emotionally changed and developed, so did her photos. "I want people to think of their own love stories while viewing my project," Hill says. She describes various teachers over the years telling her about their own experiences photographing, drawing or just creating art of their loved ones. Hill hopes that whoever sees her photos will be reminded of someone deeply beautiful to them.
Smara will be held in the Library and begin at 5 p.m. while Venerātum will begin at 5:30 p.m. in the Marion Center for Photographic Arts.