Tags
Related Posts
Share This
OVF Fundraiser at Meow Wolf
On April 7, students trekked over to the Meow Wolf art complex for a fundraiser to benefit Outdoor Vision Fest, a student-run multimedia art show.  The "SFUAD night" allowed students to explore the winding, bizarre funhouse while listening to some of the school's top bands. Rusa, Massively Parallel and Spacemob played amongst the whirling colors and fantasy inspired backdrop of Meow Wolf's massive installation. The event was organized by the students in this semester's Live Production Management class, taught by contributing faculty Steve Howard.
LPM is made up of only three students: Heather Nannette Campbell, Joseph Hohlfeld and Austin Molock. "I was there to facilitate, but the credit really goes to my students," Howard says. With only six weeks to bring the event together, students organized all three bands, secured the location for the event (donated by Meow Wolf) and coordinated with the OVF class in order to pull off the fundraiser. The goal for the event was to raise enough money to upgrade the program pamphlets for OVF from a single sheet map to a multiple page document. "We'd love to have artist bios and descriptions of the pieces," Campbell says who not only studies Design and Tech Theatre at SFUAD but is also the Docent Lead at Meow Wolf. In order to manage the major task, Campbell worked mostly on the venue side of organizing while Hohlfield and Molock pulled together the entertainment for the night. Despite the stress of pulling together an event in so little time, Hohlfield says "the night went smoothly. Everything fell into place. It was a good vibe."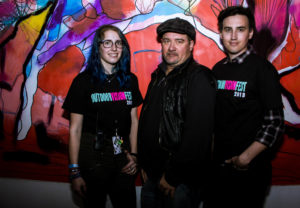 During the event, which was discounted to students at $10 per ticket, students explored the psychedelic House of Eternal Return installation while listening and dancing to the student bands on stage. The bands had a diverse soundscape, Rusa with a progressive neo-soul jam, Massively Parallel playing more alternative "math rock," and Spacemob with a hip-hop meets funk vibe. A strobing, multilayered light show bounced around venue, synchronizing with the music. During soundcheck, Spacemob freestyled a new song about Meow Wolf, which they later played at the end of their set. "All my cats, they Meow… Wolf!" rappers Airon "Ridd" Malone, Trae Perry, Thulani Mason and Robert Henkel Jr shouted over the jumping crowd. Rusa played a song titled "Mariem," an ode to vocalist Mimi Diallo's immigrant mother, which Diallo preluded with a boisterous "Fuck Trump!" followed by audience applause.
While Hohlfeld says that the event did not raise enough money to upgrade OVF programs, the class is hoping that additional funding will come through the school. "We'll be partnering with Paper Tiger for the design and printing of the programs," he says. OVF will open at 8:45 p.m., April 28 in the SFUAD Visual Art Center. The event is free to students and members of the community.