Tags
Related Posts
Share This
SFUAD Pride Drag Show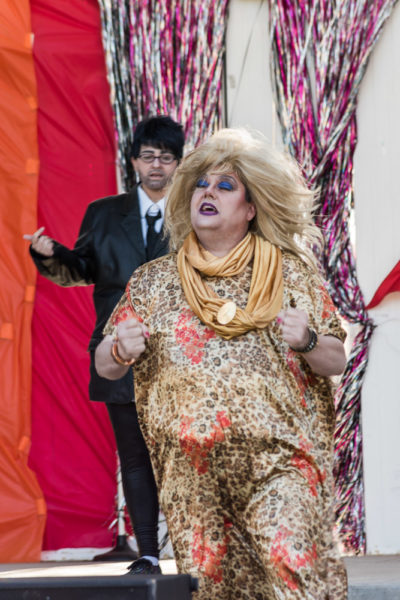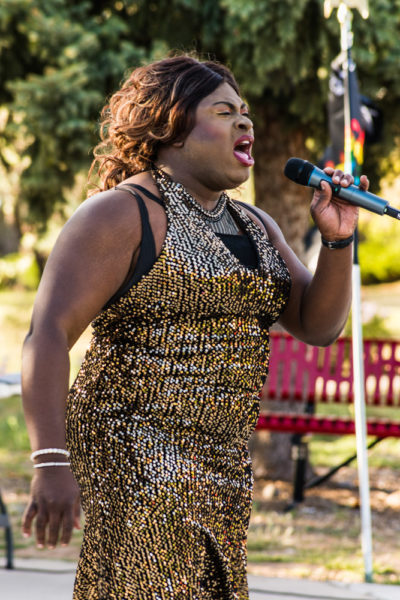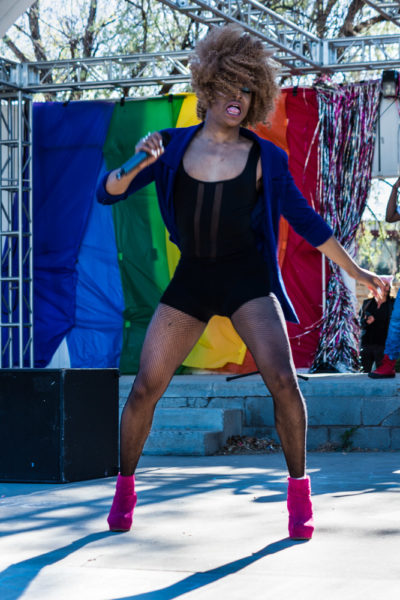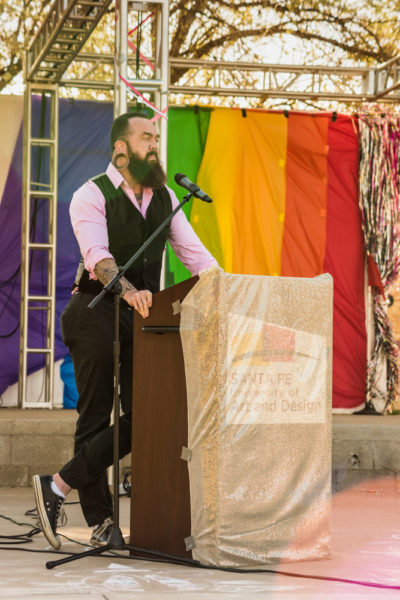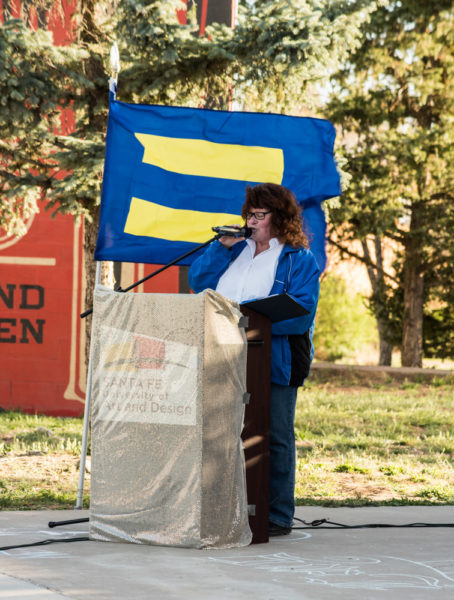 Despite the cold winds on April 23, Santa Fe University of Art and Design's Quad was decked out in rainbows, pinks, purples and blues. Pride flags swung wildly as students, faculty, staff and members of the local community gathered to celebrate the LGBT community with a commemoratory drag show hosted by Jewel Box Cabaret performers CoCo Caliente and LinZ.
The show opened with a speech from Jewel Box Cabaret producer Linda Krauss that explained the history of the pride flag and what each color represents. Following Krauss was a haunting performance of the Dixie Chicks' "Not Ready to Make Nice," by Mary Beth Lindsey, Performance Arts Department majors Donna Bella Litton and Cristina Emily Vigil alluding to the long fight the LGBT community has made for equality and the still long road to go. The show continued with a variety of different performances and speeches from contributing faculty Caroline Haughton and Santa Fe Pride representative James Brethour.
Drag Queen Leyonce Lowels performed for the first time Saturday with two crowd tantalizing numbers "Crazy in Love" by Beyonce, which featured a rap interlude from Business Arts Management major Chassity Coleman and Rihanna's "Skin." Lowels had the crowd screaming and applauding wildly as she and her backup dancers Coleman and former SFUAD student Lauren Eubanks strutted back and forth on the stage. Lowell fell once from the pressure of her high heels and pulled it off magnificently, rolling onto her back and flexing her legs over her head.
Another noteworthy performance came from Liz Vicious (a familiar figure to some students who visit Housing in Mouton) and Dick Hardy. The married couple's performance of Meatloaf's "Paradise by the Dashboard Lights" was captivating, humourous and left the audience aw-ing at how adorable the two are together on stage.
In addition to the usual lipsyncing for which drag is known, the PAD brought a stunning live vocals touch to many performances. CoCo Caliente gave a rendition of "I Know Where I've Been" from Hairspray, a heart jerking tribute to the Orlando Pulse Shooting of 2016. Contemporary Music Performance majors Kala Jones and Amber Edwards also gave a heart pounding chair routine of "Pony" by Ginuwine. Another live performance came from Aluna Bun Bun, who sang Madonna's "Express Yourself" and got the crowd dancing and cheering.
The show ended with the audience crowning Drag Royalty winners via applause levels. The monarch crowns went to Lowels and Edwards, while the rest of the student performers also got honorary tiaras.
To see more Santa Fe drag performances, check out the Jewel Box Cabaret on Facebook. The gender illusion troupe currently performs at Starlight and has more shows starting Oct 14.