Tags
Related Posts
Share This
Profile: Triston Pullen
Triston Pullen is a BFA senior majoring in acting with a minor in theatrical design. He is originally from Sulphur Springs, Texas. He has been acting since he was 5 years old, is the founder of his own theater company "Studio 1621," and served as artistic director for a small black box theater in his hometown. He recently worked with Colleen Hoover, New York Times Best Selling Author, to adapt her novel It Ends With Us, into a stage play. He is soon going to be publishing his own novel in the spring of 2018.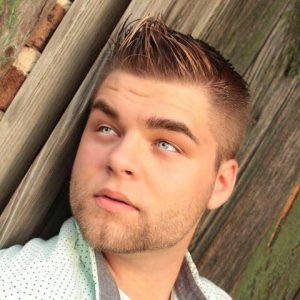 With this being your last semester, what are you looking forward to? And what's next for you?
Graduating and trying to find what is next in my career. I'm hoping to go to grad school. I've applied to Yale, Columbia, Boston University, Carnegie Mellon and The Royal Central School of Speech and Drama.
What shows are you working on this semester?
Even though everything has downgraded, there are still three full shows going on that the school is doing. Like, I'm assistant directing a musical that is happening right now, which is Side by Side, and that will be performed at Santa Fe Playhouse. It opens Sept 24. There is a playwriting show that is happening, where they are going to creating a show, and then there is a Christmas show.
What is Side by Side about?
The generic answer is that Side by Side by Stephen Sondheim is a musical in the form of a revue. The song sections tie together by being from several Sondheim musical or have a common theme. The Narrator ties all of it together. The theater nerd answer is, that Side by Side is whole bunch on songs by the "Theater God."
In addition to those shows, will you be working on anything individually?
For my senior thesis, I'm directing Red Light Winter, which is about two boys from New York that need a break from the academic realm. They go to Amsterdam to get a break, which in the college world means drinking, sexing and drugs. They really just want an escape from the world they know. They meet a beautiful prostitute, named Christina, and fall into a love triangle. The rest of the play plays out the repercussions of this triangle.
Why did you choose this show?
I'm very interested in stories that explore the human experience. I want to find humanity in the darkest of stories and to understand those characters on a spiritual level. I think the biggest draw to the play is that, as an artist, I feel like I understand wanting to fill your empty spaces. Also, how sometimes sexuality has less to do with sex and more to do with the need for love. Frankly, I'm more drawn to darker stories.
What was it like working Off-Broadway?
It was an eye-opening experience. New York has this funny way of teaching you what you lack while also making you grow. I met a lot of amazing people and made connections that will last a lifetime. It truly ignited another flame for my career.
What things are you working on outside of school?
I have been working on a few projects. I recently signed on to direct a production of On Golden Pond in Sulphur Spring, Texas in January. The biggest thing that is on my plate right now is that I am currently finish a novel called We Danced that will be published in Spring, 2018. I have so many amazing people supporting me, it's simply incredible. I will be teaching a few workshops on Viewpoints and Suzuki in the spring and I will be emceeing a dance show in April. I stay busy, but I feel like if I keep my head down and work hard, good things are going to come.
Any last comments?
I would say that this year has been hard for all us here at SFUAD, but we have to look for the blessings. I think my biggest blessing right now is [PAD lead faculty] Cristina Duarte and [Academic Dean] Brad Bergsbaken. They both have supported their students in every single way and it has truly turned a bad situation into a good one. The PAD is lucky to have Cristina, she knows her stuff and I fully believe she is prepping me for my future. My grandma has always told me, 'create art no matter the cost, but don't ever forget who you are and whose you are!' I am really trying to live by that. Art has always been my savior, but now as I enter the 'real world,' I am accepting that there is a higher power that has placed a calling on my life and to trust fully that it is leading me in the right direction.