Tags
Related Posts
Share This
Getting Off Campus: Santa Fe Honey Salon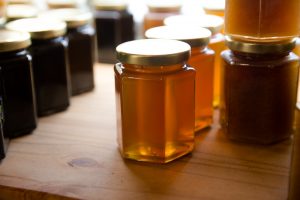 Santa Fe, NM is a small town but it still has a lot to offer. Until recently, I haven't had the pleasure of exploring it but finally armed with transportation, I'm discovering the hidden gems this city has to offer. As a new regular editorial, "Getting Off Campus" strives to give students at the Santa Fe University of Art and Design a look at some of the most enticing places in Santa Fe and surrounding areas.
Santa Fe Honey Salon
Location: 554 Juanita St, Santa Fe, NM 87501
Hours: Everyday 9 a.m. – 5 p.m.
Cost: $$$
Distance: Not far from campus. Accessible by car, bus or long bike ride.
When I first came across the Santa Fe Honey Salon in 2014, owner Gadiel Ramirez was selling organic raw honey on a six foot table on the corner of St. Francis and Juanita. A sign hung over a tent promising, "Free Honey Samples!" to passersby.  "Back then, my wife had just had our baby… I wasn't ready to open the full store and that's why I had my table outside," Ramirez says. Three years ago, Ramirez was selling 15 varieties of honey. Today, his store houses 27 varieties as well as raw bee pollen, nine flavor infusions, nuts, beeswax candles, soaps, and a line of honey based skincare products. He also whips up honey based drinks such as Ginger Limeade and Hibiscus Coolers.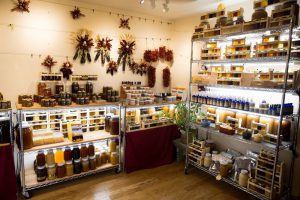 Ramirez gets his honey from the local honey farm at Bee Chama Honey in Lemitar, NM. Ramirez first became part of the Bee Chama family when he was "running away from the corporate world." Ramirez says that after spending some time at the honey farm, he decided to get into the business. Ramirez' shop is very family based.  "My daughter was born the day I signed the lease for this place," he says. "I see this place as her place." Everything sold in Ramirez store is made either by himself in the backroom or by a trusted family member.
One thing Ramirez likes to share with his patrons are the surprising health benefits of raw honey. "Raw honey is full of live enzymes and nutrients," Ramirez says. According to MD Mph Ron Fessenden's The New Honey Revolution (sold in Ramirez's shop) honey consumption has been shown to "regulate blood sugar, reducing high blood sugar levels and preventing low blood sugar." Honey made from local pollen is also know to help with allergies.
Visiting the Honey Salon is a real treat, even if just to taste some of its samples. They offer a variety of honeys both with local pollen and pollen from different areas such as California. Some favorites include Desert Wildflower (sage and chamizo pollen), Lavender Honey infusion, and Orange Blossom Honey. While the honey is pricey on a student budget ($21 for a half pint, $15 for a 4 oz mini) it's a nice treat-yourself gift after a long semester. The shop is homey and Ramirez and his family provide a friendly environment.